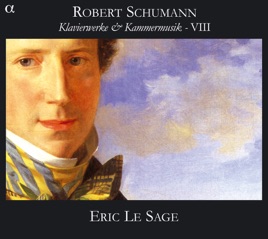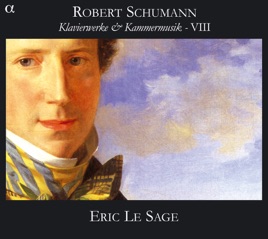 | | TITLE | | TIME |
| --- | --- | --- | --- |
| | Allegro, Op. 8: Prestissimo | | |
| | Faschingsschwank aus Wien, Fantasiebilder, Op. 26 | | |
| | | | |
| | II. Romanze, ziemlich langsam | | |
| | | | |
| | IV. Intermezzo, mit gröβter Energie | | |
| | V. Finale, höchst lebhaft | | |
| | Vier Klavierstücke, Op. 32 | | |
| | I. Scherzo, sehr markiert | | |
| | | | |
| | III. Romanze, sehr rasch und mit Bravour | | |
| | | | |
| | Drei Clavier-Sonaten für die Jugend: Kinder-Sonate Julien zur Erinnerung No. 1, Op. 118a | | |
| | | | |
| | II. Thema mit Variationen, ziemlich langsam | | |
| | III. Puppenwiegenlied, nicht schnell | | |
| | | | |
| | Drei Clavier-Sonaten für die Jugend: Sonate Elisen zum Andenken No. 2, Op. 118b | | |
| | | | |
| | | | |
| | | | |
| | IV. Kindergesellschaft, sehr lebhaft | | |
| | Drei Clavier-Sonaten für die Jugend: Sonate Marien gewidmet No. 3, Op 118c | | |
| | I. Allegro, im Marschtempo | | |
| | II. Andante, ausdrucksvoll | | |
| | III. Zigeunertanz, schnell | | |
| | IV. Traum eines Kindes, sehr lebhaft, mit zartem Vortrag | | |
| | Etudes pour le Pianoforte d'après les Caprices de Paganini, Op. 3 | | |
| | | | |
| | | | |
| | | | |
| | | | |
| | | | |
| | | | |
| | Etudes de concert pour le Pianoforte d'après les Caprices de Paganini Op. 10 | | |
| | | | |
| | II. Non troppo lento - cantabile | | |
| | | | |
| | | | |
| | | | |
| | | | |
34 Songs, 1 Hour 53 Minutes
Released:

Nov 5, 2009

℗ 2009 Alpha
About Eric Le Sage
Eric le Sage is a French pianist best known for his performances of the music of Robert Schumann and other Romantic composers. After studying at the Paris Conservatoire, he went to London to study with Maria Curcio. In 1985 he won the International Piano Competition in Porto, followed by winning the Robert Schumann International Competition in Zwickau in 1989. Later that year, le Sage went on to win the Leeds Competition, which gave him the opportunity to perform in concert with Simon Rattle. His career has taken him around the world, and he has performed with major orchestras and chamber ensembles in Europe and the United States. A regular participant in music festivals in France, le Sage founded the International Music Festival of Salon-de-Provence in 1993. In addition to his recordings of Schumann, le Sage has also specialized in the music of Gabriel Fauré and released a recording of the complete keyboard works of Francis Poulenc.
HOMETOWN

Aix-en-Provence, France

GENRE

BORN

1964
50 million songs.
Zero ads.
New subscribers only. Plan automatically renews after trial.