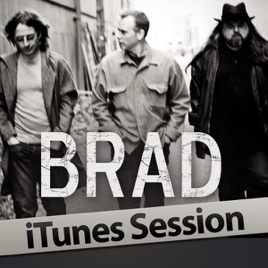 | | TITLE | | TIME |
| --- | --- | --- | --- |
| | | | |
| | Rush Hour (iTunes Session) | | |
| | Bless Me Father (iTunes Session) | | |
| | Never Let Each Other Down (iTunes Session) | | |
| | | | |
| | Oh My Goodness (iTunes Session) | | |
| | Buttercup (iTunes Session) | | |
| | Takin' It Easy (iTunes Session) | | |
8 Songs, 32 Minutes
Released:

Oct 5, 2010

℗ Brad, LLC
Ratings and Reviews
YES!
I've been listening to them since 92 (I believe) and saw them play in Athens GA. Everyone I've introduced to BRAD has become a fan. Hearing them in a live setting again made my day.
Da Boys...
It is actually endearing to see the three of you side by side like this. It could be in front of the Market the first time I remember meeting Shawn- with the two of you. It's nice to see that some friendships glide nicely into (yes) middle-age! Don Eaton
Wow
I thought Candles was Steven Stills and the the harmony kicked and and we thought it was Cream... Got to get me some more of this!
About Brad
With drummer Regan Hagar, guitarist Stone Gossard formed Brad as a side project after his main band, Pearl Jam, became superstars in 1992. Also featuring vocalist Shawn Smith and bassist Jeremy Toback, the group spent the spring of 1993 putting together material. The band released their first album, Shame, in the summer of 1993 to mixed reviews and lukewarm sales. Three years later, they delivered their second record, Interiors, to poor sales but a more enthusiastic cult audience started developing. Brad supported it with a tour opening for Ben Harper while their respective bands were on hiatus. Fans of the group championed the disc, but they would have to wait until 2002 before the group came together for another album. With Mike Berg taking Jeremy Toback's spot for most of the disc, Welcome to Discovery Park was released that summer. Following an Australian tour in 2003, the band began work on a fourth album entitled Best Friends? Though the recordings were in the can, the album wouldn't see release until 2010. In the meantime, 2005 saw the band release Brad Vs. Satchel, a more unofficial collection of unfinished demo recordings by both Brad and vocalist Smith's other project Satchel. In October 2007 Kevin Wood of Malfunkshun joined the band occasionally as an additional guitarist. His membership was somewhat nebulous and unofficial. Things began to move quicker for Brad once Best Friends? finally saw release on Monkeywrench Inc. in August of 2010. The band's fifth studio album United We Stand was released on Razor & Tie Records in early 2012. ~ Stephen Thomas Erlewine and Bradley Torreano
GENRE

FORMED

1993