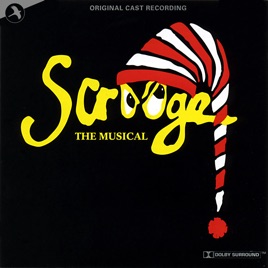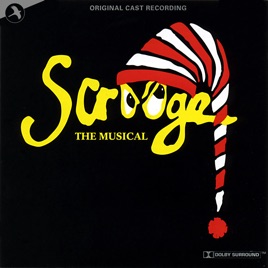 Scrooge (Original London Cast)
TITLE
TIME

Company

2:59

Anthony Newley

2:38

Anthony Newley

2:25

Tom Watt

2:44

I Hate Christmas (Reprise)

Anthony Newley

2:38

Children

1:00

Make the Most of This World

John Pertwee

2:59

Anthony Newley

2:22

December the Twenty Fifth

David Oakley

2:53

Anthony Newley

3:04

Anthony Newley

2:01

It's Not My Fault (Reprise)

Anthony Newley

1:35

Stratford Johns

5:40

Company

1:16

Tom Watt

2:33

Jerome Wallington

1:30

Lorinda King

2:00

Anthony Newley

2:39

james Head

3:38

Anthony Newley

2:51

Company

7:08

A Better Life (Popular Version)

Anthony Newley

2:40

I'll Begin Again (Popular Version)

Anthony Newley

2:50
23 Songs, 1 Hour, 4 Minutes

℗ 1997 JAY Productions Ltd.
The movie was far far better....still better than nothing.
I have been looking for several of these songs for a while now. And along with another poster I think the movie's version of the songs were much better. Finney's "You, you" brings tears to anyone who has had reason to rethink their past. And the version of "Thank You Very Much" in the movie is one of the most enjoyable songs I have ever heard. Having said that, I am still glad that at least this version is available.
Where Is The Original Motion Picture Soundtrack?
Anthony Newley sounds too pretty in this London/Broadway version of the classic 1970 movie. Albert Finney's performances were superior. Release the film version!
Where is Albert Finney?
I agree wholeheartedly with several other reviewers. The movie version of SCROOGE is so amazingly GOOD! It's my all time favorite Christmas Movie - it just can't be beat. Itunes, give us the movie soundtrack PLEASE!