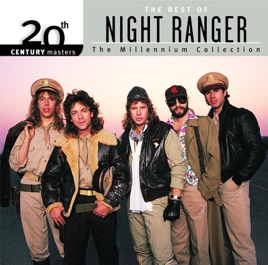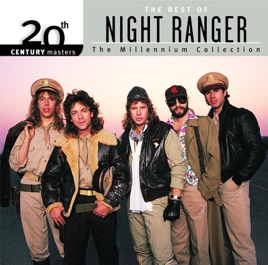 20th Century Masters - The Millennium Collection: The Best of Night Ranger
| | TITLE | TIME |
| --- | --- | --- |
| | | 5:02 |
| | Don't Tell Me You Love Me | 4:21 |
| | | 4:12 |
| | Eddie's Comin' Out Tonight | 4:27 |
| | (You Can Still) Rock In America | 4:15 |
| | | 4:15 |
| | | 4:13 |
| | | 3:53 |
| | | 4:20 |
| | The Secret of My Success (Soundtrack Version) | 4:29 |
| | | 4:47 |
11 Songs, 48 Minutes

℗ 2000 Geffen Records
Either this or their Greatest Hits, the choice is yours.
The 20th Century Masters Night Ranger collection is essentially the long-released Greatest Hits album. The recording quality sounds roughly the same across both, this album doesn't have any special remastering--just make your choice based on how you like the filler songs. Night Ranger's hits were "Sister Christian", "Don't Tell Me You Love Me", "You Can Still Rock in America", and "The Secret of My Success"--unless you're a huge fan, this album's all you need. That being said, this album is a must for any classic rock fan--good 80's hair metal at its best.
It's okay i guess
this was a good album but in the song you can still rock in america he said the word machine way to many times.
Greatest Hits Misses
Night Ranger was my favorite band growing up in the 1986-88. Dawn Patrol was great- (every song). Midnight Madness had Sister Christian fame. But I will never understand the missing hits that I have always enjoyed in Touch of Madness, Let Him Run, Penny, Eddie's Comin Out Tonight (although "Eddie..." is now in the greatest hits). The elements that made Night Ranger great are soaring guitars and edgy singing by Kelly Keagy and Jack Blades. Great music.
About Night Ranger
Night Ranger is best known for "Sister Christian," a 1984 single that reached the Top 10 in the U.S. and Canada that later turned into a power ballad perennial. Prior to "Sister Christian," Night Ranger had a pair of major hits on American Album Rock radio -- "Don't Tell Me You Love Me" and "(You Can Still) Rock in America" -- but the success of "Sister Christian" helped push them in a pop-friendly direction which they rode through the end of the '80s, racking up a few hits along the way ("Sentimental Street," "Goodbye"). The band split in 1989 but in 1996 the original lineup reunited and, over the next two decades, the group would survive various changes in membership, touring regularly and recording occasionally.

Founding members Brad Gillis (guitar) and Jack Blades (bass) first met while playing in Rubicon, a group led by Jerry Martini of Sly & the Family Stone that spent its time alternating between funk and soft pop in the vein of Chicago. Rubicon had a hit in 1978 with "I'm Gonna Take Care of Everything" but split after a second album in 1979. Gillis and Blades recruited Rubicon touring drummer Kelly Keagy for their new rock-oriented project. Soon, the trio expanded, with ex-Montrose keyboardist Alan Fitzgerald and guitarist Jeff Watson and began playing the Bay Area under the name Stereo, which swiftly became Ranger. By 1982, the group signed to Boardwalk Records but by the time of their debut, Dawn Patrol, at the end of the year, they renamed themselves Night Ranger in order to distance themselves from a country band that shared a similar name. During the brief time between signing with Boardwalk and the release of Dawn Patrol, Brad Gillis filled in for the late Randy Rhoads on Ozzy Osbourne's Diary of a Madman tour; he can be heard on the Speak of the Devil live album.

Dawn Patrol generated a rock radio hit in "Don't Tell Me You Love Me," but Boardwalk folded after the album's release, so Night Ranger headed to MCA's subsidiary Camel. In the fall of 1983, the band released Midnight Madness. Its lead single "(You Can Still) Rock in America" was another AOR hit but "Sister Christian," a power ballad written by Keagy, turned into Night Ranger's breakthrough, climbing all the way to five on Billboard's Hot 100 in 1984. "When You Close Your Eyes," its successor, reached 14 at the end of 1984. Night Ranger followed Midnight Madness in the summer of 1985 with 7 Wishes, an album preceded by the power ballad "Sentimental Street." The single reached eight on the Billboard Hot 100, with "Four in the Morning (I Can't Take Anymore)" peaking at 19 and "Goodbye" topping out at 17.

Night Ranger recorded the theme song for Michael J. Fox's 1987 comedy The Secret of My Success, which also served as the first single from their 1987 album Big Life. This was their first record not produced by Paul Glasser and it represented a shift to a softer sound, which not only didn't win them new fans, but lost them several old ones; none of the singles cracked the Billboard Top 40. Alan Fitzgerald left the group after Big Life, replaced by Jesse Bradman for 1988's Man in Motion. "I Did It for Love," the record's first single, made it to 16 on Billboard's Rock Singles chart, but the band had lost its momentum. Jack Blades left the band to form Damn Yankees with Tommy Shaw and Ted Nugent, and soon afterward Night Ranger called it a day.

After two years of inactivity, Brad Gillis and Kelly Keagy decided to carry on Night Ranger as a trio, recruiting Gary Moon as a bassist. This lineup expanded in 1993 with multi-instrumentalist David Zajicek and was featured on 1995's Feeding Off the Mojo, which appeared on the small label Drive Entertainment. Not long after its release, Jack Blades came back to the fold, leading to a reunion with Alan Fitzgerald and Jeff Watson. This reconstituted original lineup signed with CMC and released Neverland in 1997, which was quickly followed by Seven in 1998; the title of the latter effectively writes Feeding Off the Mojo out of the official Night Ranger discography.

After these two records, Night Ranger continued to tour regularly in America and Japan, but they started to shed members in the early 2000s. Fitzgerald left in 2003 with Michael Lardie filling his shoes, then Jeff Watson departed during recording of 2007's Hole in the Sun; Reb Beach sat in during 2007. By 2008, these new guys had left -- Christian Matthew Cullen took over on keys, Joel Hoekstra on second guitar -- and Hole in the Sun finally saw a U.S. release. Night Ranger continued to tour steadily in the 2010s, shifting members from time to time -- Eric Levy took over on keyboards in 2011; Keri Kelli would play guitar when Hoekstra's dance card was filled, eventually becoming a full-time member in 2014 -- and releasing live albums in conjunction with studio albums. Somewhere in California, their tenth studio album, appeared on Frontiers in 2011, followed by High Road in 2014 and Don't Let Up in 2017. ~ Stephen Thomas Erlewine
ORIGIN

San Francisco, CA

GENRE

FORMED

1981