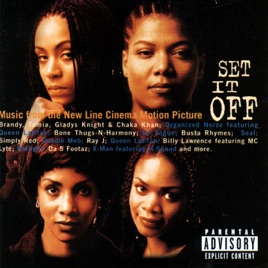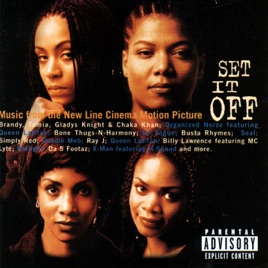 Set It Off (Music From the New Line Cinema Motion Picture)
Various Artists
TITLE
TIME

Organized Noize & Queen Latifah

Brandy, Tamia, Gladys Knight & Chaka Khan

Angelic Wars (feat. Cool Breeze & Backbone)

Goodie Mob

From Yo Blind Side (feat. H-Squad With Special Appearance By Chocolate)

X-MEN
14 Songs, 1 Hour 1 Minute
Released:

Sep 24, 1996

℗ 1996 Elektra Entertainment Group, a division of Warner Communications Inc. for the United States and WEA International Inc. for the world outside of the United States.
Ratings and Reviews
Great soundtrack but
i love this soundtrack buf i wish you could bye the song separatly i want that brandy song missing you classic soundtrack love it
pffft !
Just wanna buy "Missing you"!!! What the crap man!!!! Should be more like ichoose, not itunes and album only!! Oh well, i'll find a way! You guys are losing money for sure with this song!
HOW COME???
How The hell they going to have the soundtrack but not the movie??? Now Thats crazy