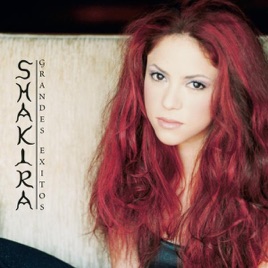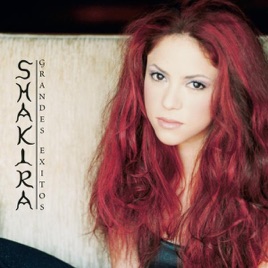 | | TITLE | TIME | PRICE |
| --- | --- | --- | --- |
| | | 3:53 | $1.29 |
| | | 4:11 | $1.29 |
| | | 4:00 | $1.29 |
| | | 3:52 | $1.29 |
| | | 4:47 | $1.29 |
| | | 4:28 | $1.29 |
| | | 3:30 | $1.29 |
| | | 4:13 | $1.29 |
| | | 3:13 | $1.29 |
| | | 3:57 | $1.29 |
| | Suerte (Whenever, Wherever) | 3:14 | $1.29 |
| | Te Avíso, Te Anuncio (Tango) | 3:43 | $1.29 |
| | Tú (En Vivo) [Without Intro] | 4:52 | $1.29 |
| | Dónde Están Los Ladrónes (En Vivo) | 3:27 | $1.29 |
| | | 3:31 | $1.29 |
15 Songs

℗ 2002 Sony Music Entertainment (Holland) B.V./MTV Networks Latin America Inc., 2001 Sony Music Entertainment (Holland) B.V., 2000 Sony Music Entertainment (Colombia) S.A./MTV Networks Latin America Inc., 1998, 1995 Sony Music Entertainment (Colomb
Customer Reviews
WOW SHAKIRA!!!
this is the best album ever! i love every song on it. i must have listened to the whole thing over 50 times. if i had to pick i guess my favorite song would be inevitable.
Best Spanish compilation of Shakira ever
I love this album. It has all Spanish hits of this talented singer. Her voice is sooo good and the songs are just unbelievable. Highly recommended album.
About Shakira
After achieving superstardom throughout Latin America, Colombian-born Shakira became Latin pop's biggest female crossover artist since Jennifer Lopez. Noted for her aggressive, rock-influenced approach, Shakira maintained an extraordinary degree of creative control over her music; she wrote or co-wrote nearly all of her own material, and in the process gained a reputation as one of Latin music's most ambitiously poetic lyricists. When she released her first English material in late 2001, she became an instant pop sensation, thanks to her quirky poetic sense and a sexy video image built on her hip-shaking belly dance moves.

Shakira Mebarak (full name Shakira Isabel Mebarak Ripoll) was born February 2, 1977, in Barranquilla, Colombia, into a poor family. Her mother was a native Colombian and her father was of Lebanese descent, and so as a child Shakira soaked up music from both cultures; she also listened heavily to English-language rock & roll, listing her favorite bands in later interviews as Led Zeppelin, the Beatles, the Police, the Cure, and Nirvana. Shakira wrote her first song at age eight, began entering (and winning) talent competitions at age ten, and started learning the guitar at age 11 (one story runs that around this age, she was kicked out of her school choir for singing too forcefully). In 1990, at age 13, Shakira moved to Bogotá in hopes of pursuing a modeling career, but wound up signing a record deal with Sony's Colombian division instead. Her 1991 debut album, Magia, comprised songs she'd written over the past five or six years, including some of her earliest efforts. Although it didn't break internationally, the record started to make a name for her in her home country. Dissatisfied with the pop inclinations of the follow-up, 1993's Peligro, Shakira changed direction for a time, joining the cast of the Colombian soap opera El Oasis in 1994.

When Shakira returned to recording in 1995, she asserted more control over the direction of her music and worked more rock & roll rhythms -- as well as occasional Arabic tinges -- into her Latin pop material. The first results were Pies Descalzos, which was initially released in 1995; a slow seller at first, the album gradually caught on thanks to "Estoy Aqui," which became a hit all over Latin America, as well as Spain. After that breakthrough, Pies Descalzos just kept spinning off singles: "Dónde Estás Corazón?," "Antología," "Pienso en Ti," "Un Poco de Amor," "Se Quiere, Se Mata." The album hit number one in eight different countries and eventually went platinum in the U.S. as well; Shakira toured for nearly two years promoting it (she finally left El Oasis in 1997).

Seeking to build on her success, Shakira signed Emilio Estefan -- Gloria's husband and a highly successful music-biz insider -- as her manager and producer. The move paid off when her follow-up album, 1998's Dónde Están los Ladrones? (Where Are the Thieves?), became an even bigger worldwide hit than its predecessor. What was more, it cracked the lucrative U.S. market wide open, spending 11 weeks at number one on Billboard's Latin album chart and producing two U.S. number ones (on the Latin chart) with "Ciega, Sordomuda" and "Tu." The album's signature track, however, was the worldwide hit "Ojos Así," her most explicit nod yet to the Arabic music she'd picked up from her father (not to mention its latent belly dancing connotations). Dónde Están los Ladrones? was also the most effective presentation yet of Shakira's strong-willed persona; her self-analysis made her even more popular among female fans, while her anger over love gone wrong drew comparisons to Alanis Morissette.

When Gloria Estefan offered to translate "Ojos Así" into English, the prospect of a crossover suddenly seemed tangible, and Shakira decided that the most effective way to maintain control over her material was to learn English well enough to write in it herself. In the meantime, she set the stage for her crossover bid with a performance on MTV Unplugged, the channel's first Spanish-language broadcast. MTV Unplugged was released as an album in early 2000, and topped the Latin charts for two weeks on its way to becoming her third straight platinum album; it also won a Grammy for Best Latin Pop Album. At the inaugural Latin Grammy Awards ceremony in 2000, Shakira delivered a much-discussed, show-stopping performance of "Ojos Así" and took home Unplugged-related trophies for Best Female Pop Vocal ("Ojos Así") and Best Female Rock Vocal ("Octavo Dia").

Mainstream pop stardom beckoned. Shakira dyed her long brown hair blonde, romanced Antonio de la Rua (son of the former president of Argentina), and went to work on her first (mostly) English-language album, Laundry Service. The single/video "Whenever, Wherever" was released in advance of the album in late 2001, and made her a star in the English-speaking world almost overnight. Laundry Service entered the American pop charts at number three, and "Whenever, Wherever" climbed into the Top Ten of the singles chart, peaking at number six. The follow-up, "Underneath Your Clothes," also hit the Top Ten, halting at number nine; less than a year after its release, Laundry Service had gone triple platinum. Reviews of Laundry Service were divided as to the effectiveness of Shakira's English lyrics, but nearly all agreed on her unique poetic imagery.

Extensive touring to support Laundry Service led to a long break for the singer, so a remix collection (2002's Laundry Service: Washed and Dried) and a live album (2004's Live & Off the Record) appeared in lieu of a new album. Revitalized, Shakira began the writing process for her next release and soon had 60 songs ready to go, some in English, some in Spanish; 20 of those songs were selected and divided up by language to make two different albums. Both appeared in 2005 and both hit the Top Ten, with the Spanish-language album Fijacion Oral, Vol. 1 leading the way in June with a number four placing and the English-language album, Oral Fixation, Vol. 2, following in November at number five. As sales of Oral Fixation began to slow in early 2006, Epic reissued the album in March with a bonus track, "Hips Don't Lie." The newly recorded song went on to top the Billboard Hot 100 chart in June, becoming one of the summer's biggest hits and reviving sales of Oral Fixation, as well as Shakira's entire back catalog.

Shakira signed a ten-year contract with Live Nation in 2008, prompting Forbes to deem her the fourth top-earning female musician in history. She also worked heavily on another album, traveling to multiple cities while collaborating with such producers as RedOne, Wyclef Jean, and Luis F. Ochoa. She Wolf was completed in 2009 and readied for release in October, marking her third English-language album. The electro-disco-heavy She Wolf didn't make many commercial waves, performing well in Europe, Colombia, and Mexico but not in the U.S., yet Shakira quickly bounced back in 2010 with "Waka Waka (This Time for Africa)," the official song of the 2010 FIFA World Cup that became an international smash hit. On the heels of its success came Sale el Sol in the fall of 2010, an album largely recorded in Spanish that continued her remarkable worldwide success. A live album from Sale el Sol's supporting tour, Shakira: Live from Paris, appeared in time for the 2011 Christmas season.

In 2012, Shakira replaced Christina Aguilera as a coach on the American hit musical talent show The Voice. She initially served for only one season, leaving in 2013, and after her departure she finalized her tenth album. Called Shakira, the record saw release in March 2014, preceded by the hit Rihanna duet "Can't Remember to Forget You." Shakira also served on The Voice again for season six of the series. In 2016, she voiced the character Gazelle in the animated film Zootopia. The movie's soundtrack generated a new Shakira single in "Try Everything," a song co-written by Sia and Stargate. Early in 2017, Shakira appeared on "Deja Vu," a hit single by Prince Royce. Prince Royce returned the favor by appearing on El Dorado, the album Shakira released in May of 2017. El Dorado was preceded by the single "Me Enamore" and featured appearances by Maluma, Carlos Vivas, and MAGIC! ~ Steve Huey
ORIGIN

Barranquilla, Colombia

BORN

Feb 2, 1977
Top Music Videos by Shakira
See All