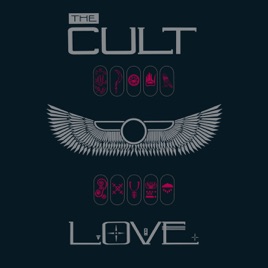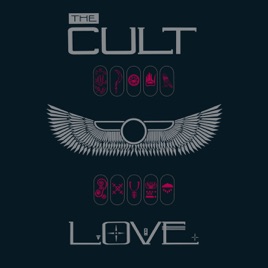 | | TITLE | | TIME |
| --- | --- | --- | --- |
| | | | 5:26 |
| | | | 4:51 |
| | | | 5:29 |
| | Brother Wolf; Sister Moon | | 6:47 |
| | | | 3:56 |
| | | | 5:06 |
| | | | 4:45 |
| | | | 5:26 |
| | | | 4:23 |
| | | | 5:22 |
10 Songs, 51 Minutes
Released:

Oct 18, 1985

℗ 1985 Beggars Banquet
Ratings and Reviews
No reviews?
So good it hurts, an album of unique universes colliding into a freight train of art.
Nirvana is Nirvana!
Emotion, energy, passion... this album is must experience material.
I First fell in love with Love
I was 14, skateboarding, the year was 1987- Tony the Hawk was 19 and becoming a household name. This album was the soundtrack to my "girl life"...and yes, she broke my heart.
About The Cult
Following a succession of name and stylistic changes, the Cult emerged in 1984 as one of England's leading heavy metal revivalists. Picking up the pseudo-mysticism and Native American obsessions of the Doors, the guitar orchestrations of Led Zeppelin, and the three-chord crunch of AC/DC, while adding touches of post-punk goth rock, the Cult gained a dedicated following in their native Britain with mid-'80s singles like "She Sells Sanctuary" before breaking into the American metal market in the late '80s with "Love Removal Machine." Though they managed one Top Ten in America with 1989's Sonic Temple, the Cult were plagued with off-stage tensions and problems that prevented them from retaining their popularity. The band split in 1995 following a pair of unsuccessful records, but returned on an occasional basis for new records -- always anchored by vocalist Ian Astbury and guitarist Billy Duffy.

The origins of the Cult lie in the Southern Death Cult, a goth rock outfit formed by vocalist Ian Astbury (born May 14, 1962) in 1981. Astbury was the son of a merchant navy man, which meant he moved frequently during his youth; at one point in his childhood, his family lived in Canada, where the young Astbury became fascinated with Native Americans, who would become a recurring theme in his songwriting. Astbury eventually settled in Bradford, Yorkshire, where he met a group comprising David Burrows (guitar), Barry Jepson (bass), and Haq Quereshi (drums). Ian joined the group as its lead vocalist (performing with the last name of "Lindsay," which was his mother's maiden name) and had the group renamed the Southern Death Cult. At only its fifth concert, the band was attracting audiences of 2,000. In December 1982, the Southern Death Cult released their first single -- the double A-side "Moya"/"Fatman" -- and the following month, they supported Bauhaus on tour. Though the group's future was looking bright, Astbury pulled the plug on the band because he was frustrated with the positive articles he was receiving in the press. The remaining three members joined Getting the Fear, which eventually became Into a Circle; in the late '80s, Quereshi became a member of Fun^Da^Mental. All of the Southern Death Cult recordings were eventually released in 1986.

Following the disbandment of the Southern Death Cult, Astbury shortened the name of the group to Death Cult and recruited guitarist Billy Duffy -- who had previously played with Morrissey in the pre-Smiths band the Nosebleeds, as well as Theatre of Hate -- and drummer Ray Mondo and bassist Jamie Stewart, who had previously played with Ritual. Death Cult released an eponymous EP in the summer of 1983; on the EP, Astbury reverted back to his given name. Later in the year, Mondo was replaced by Nigel Preston, who had previously played with Duffy in Theatre of Hate; coincidentally, Mondo became the drummer for Preston's previous band, Sex Gang Children.

In early 1984, the bandmembers decided to excise "Death" from the title, fearing that the word gave them the misleading appearance of being a goth band. Where both Southern Death Cult and Death Cult had been overtly influenced by post-punk, the Cult were a heavy hard rock band with slight psychedelic flourishes. Dreamtime, the group's first album, was released in the fall of 1984, accompanied by the single "Spiritwalker." Dreamtime reached number 21 on the U.K. charts. In the spring of 1985, Preston left the group. For the group's summer single, "She Sells Sanctuary," the band was joined by Big Country's drummer, Mark Brzezicki. "She Sells Sanctuary" became a major U.K. hit, peaking at number 15. During the recording of the group's second album, drummer Les Warner joined the group. Love, released in the fall of 1985, continued the hard rock direction of its teaser single and became a number four hit in Britain.

For their third album, the Cult shuffled their lineup -- Stewart moved to rhythm guitar, while former Zodiac Mindwarp bassist Kid Chaos joined the lineup -- and hired Rick Rubin as producer, and the result, Electric, was their hardest, heaviest record to date. The first single from the album, "Love Removal Machine," became a number 18 hit in the spring of 1987, while the album itself reached number four in the U.K. upon its April release. Later that year, Electric gained the Cult a fan base in America, and the album cracked the U.S. Top 40.

In 1988, the group fired Chaos and Warner, replacing the latter with Matt Sorum; the band failed to hire another bassist. The new lineup released Sonic Temple, which would prove to be the band's most successful album. The hit single "Fire Woman" helped propel the album into the American Top Ten, and within no time, the Cult were seen hanging out with the likes of Mötley Crüe and Aerosmith, as well as supporting Metallica on the Damaged Justice tour. Though the group was experiencing its best sales, it was fraying behind the scenes, due to infighting and substance abuse. By the time they recorded their follow-up to Sonic Temple, Sorum had left to join Guns N' Roses and Stewart had quit; they were replaced by drummer Mickey Curry and bassist Charlie Drayton. The resulting album, Ceremony, was released in the fall of 1991 to weak reviews and disappointing sales.

Following the release of Ceremony, the group took a break for the next three years. In 1993, the band released the U.K.-only hits compilation Pure Cult, which debuted at number one. By summer 1993, the Cult had a new rhythm section, featuring former Mission bassist Craig Adams, second guitarist Mike Dimkich (Channel 3), and drummer Scott Garrett. This lineup recorded The Cult, which was released in late 1994 to poor reviews and sales. In spring 1995, the Cult disbanded, with Ian Astbury forming the Holy Barbarians later in the year. Billy Duffy briefly played with Miles Hunt's Vent 414 before leaving to pursue a solo project. In 2000, the band's catalog was remastered and reissued, and Pure Cult was released in the U.S. (despite a similar compilation, High Octane Cult, having appeared four years earlier). It was followed by Rare Cult, a six-disc box set of rarities.

A new Cult, with Matt Sorum, Martyn LeNoble, and Chris Wyse joining Astbury and Duffy, made their debut in June 1999 at the Tibetan Freedom Festival. This band produced the 2001 album Beyond Good and Evil before the Cult were retired again, as Astbury joined former Doors members Robbie Krieger and Ray Manzarek in the Doors of the 21st Century (later renamed Riders on the Storm). In 2007, it was announced that Astbury had left the band to rejoin Duffy in a new version of the Cult, with Chris Wyse on bass and John Tempesta on drums. They signed to Roadrunner and released Born into This in 2008, which they promoted over the next few years on their highly publicized Love Live tour. They returned to the studio in 2011 after inking a deal with Cooking Vinyl Records and released their ninth studio album, Choice of Weapon, the following year.

In 2013, Duffy announced in an interview that the Cult were working on new material for 2015. However, personnel changes put a bit of a damper on the band's plans: after 20 years, Dimkich left to play with Bad Religion and Wyse left for Ace Frehley's band. Longtime friend James Stevenson took the second guitar chair, while Grant Fitzpatrick took over on bass to play the band's 2014 world tour. Jane's Addiction bassist Chris Channey came on board in the studio on the band's tenth studio album. With Bob Rock producing, the Cult completed Hidden City in 2015. The first two singles, "Dark Energy" and "Deeply Ordered Chaos," were issued in November and December, respectively, with a third, "Hinterland," appearing in January of 2016. The album followed in February of that year. ~ Stephen Thomas Erlewine