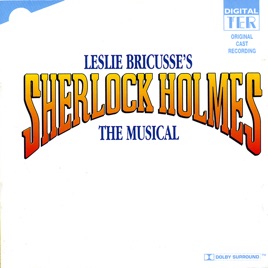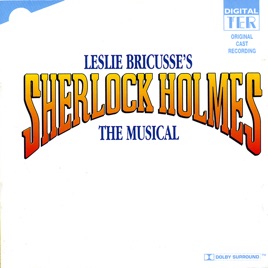 Sherlock Holmes - The Musical (Original Cast Recording)
TITLE
TIME

Peter Brollow & Robert Powell

1:13

Company, John Tobias, Roy Barraclough & Sarah Hay

2:47

Without Him There Can Be No Me

Robert Powell & Roy Barraclough

3:39

Anything You Want to Know

Men

3:20

james Head, Robert Powell & Roy Barraclough

3:39

Company, John Tobias, Louise English & Ray Strachan

3:17

Roy Barraclough

3:13

Louise English & Robert Powell

4:28

Sarah Hay

5:00

Company, John Tobias, Louise English, Robert Powell & Roy Barraclough

5:08

Company, Louise English & Marilyn Cutts

4:03

Sherlock Holmes (Reprise)

Men & Sarah Hay

2:04

Robert Powell

2:17

David Oakley & Roy Barraclough

3:06

Without Him There Can Be No Me (Reprise)

Louise English

2:33

The Lord Abides In London

Company & Louise English

1:39

Down the Apples 'N' Pears

Company & Louise English

4:55

Men

1:35

Robert Powell

2:42

Louise English & Robert Powell

2:46

The Best of You, the Best of Me

Louise English & Robert Powell

3:35

Company

2:25
22 Songs, 1 Hour, 9 Minutes

℗ 1993 JAY Productions Ltd.
Customer Reviews
the game is afoot
i love sherlock holmes and i am thrilled to finaly be able to get the musical on my ipod!
They made a musical???? DUDE!
I had NO idea that the world could create something THIS awesome! The songs are great, the plot is fantastic, and Holmes sounds amazing! Too bad the show closed within a year, but I'm hoping for a revival! Cirtanly better than other shows that are on broadway today. Sherlock Holmes and a Broadway Show are two things that people think should never go together, but this show proves that it totally can! I would like to see it if it comes back.

A very amazing soundtrack. Sherlock Holmes fans will love it, Broadway geeks will love it, and hey, EVERYBODY SHOULD LOVE IT!!!!!
Sherlock Holmes
The music is well composed and quite catchy, I'll say that. But as an avid Sherlock Holmes reader, I think the lyrics and actor portrayal could've used a bit more work. In the stories Watson can think and actually help Holmes at times, whereas in the musical Watson is a bit thick (No offense, Watson!). Additionally, when Holmes returned (in the books), he sneaked in quietly through a back gate in the middle of the night, unlike the enormous fanfare you hear in the first track. Other than that, (and a few other things) I give this one a solid 4/5.

P.S.
KWUR Theater of the Air (podcast) sent me here!
About Leslie Bricusse
Leslie Bricusse was among the most prolific and popular songwriters of the post-war era, authoring numerous hits for both the stage (Stop the World -- I Want to Get Off, The Roar of the Greasepaint -- The Smell of the Crowd) and the screen (Willy Wonka & the Chocolate Factory, Dr. Doolittle). Bricusse was born January 29, 1931, in London and while attending Cambridge University, served as president of the school's famed Footlights Revue Club, co-writing, directing, and starring in his first two musical shows, Out of the Blue and Lady at the Wheel. In 1954, he was tapped to appear in An Evening With Beatrice Lillie, concurrently writing the film musical Charley Moon; one song from the picture, "Out of Town," became a U.K. Top 20 hit for star Max Bygraves and earned Bricusse his first Ivor Novello Award. In 1961, he earned a second Novello for "My Kind of Girl," a Top Five smash for Matt Munro. That same year, Bricusse and songwriting partner Anthony Newley traveled to New York to write the musical Stop the World -- I Want to Get Off; premiering in London that summer, the production was a smash hit, launching the instant classic "What Kind of Fool Am I?," as well as the favorites "Once in a Lifetime" and "Gonna Build a Mountain."

Bricusse collaborated with Cyril Ornadel on the follow-up, 1963's Pickwick, which generated the hit "If I Ruled the World"; he reunited with Newley a year later for The Roar of the Greasepaint -- The Smell of the Crowd, which failed to match the success of Stop the World, but nevertheless yielded the popular favorites "Who Can I Turn To?" and "A Wonderful Day Like Today." Also in 1964, Bricusse and Newley contributed the lyric to John Barry's title theme for the James Bond classic Goldfinger, a hit for singer Shirley Bassey; four years later, Bricusse and Barry again collaborated on the theme for the Bond entry You Only Live Twice. In the interim, he wrote the screenplay and score for the musical fantasy Dr. Doolittle, which starred Newley and Rex Harrison; though judged a box-office failure, the film did earn its author an Academy Award for his song "Talk to the Animals." Bricusse also earned an Oscar nomination the following year for his score to Goodbye, Mr. Chips, repeating the trick in 1970 for Scrooge. Most successful of all was 1971's movie hit Willy Wonka & the Chocolate Factory, which featured "The Candy Man," a pop chart-topper for Sammy Davis, Jr. the following year.

Bricusse and Newley returned to the stage for The Good Old Bad Old Days, which in addition to its title song featured numbers including "I Do Not Love You" and "It's a Musical World." Bricusse kept an uncharacteristically low profile during the mid-'70s, finally resurfacing in 1978 with contributions to Superman: The Movie and The Revenge of the Pink Panther; in 1982, he won a second Oscar for his score to Blake Edwards' Victor/Victoria, written with composer Henry Mancini. Subsequent Oscar nominations included 1986's "Life in a Looking Glass" (from That's Life), 1990's "Somewhere in My Memory" (Home Alone), and 1991's "When You're Alone" (Hook). In 1989, Bricusse received the Kennedy Award for excellence in British songwriting, and was only the fourth Brit inducted into the American Songwriters Hall of Fame (behind Noel Coward, John Lennon, and Paul McCartney); also in 1989, his musical Sherlock Holmes opened in London, albeit to negative reviews. In the fall of 1995, his score to Victor/Victoria was adapted for Broadway and like the original film starred Julie Andrews; Jekyll & Hyde followed in the spring of 1997. ~ Jason Ankeny
ORIGIN

London, England

GENRE

BORN

January 29, 1931