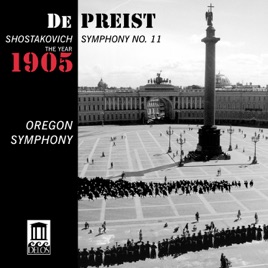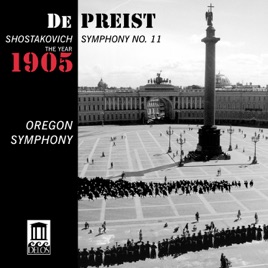 Shostakovich: Symphony No. 11, "The Year 1905"
| | TITLE | TIME |
| --- | --- | --- |
| | Symphony No. 11 in G Minor, Op. 103, "The Year 1905": I. The Palace Square | 13:17 |
| | Symphony No. 11 in G Minor, Op. 103, "The Year 1905": II. The 9th of January | 19:30 |
| | Symphony No. 11 in G Minor, Op. 103, "The Year 1905": III. In Memoriam | 11:31 |
| | Symphony No. 11 in G Minor, Op. 103, "The Year 1905": IV. The Tocsin | 15:49 |
About James DePreist
This American conductor established himself as an important figure despite two major physical ailments, one contracted very early in his career. In addition to his devotion to established composers, James DePreist, nephew of contralto Marian Anderson, showed a strong commitment to American music, frequently performing little-known works and recording a significant number of them. His lengthy tenure as music director of the Oregon Symphony enabled him to develop a special rapport with his players while inviting audiences into an uncommonly imaginative repertory. At the Philadelphia Conservatory, DePreist studied composition with Vincent Persichetti while earning bachelor's and master's degrees from the University of Pennsylvania. During a State Department tour to the Far East in 1962, the young conductor contracted polio in Bangkok. Notwithstanding that physical setback, he took first prize in the Dimitri Mitropoulos International Conducting competition only two years later. Leonard Bernstein subsequently chose DePreist to serve as an assistant conductor of the New York Philharmonic for the 1965-1966 season. Following a successful 1969 debut with the Rotterdam Philharmonic, DePreist began a series of appearances with European orchestras, including those in Amsterdam, Berlin, Munich, Stockholm, Stuttgart, and several in Italy and Belgium. After having been aided in his Continental experiences by a Martha Baird Rockefeller grant, DePreist was appointed associate conductor of the National Symphony Orchestra in 1971 by Antal Dorati. The Quebec Symphony chose DePreist as its music director in 1976, an appointment that lasted until 1983. Meanwhile, DePreist was appointed music director of the Oregon Symphony in 1980 and began building that ensemble into one of America's more adventurous orchestras. Additionally, DePreist brought a series of recording contracts to the orchestra to introduce its work to a world market. One called for ten discs, several of which were reserved for works by American composers. In addition to his work in Oregon, DePreist guest-conducted leading orchestras in the United States and abroad. For his work on behalf of American music, DePreist was awarded the 2000 Ditson Conductors Award. In September 1999, the conductor revealed that he was suffering from kidney disease. He had a kidney transplant in 2001, and retired from the Oregon Symphony in 2003. He taught at Juilliard for the next eight years, during which time he also conducted the Tokyo Metropolitan Symphony Orchestra and was award the National Medal of Arts by President Bush. In 2012 he suffered a heart attack, the results of which ultimately caused his death in 2013.
Top Songs by James DePreist
See All
Top Albums by James DePreist
See All