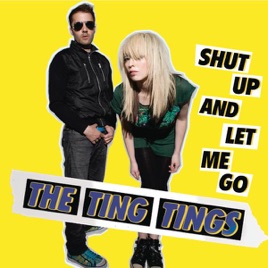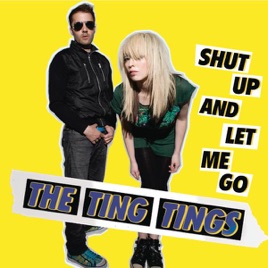 1 Song, 2 Minutes
Released:

Apr 21, 2008

℗ 2008 Sony Music Entertainment UK Limited
Ratings and Reviews
Catchy!
I am SUCH a victim of advertising.
I see an ipod commercial. Hmm that song is catchy.
See the ipod commercial again. I LIKE this song.
Same commercial the third time and I'm searching the net to find it. Then I come to itunes and download it.
The Ting Tings really hit the lottery when their single Shut Up and Let Me Go was chosen to be used in the latest ad for iPod.
This upbeat, fun, and extremely dance-able song deserves the television exposure, and more.

I don't know if The Ting Tings are an up and coming band that are getting ready to break here in the USA or if they are just a couple lucky Brits that are going to see a big jump in sales of their one hit wonder. As of today itunes is only selling two lone singles by the Ting Tings, but I do hope there is a full album on its way. I'd like to hear more from them.
Mhm I do Love it
I blame the commercial for making me like this song =0!!!
This song is awsome
every time it comes up on my ipod i gotta dance
About The Ting Tings
Named after a Chinese friend whose name sounds like the Mandarin pronunciation of "bandstand," the Ting Tings -- a scrappy, dance-oriented duo consisting of singer/guitarist Katie White and drummer Jules De Martino -- formed in the Salford district of Manchester, England in 2006. Prior to forming the group, the pair worked together in 2001 when White was in the all-female punk-pop group TKO and De Martino wrote some songs for them. Later the pair reunited, and with another friend formed the trio Eskimo Kiss, which signed to Mercury Records but disbanded, in part due to changing personnel at the label. De Martino and White regrouped, working on their own music and others' at Salford's music commune The Islington Mill. Quickly signed to the local indie label Switchflicker Records, the Ting Tings released their debut single, "That's Not My Name," in the spring of 2007. Following the limited-edition, tour-only single "Fruit Machine," the Ting Tings signed to major-label Columbia later that year. The flipside of the Switchflicker single, "Great DJ," was released as the duo's debut Columbia single in March 2008, followed by the reissue of "That's Not My Name" with a new exclusive B-side remix.

"That's Not My Name" rose to the top of the U.K. charts in May 2008, the same month that the duo's debut album, We Started Nothing, appeared. The Ting Tings spent the rest of 2008 and a large part of 2009 touring in support of the album, which eventually sold over two million copies worldwide, won the 2009 Ivor Novello Award for Best Album, and earned the group a Best New Artist Grammy nomination that December. Early in 2010, De Martino and White moved to Berlin to work on songs for their second album. Inspired by the city's atmosphere and the cold weather, they went in a darker, more electronic direction with their new songs. In August 2010, the Ting Tings offered a taste of their new material, premiering the single "Hands" -- which was mixed by Calvin Harris -- on BBC Radio 1 and officially releasing it that October. After extensive touring and over eight months recording in Germany and Spain, in March 2012 the Ting Tings offered their sophomore album, Sounds from Nowheresville, a collection of songs inspired by the exuberant freedom of the Beastie Boys' classic Paul's Boutique. Two years later, third album Super Critical surfaced. Its October release date was preceded by the April release of first single "Wrong Club." ~ Stewart Mason & Heather Phares
ORIGIN

Manchester, England

GENRE

FORMED

2006