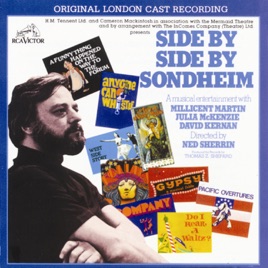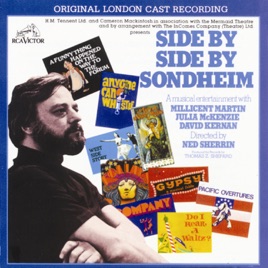 Side By Side By Sondheim (Original London Cast Recording)
Various Artists
TITLE
TIME

A Funny Thing Happened On the Way to the Forum

Millicent Martin, Julia McKenzie & David Kernan

The Little Things You Do Together (From "Company")

Julia McKenzie & David Kernan

You Must Meet My Wife (From "A Little Night Music")

Millicent Martin & David Kernan

Getting Married Today (From "Company")

Millicent Martin, Julia McKenzie & David Kernan

I Remember (From "Evening Primrose")

David Kernan

Can That Boy Foxtrot! (From "Follies")

Millicent Martin & Julia McKenzie

Too Many Mornings (From "Follies")

David Kernan & Julia McKenzie

Company / Another Hundred People (From "Company")

Millicent Martin, Julia McKenzie & David Kernan

Barcelona (From "Company")

Julia McKenzie & David Kernan

Being Alive (From "Company")

Millicent Martin, Julia McKenzie & David Kernan

I Never Do Anything Twice (From "The Seven Percent Solution")

Millicent Martin

David Kernan, Millicent Martin & Julia McKenzie

Broadway Baby (From "Follies")

Julia McKenzie

You Could Drive a Person Crazy (From "Company")

Millicent Martin, Julia McKenzie & David Kernan

Everybody Says Don't (From "Anyone Can Whistle")

Millicent Martin, Julia McKenzie & David Kernan

There Won't Be Trumpets (From "Anyone Can Whistle")

Millicent Martin, Julia McKenzie & David Kernan

Anyone Can Whistle (From "Anyone Can Whistle")

David Kernan

Send In the Clowns (From "A Little Night Music")

Millicent Martin

Pretty Lady (From "Pacific Overtures")

Millicent Martin, Julia McKenzie & David Kernan

We're Gonna Be All Right (From "Do I Hear a Waltz?")

Millicent Martin & David Kernan

A Boy Like That (From "West Side Story")

Millicent Martin & Julia McKenzie

The Boy From... (From "The Mad Show")

Millicent Martin

If Momma Was Married (From "Gypsy")

Millicent Martin & Julia McKenzie

Losing My Mind (From "Follies")

Julia McKenzie

Could I Leave You? (From "Follies")

David Kernan

I'm Still Here (From "Follies")

Millicent Martin

Side By Side By Side (From "Company")

Millicent Martin, Julia McKenzie & David Kernan
27 Songs, 1 Hour, 30 Minutes
Released:

Dec 31, 1975

℗ 1976 BMG Music
Ratings and Reviews
What can you say
Simply magical. I first heard this show in London many years ago and could not believe what I was feeling and hearing. I now know who the man is and no one will ever come close.
Side By Side By Sondheim
The album is fantastic. Saw the original show on Broadway. Magic.