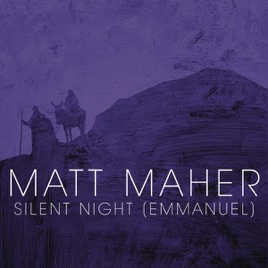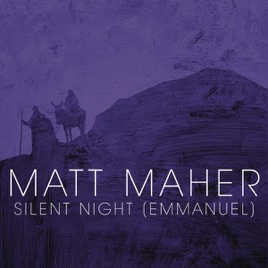 Silent Night (Emmanuel) - Single
1 Song, 3 Minutes
Released:

Nov 25, 2008

℗ 2008 Provident Label Group LLC, a unit of SONY BMG MUSIC ENTERTAINMENT
Ratings and Reviews
Amazing Song
I have been a Matt Maher for several years now, and I cannot express how excited I am that he recorded a Christmas song. My only problem is that I want more now. I wish he would record an entire Christmas album. Definitely download it.
Beautiful
I have been a Matt Maher fan for years. I was not even expecting this song to be so beautiful. Matt and his band have progressed so much and I hope they continue to bless us with this amazing music. Maybe a whole Christmas album next year?? =))
I think there will be a cd...
To those who posted above me I'd like to say that I think Matt Maher is coming out with a Christmas cd. He has another song called "Hope Is Dawning" that doesn't seem to be on here but he has the first one and a half minutes of it on his facebook page. I could be wrong and he just made two songs instead of one.
About Matt Maher
Christian singer and songwriter Matt Maher was born in Newfoundland, Canada, but it was not until a family upheaval led Maher to the desert climes of Arizona that he would find his calling and begin a musical career that would lead him to compose work for genre artists such as Bethany Dillon and Chris Tomlin, as well as releasing albums and playing shows across the Southwest -- and eventually the world. Having been asked to take on the mantle of youth pastor and music director at his church, Maher -- who was also a scholarship winner for studies in jazz piano at Arizona State University -- would develop his skills quickly, leading to a working relationship with songwriter Tom Booth after moving to Mesa. In 2001, Maher released the first of three independent albums, The End and the Beginning, which was followed by 2003's Welcome to Life and 2006's Overflow. His eventual publishing deal with EMI led to further exposure, and he soon found himself signing a record deal with the Essential label. That relationship allowed Maher to record and release his first "official" album, April 2008's Empty and Beautiful. A number two hit on the gospel charts, Empty and Beautiful would lead to Maher playing more and more shows outside of his Arizona home base, including plans to tour Europe and Australia in 2008. Maher's second album on Essential, Alive Again, was released in September 2009, faring better than its predecessor, beginning a trend that would see each of his subsequent albums climbing higher on both the Christian and pop charts. Following 2011's Southern rock-tinged The Love in Between, Maher issued a compilation of live cuts and a handful of new songs under the title All the People Said Amen. Released in 2013, it coincided with Maher's performance alongside Pope Francis to a Brazilian crowd nearly four million strong at Rio's World Youth Day. His 2015 release, Saints and Sinners placed at number two on Billboard's Christian Albums chart and featured collaborations with Needtobreathe's Bo and Bear Rinehart and Switchfoot's Jon Foreman. His most successful release to date, it netted Maher a Dove Award for Songwriter of the Year. ~ Chris True
HOMETOWN

Newfoundland, Canada

GENRE

BORN

November 10, 1974