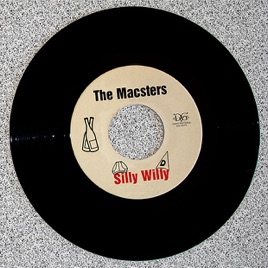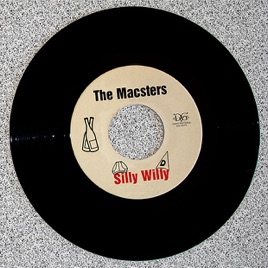 4 Songs, 13 Minutes
Released:

May 8, 2012

℗ 2012 Dying Van Gogh Records under exclusive license from Michael McNamee.
Ratings and Reviews
The Macsters are the next BIG power pop band.
The Macsters' EP is a great sampling of what is going to be the next big thing. The single, "Silly Willy" is a great power pop tune with funny lyrics, on point instrumentals, and fabulous vocals. It's the party anthem of the year.

MUST BUY THIS EP!
The Macsters are doing it right!
The Macsters ep "silly willy" is a great collection of songs by a band that, after many years on hiatus, has come back with a bang. the best thing about this album is that you can listen to this whenever you want to get up, dance, and sing to the catchy lyrics or relax while soaking up the brilliant instrumentals and meaningfull lyrics.If you give the macsters a good listen, there WILL be something that catches your musical preferences and it will leave you begging for more.
The Macsters: You Will LOVE My FAVORITE Band at First Listen!
This is a super high quality, amazing, and elegant band and album! The Macsters are a true rare gem of a find: tight, on point, and have great style and melody! The lyrics and instrumentals are brilliant, deep, motivational, and truly inspiring. Somehow, The Macsters will make you feel like you are ready to conquer the world--not something easily gotten from songs. (This is one of the great qualities that makes The Macsters so unique.)

The Macsters are truly in a league of their own--worlds ahead! You will dance around to "Silly Willy." You will feel dreamy, in a great way, with "Floating on a Cloud." You will never want to waste another day when you hear the truly motivating and inspirational "Let Yourself Go." And "Listening" really makes you search deep within your soul. The Macsters powerfully pack so much into their music that it will definitely have an effect on you. Another common effect is goosebumps.

If you like The Beatles--you will LOVE The Macsters! If you like 80s bands and artists--you will LOVE the Macsters! BUT if you like great and uplifting music--you will definitely LOVE The Macsters! They are the real deal--I have been to many concerts and am hard to impress. BUT this is the best band that I have ever seen or heard live--by far! I am beyond impressed by The Macsters--and cannot get enough! You WILLdefinitely want MORE! AND I guarantee: it will be love at first listen! :-)