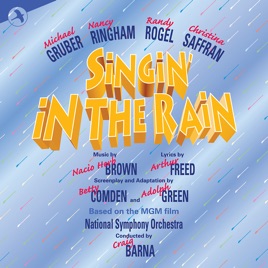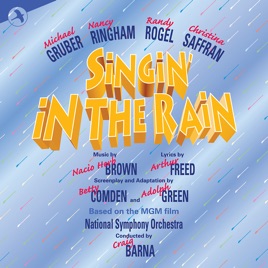 Singin' In the Rain (Original Studio Cast) [2006 Remastered]
Various Artists
TITLE
TIME

National Symphony Orchestra

3:29

Teri Ralston

3:25

Michael Gruber

1:57

The Royal Rascal / To the Street

National Symphony Orchestra

3:05

National Symphony Orchestra

0:55

Christina Saffran

1:39

You Stepped Out of a Dream

Michael Gruber

2:27

Randy Rogel

3:20

Paul Manuel

2:31

Christina Saffran

2:17

Michael Gruber

4:40

Michael Gruber

3:20

Nancy Ringham

1:30

Randy Rogel

3:37

Michael Gruber

5:29

National Symphony Orchestra

1:13

Nancy Ringham

3:41

Nancy Ringham

2:48

Randy Rogel

13:03

Christina Saffran

4:46

Singin' In the Rain (Finale)

National Symphony Orchestra

2:23

National Symphony Orchestra

2:46

National Symphony Orchestra

3:24
23 Songs, 1 Hour, 17 Minutes

℗ 2006 JAY Productions Ltd
Hmmm...
I like the original version better but this is ok!!
Singin' in the Rain
I am surprised at the real achievement here over 50 years after the original.
What's Wrong With It?
It's an insurmountable task to outdo the brilliant original performances in Singin' in the Rain. The leads here are quite good, but it's impossible to avoid comparing them to the originals. And unfortunately, they just are not as good. This is forgivable. The real tragedy here is one of the new songs, What's Wrong With Me - Lina Lamont's solo. This song can be charming and funny, and with a strong enough performance can even be one of the standout numbers of the show. Unfortunately, Nancy Ringham horribly over-exagerates Lina's vocal incompetency, making the song literally painful to listen to. It's a real shame, because this can be a fantastic number.