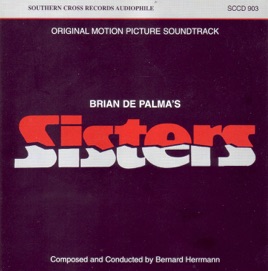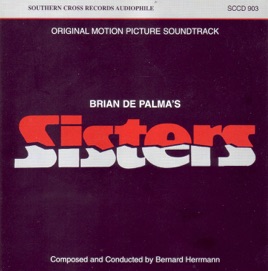 Sisters: Original Motion Picture Soundtrack
| | TITLE | TIME | PRICE |
| --- | --- | --- | --- |
| | | 1:36 | $0.99 |
| | | 1:19 | $0.99 |
| | The Ferry; the Apartment; Breton | 3:40 | $0.99 |
| | | 2:49 | $0.99 |
| | The Cake; the Car; the Candles | 2:40 | $0.99 |
| | Phillip's Murder; Window View | 3:04 | $0.99 |
| | Clean-Up; Split Screen; the Search | 2:58 | $0.99 |
| | Plastic Bag; the Dress; Cake Box | 2:49 | $0.99 |
| | Apartment House; the Windows | 2:44 | $0.99 |
| | | 1:06 | $0.99 |
| | | 2:36 | $0.99 |
| | The Solution; the Clinic; Hypnotic Trance | 3:55 | $0.99 |
| | | 4:21 | $0.99 |
| | Separation Nightmare; Breton's Murder; Dirge | 4:08 | $0.99 |
| | | 2:13 | $0.99 |
15 Songs

℗ 1985 Southern Cross
Customer Reviews
"Sisters"
Brilliant! One of Herrmans last scores. Right on par with "Psycho." This is a rare find as this album has been off the market for many years and the price is to die for. They don't make soundtracks like this anymore.
The Maestro of Suspense in top form
If the soundtrack to Sisters is not one of Bernard Herrmann's most ingenious or innovative scores, it is certainly one of his catchiest and most distinctive. He seems to have had as much fun tearing into this macabre set of melodies as Brian De Palma had experimenting with characters holding sharp objects in the film. The improved production quality of the '70s, finally catching up to his beautiful orchestral textures, makes the strings shimmer in several parts, and the woodwind section oozes with menace -- a beguiling trademark of Herrmann's that is woefully absent in a few of his post-Psycho scores. iTunes is very short on original Herrmann soundtrack recordings, partly because they're just not being produced anymore. So to have Sisters show up for $7.99 is a blessing. Whether you love the man's work or are just getting into it, you'll never make a surer purchase!
About Bernard Herrmann
Bernard Herrmann was arguably the most innovative film composer of the 1940s, '50s, and '60s, even though he actually rejected the term "film composer," preferring to call himself a composer who sometimes wrote film scores. That was an apt description for a musician who, in addition to his film work, also composed works in a variety of other forms including opera, symphony, musical comedy, and concert music, as well as writing extensively for radio and television, while maintaining a concurrent conducting career that found him wielding a baton before major orchestras in New York, London, Los Angeles, and other cities, and in recording studios where he committed many of his compositions and those of other composers to disc. Nevertheless, his greatest fame came as an Academy Award-winning movie scorer who provided background music for 47 feature films released between 1941 and 1976, among them such cinema classics as Citizen Kane, Psycho, and Taxi Driver. That isn't actually such a large number of credits for the typical A-list Hollywood composer, who might have been expected to score twice as many motion pictures in three and a half decades. But Herrmann was deliberately selective in accepting screen assignments, determined to take the time to orchestrate his own scores, a practically unheard-of practice that contributed to the unusual nature of his writing. Unlike his peers and their arrangers, who tended to make full use of the existing orchestras at the movie studios, resulting in scores that sounded like traditional classical music, he made unusual decisions about what instruments to use, often employing far fewer musicians to more striking effect. Nor was he much interested in writing conventional melodic themes, preferring instead ostinatos and dramatic sound-effects-like passages that emphasized the suspenseful developments in his films for director Alfred Hitchcock, for example, or brought out the grandeur of the fantasy elements in his films for producer Charles Schneer and special effects expert Ray Harryhausen. Herrmann was born June 29, 1911, in New York City, the son of Russian Jewish immigrants Abraham Herrmann (who had changed his name from Abraham Dardick), an optometrist, and Ida (Gorenstein) Herrmann. He showed an early interest in music and began studying the violin as a child, quickly moving on to trying to write music. Around 1927, while attending DeWitt Clinton High School, he began studying composition with Gustav Heine. His first notable work was a tone poem called The Forest that he wrote in January 1929. While still in high school, he managed to enroll at the fine arts school at New York University (NYU), where he studied composition with Philip James and conducting with Albert Stoessel. When Stoessel became head of the opera and orchestra department at the Juilliard School of Music in the fall of 1930, Herrmann was able to become a fellowship student there, also studying composition and harmony with Bernard Wagenaar. He graduated from high school in January 1931 and continued at Juilliard until May 1932, when he left without taking a degree. That fall, he returned briefly to NYU, where he attended lectures in advanced composition and orchestration given by Percy Grainger; he also worked as a music editor and arranger at the Harms music publishing company during this time. That fall, he was asked by dancers he had met at Juilliard to arrange ballet music for their appearance in the musical revue New Americana, which inadvertently led to his professional composing, conducting, and Broadway debuts when he went on to direct the orchestra during his arrangement of "The Shakers" and his own original piece, "Amour à la Militaire," at the show's opening on October 5, 1932; it ran 77 performances, through December 10. With the Depression at its height, Herrmann and Hans Spialek, an orchestrator at Harms, were able to put together their own orchestra of unemployed musicians, the New Chamber Orchestra, which gave its first concert at the New School for Social Research on May 17, 1933. At this and subsequent concerts, Herrmann conducted his own compositions and those of many modern composers he favored; he was a particular champion of the then-unknown Charles Ives. In 1934, Herrmann was hired as an arranger and rehearsal conductor for the CBS radio network. He rose to the position of composer/conductor for the network, where he worked full-time for the next 17 years, contributing to numerous national radio shows. Four years into his tenure, he began working on the program The Mercury Theatre on the Air, a radio version of an acclaimed New York theater company led by Orson Welles and John Houseman. On October 30, 1938, Herrmann provided the musical cues for the show's notorious adaptation of H.G. Wells' science fiction novel The War of the Worlds, which convinced many listeners that Martians really were invading the earth. The following year, Welles signed a contract with the RKO movie studio to develop motion pictures, and he asked Herrmann to join him. Herrmann took a leave of absence from CBS and boarded a cross-country train for Hollywood. Just before he left New York, he married writer Lucille Fletcher on October 2, 1939. Meanwhile, his reputation as a composer continued to grow; his cantata Moby Dick was given its concert premiere by the New York Philharmonic Orchestra on April 11, 1940. Welles worked on several ideas for his first film before settling on Citizen Kane, the fictional screen biography of wealthy newspaper magnate Charles Foster Kane, based loosely on real-life figure William Randolph Hearst. In a production that broke many precedents of moviemaking, not the least of the departures from the norm was Welles' welcoming of his composer into the project during shooting, not, as is standard, only as part of the post-production process. Welles even shaped scenes to Herrmann's music instead of the other way around. He also gave Herrmann the opportunity to write a variety of kinds of music, even including a nearly impossible-to-sing opera aria meant to emphasize the vocal inadequacies of Kane's mistress. The composer returned to New York and CBS after the score was recorded in the fall of 1940, turning his attention to the symphony that the network and the New York Philharmonic had jointly commissioned him to write. It was actually premiered on CBS on July 27, 1941, under his direction, on the same day that his daughter Dorothy Herrmann was born. (The New York Philharmonic gave it its concert debut in the fall of 1942.) A second daughter, Wendy Herrmann, was born October 18, 1945. Citizen Kane, meanwhile, had opened on May 1, 1941. Although it was not a great financial success in its initial run, the film went on to legendary status, routinely cited as the greatest movie ever made. The concept of the "original motion picture soundtrack" album was still years away, but a soundtrack LP did appear on the Mark '56 label in 1980, and in 1991 the Australian Philharmonic Orchestra, conducted by Tony Bremner, released a recording of the score on Preamble Records. Herrmann returned to Hollywood and to RKO in the summer of 1941 to score his next film, All That Money Can Buy (aka The Devil and Daniel Webster). It appeared in October, and, like Citizen Kane, earned him a nomination for the 1941 Academy Award for best dramatic score. In fact, it bested Citizen Kane in the voting; on February 26, 1942, Herrmann took home the Oscar on only his second try. At that time, he was working on his third score, which was his second for Welles, The Magnificent Ambersons. Unfortunately, it did not turn out as well as Citizen Kane. While Welles and Herrmann were pleased with the film, RKO was not, and the studio recut the film, changed the ending, and brought in another composer to write music to cover the alterations. By the time it was released in August 1942, Herrmann had insisted that his name be removed from the credits. (In 1990, the Australian Philharmonic Orchestra released its recording of the complete and restored score as originally written.) Both because of this unpleasant experience and because he still had a full-time job in New York, Herrmann returned to CBS in the spring of 1942 and devoted himself to composing and conducting for radio shows such as Suspense and, starting in the spring of 1943, Invitation to Music. He was lured back to Hollywood to score an adaptation of Jane Eyre at 20th Century Fox starring Joan Fontaine in the title role and Welles as Edward Rochester; it opened in February 1944. (Half a century later, two versions of the score appeared on disc: in 1993, the original soundtrack was paired with David Raksin's score for Laura by Fox Records -- Herrmann had turned down Laura -- and in 1995 a newly recorded version by the Slovak Radio Symphony Orchestra of Bratislava, conducted by Adriano, appeared on Marco Polo Records.) It did not, however, signal that the composer was ready to return to Hollywood full-time. On the contrary, he had begun work on another project related to a classic of British literature, adapting Wuthering Heights as an opera. In November 1943, he was appointed chief conductor of the CBS Symphony. And on December 16, he conducted the New York Philharmonic in the premiere of his orchestral work For the Fallen, a timely piece on the theme of war that had been commissioned by the League of Composers. Over the next several years, Herrmann spent most of his time at CBS or at work on his opera, while taking only occasional film assignments: Hangover Square (January 1945); Anna and the King of Siam (June 1946; his third Academy Award nomination); The Ghost and Mrs. Muir (May 1947); and the love theme for Portrait of Jennie (December 1948). (In 1975, the Royal Philharmonic Orchestra, conducted by Elmer Bernstein, issued a recording of the score for The Ghost and Mrs. Muir on Bernstein's Film Music Collection label; Varèse Sarabande Records released the actual soundtrack recording in 1997.) One of Herrmann's notable efforts for radio during this period was a special broadcast on V-E (Victory in Europe) Day, May 8, 1945, on all three networks, On a Note of Triumph. The show was pressed on disc and released by Columbia Records. In July 1948, Herrmann divorced his wife. He married her cousin, Kathy Lucille Anderson, in August 1949. This marriage lasted 15 years before it, too, ended in divorce, in 1964. Herrmann married British journalist Norma Shepherd on November 27, 1967. A turning point in Herrmann's professional life occurred in 1951. That year, he finally completed Wuthering Heights after eight years of work. He would never see a production of it during his lifetime, although in 1966 he made a deal with the British label Pye Records to record it, largely at his own expense. It was finally given its world premiere by the Portland Opera Company in November 1982. Also in 1951, CBS, bowing to the decline in radio listening with the rise of television, disbanded the CBS Symphony, putting him out of work. As a result, he moved to California and, after more than ten years of dabbling in film composing, finally turned to it as his main occupation. For the next ten years, he maintained the two-or-three-films-a-year schedule typical of a major Hollywood composer. Even before he left New York, he had written the score for director Nicholas Ray's On Dangerous Ground, although its December 1951 premiere was preceded by his next project, the science fiction film The Day the Earth Stood Still, released in September, the latter making innovative use of the theremin. (In 1993, Fox Records belatedly released an original soundtrack album for The Day the Earth Stood Still. On Dangerous Ground got a soundtrack release a decade after that on the Film Score Monthly label.) Not long after, in February 1952, came Five Fingers, a spy thriller, although Herrmann's major project for the year was the screen adaptation of the Ernest Hemingway short story "The Snows of Kilimanjaro," which appeared in September and became one of the top-grossing films of 1952. Working steadily, Herrmann had three films in release in 1953, starting with White Witch Doctor that summer, followed by two December openings, Beneath the 12-Mile Reef and King of the Khyber Rifles. (In 2001, the Film Score Monthly label finally released a soundtrack album for Beneath the 12-Mile Reef.) His next two films both appeared in the summer of 1954, with the Western Garden of Evil followed by The Egyptian, the latter a lavish historical drama on which 20th Century Fox music department head Alfred Newman brought him in to share composing duties because of the picture's length and deadline. The Egyptian marked the first instance in which a Herrmann film score was released on a contemporaneous soundtrack album; the LP was released by Decca Records. Herrmann next turned his attention to television, composing the score for an adaptation of Charles Dickens' A Christmas Carol that was broadcast on CBS Christmas Eve. Three more Herrmann screen efforts appeared in 1955, starting in January with Prince of Players. (In 1998, the Moscow Symphony Orchestra, conducted by William T. Stromberg, released an album combining music from Garden of Evil with a suite from Prince of Players on Marco Polo Records.) Next, in the summer, came another Western, The Kentuckian. (In 1977, the National Philharmonic Orchestra, conducted by Fred Steiner, released a recording of the score of The Kentuckian on Entr'acte Records.) But the most important film of the year for Herrmann appeared in October; it was The Trouble with Harry, the first of seven films the composer scored for veteran director Alfred Hitchcock. (In 1998, the Royal Scottish National Orchestra, conducted by Joel McNeely, released a recording of the score of The Trouble with Harry on Varèse Sarabande.) On December 23, 1955, CBS television broadcast Herrmann's second consecutive Christmas project, A Child Is Born, based on a story by Stephen Vincent Benet, and a soundtrack album was released by MCA Records. Herrmann had two new films in the spring of 1956, with similar titles. The Man in the Gray Flannel Suit, issued in April, was followed in May by The Man Who Knew Too Much. The latter was another Hitchcock collaboration, in which Herrmann actually appeared onscreen as himself, conducting the London Symphony at the Royal Albert Hall in London in the suspenseful climax. Also during the year, he engaged in other musical activities, serving as guest conductor for the Houston Symphony and, in a final radio effort, scoring and conducting an adaptation of Aldous Huxley's novel Brave New World for the Columbia Workshop series. A third Hitchcock film, The Wrong Man, appeared in early 1957. Herrmann's second film score for that year came with the drama A Hatful of Rain in the summer. He had three movies in release in 1958. The celebrated Vertigo, which appeared in May, was his fourth film for Hitchcock. It was accompanied by a soundtrack album released on Mercury Records. (The score was re-recorded by the Royal Scottish National Orchestra, conducted by Joel McNeely, for a 1995 album released by Varèse Sarabande.) The Naked and the Dead, which opened during the summer, was an adaptation of Norman Mailer's World War II novel. And The 7th Voyage of Sinbad, which appeared late in the year, marked the start of Herrmann's work on the fantasy films of Ray Harryhausen. The composer conducted the music on the soundtrack album released by Colpix Records. Another three Herrmann scores followed in 1959. In the summer, there was the drama Blue Denim, and in the same season came the next Hitchcock project, North by Northwest. (In 1980, the London Studio Orchestra, conducted by Laurie Johnson, issued a recording of the score of North by Northwest on Starlog Records; Rhino Records finally put out a soundtrack album conducted by the composer in 1996.) Another Harryhausen film, Journey to the Center of the Earth, followed in December. (Varèse Sarabande belatedly released a Herrmann-conducted soundtrack album in 1997.) Herrmann had had plenty of music on television series during the 1950s, both because CBS reused his radio music and because he wrote new themes and scores for such shows as Gunsmoke and Have Gun Will Travel. On October 2, 1959, CBS began broadcasting the macabre anthology series The Twilight Zone, for which he wrote a number of episode scores later released on disc on several albums by Varèse Sarabande in the 1980s. There were two Herrmann scores for films of 1960, both from his ongoing collaborations. In June came Psycho, the peak of the composer's work with Hitchcock and, with its strings-only instrumentation, among his most memorable works. (In 1975, Herrmann conducted a recording of his score with the National Philharmonic Orchestra for release on Unicorn Records; the Royal Scottish National Orchestra, conducted by Joel McNeely, made a recording for Varèse Sarabande in 1996.) The Three Worlds of Gulliver, another Harryhausen special effects fantasy, followed in December, with a soundtrack LP issued by Colpix in 1961. (The Royal Scottish National Orchestra, conducted by Jay McNeely, issued a newly made recording on Varèse Sarabande in 2001.) A full year passed before another Herrmann score was in movie theaters, and it was the next of the Harryhausen pictures, Mysterious Island. Herrmann's assignments began to diminish in the early '60s as movie producers became more interested in pop-oriented scores featuring potential hit songs to promote their films, a trend that he was not inclined or really able to follow. He did, however, continue to find work. Tender Is the Night, released in January 1962, was an adaptation of the F. Scott Fitzgerald novel. (20th Century Fox Records released the soundtrack, conducted by the composer.) Cape Fear, which followed in the spring, was a Hitchcock-style thriller, directed by J. Lee Thompson. (For director Martin Scorsese's 1991 remake of the film, Elmer Bernstein adapted Herrmann's score, and this version was released on a soundtrack album by MCA.) After doing some scoring for another TV Western series, The Virginian, Herrmann went back to work with Hitchcock himself on the director's next film, The Birds. But when it appeared in the spring of 1963, his credit was "sound construction," since the horror film did not have a musical score per se. The same season, he was represented in theaters by his last collaboration with Harryhausen, Jason and the Argonauts. (In 1999, the Sinfonia of London, conducted by Bruce Broughton, released a recording of the score on Intrada Records.) Also in 1963, Herrmann became more involved with scoring episodes of the TV series The Alfred Hitchcock Hour. His next film was his last successful collaboration with Hitchcock, Marnie, released in June 1964, his only screen score of that year. With the breakup of his second marriage and a drop-off in film assignments, Herrmann, a lifelong Anglophile, began to spend half of each year at an apartment he had taken in London. His only movie of 1965 was Joy in the Morning. (Forty years later, the Film Score Monthly label issued a CD containing the original soundtrack.) He wrote a score for the next Hitchcock film, Torn Curtain, but the director, under pressure from producers to have a pop soundtrack, rejected it. (The unused score, generally regarded as far superior to the John Addison score actually used in the film, was recorded by the Royal Philharmonic Orchestra for Elmer Bernstein's Film Music Collection label in 1977 and by the National Philharmonic Orchestra, conducted by Jay McNeely, for Varèse Sarabande in 1998. In the Oscar-nominated 1992 documentary Music for the Movies: Bernard Herrmann, the filmmakers even went a step further, matching some of the music to a scene from the film.) The split with Hitchcock was one more indication that Herrmann was out of fashion in Hollywood, but he continued to be held in high regard internationally, and for the next five years all of his scoring assignments came out of Europe, starting with Fahrenheit 451, a version of the Ray Bradbury novel directed by François Truffaut and released in the fall of 1966. Truffaut's The Bride Wore Black, which opened in the U.S. in the spring of 1968, also used a Herrmann score. Meanwhile, the composer was occupying himself in London making recordings of his repertoire for various record labels. There was his opera, Wuthering Heights, for Pye, and for the same company he also cut a version of his Moby Dick cantata and an LP containing suites from his first two films, the Citizen Kane music dubbed "Welles Raises Kane," and the All That Money Can Buy cues by the alternate title "The Devil and Daniel Webster." These recordings were made in 1967 with the London Philharmonic. In 1968, Herrmann contracted with Decca's London Records subsidiary for a series of albums of his movie music to be made for its "Phase 4" stereo series, beginning with The Great Movie Thrillers. Again, the orchestra was the London Philharmonic. Other releases in the series, which continued into the mid-'70s, included Great Tone Poems (Herrmann's interpretation of works by such composers as Liszt and Sibelius), a version of Gustav Holst's The Planets, Great Film Classics, The Impressionists, Great British Film Scores (volumes one and two), Great Shakespearean Films, The Mysterious Film World of Bernard Herrmann, and The Fantasy Film World of Bernard Herrmann, with the National Philharmonic Orchestra performing in most cases. Also working with the Unicorn label, he recorded a version of Joachim Raff's Lenore Symphony. The Bride Wore Black was not Herrmann's only score of 1968. He followed it with the British production Twisted Nerve, for which he also served as music director. (The soundtrack album was released by Polydor Records.) And he wrote his only TV movie score, for Companions in Nightmare. He also worked on his only musical comedy, The King of Schnorrers, which was given a production at the Goodspeed Opera House, a prominent regional theater in Connecticut, in 1970. But he was largely inactive as a film composer in the late '60s and early '70s before accepting an assignment to write a score for the English-language version of the international co-production The Battle of Neretva, released in different territories at different times. (Entr'acte released the soundtrack album, conducted by the composer, in 1975.) Two film assignments in 1971 followed, The Night Digger and Endless Night. The same year, he formalized his living arrangements, giving up his house in California and moving permanently to London. With few film assignments, he devoted himself more to recording classical albums in 1971 and 1972, including The Four Faces of Jazz (those faces, curiously, being Kurt Weill, George Gershwin, Milhaud, and Stravinsky) for Decca with the London Festival Recording Ensemble and Charles Ives' Second Symphony with the London Symphony Orchestra. (In 1974, Herrmann recorded his own sole symphony, giving it its first hearing since 1942.) Herrmann's uncompromising devotion to innovation in film scoring began to bear fruit in the early '70s as a new generation of filmmakers, awed by his work with Hitchcock and others, began to seek him out, starting with director Brian de Palma, who hired him to do his first American score since 1965 for the Hitchcock-influenced thriller Sisters, released in March 1973. (The Herrmann-conducted soundtrack album was released by Entr'acte.) Larry Cohen, another young director, requested Herrmann for his 1974 horror film It's Alive! (Some of this music was reused in the sequels It Lives Again and It's Alive III: Island of the Alive.) De Palma then brought him back for his next film, another Hitchcock-styled thriller called Obsession, shot in 1975. Meanwhile, Herrmann continued to record his own compositions and those of others for Unicorn, including A Musical Garland of the Seasons and, in his last independent recording on October 2, 1975, his version of the Psycho score. Yet another young director, Martin Scorsese, engaged him to score Taxi Driver, and on December 20, 1975, he flew to Los Angeles to record it. The sessions took place on December 22 and 23, and after they were completed, Herrmann returned to his hotel room, where, in the early hours of December 24, 1975, he died in his sleep of congestive heart failure at the age of 64. Taxi Driver opened in February 1976, accompanied by a soundtrack album released on Arista Records that used little of the score. (An expanded 1998 reissue restored it.) Obsession followed in July, its Herrmann-conducted soundtrack album released on London/Phase 4. Both scores earned Academy Award nominations. During Herrmann's lifetime, his career as a film composer was hampered not only by changing fashions in moviemaking, but also by a personality perceived as abrasive by many of his colleagues. (The headline to his Variety obituary referred to him as "Both Hated and Respected," and in its first sentence his "temperament" was described as "acerbic and iconoclastic.") But that character trait may be indivisible from his perfectionism and relentless devotion to creativity, and those led to an unbroken increase in his critical stature in the decades after his death. As detailed above, many of his film scores were given new recordings and/or belated soundtrack album releases in the 1970s, '80s, '90s, and 2000s, and, in addition to his own reissued recordings of his music, many other collections also appeared. (Notable among these are Citizen Kane: The Classic Film Scores of Bernard Herrmann, by the National Philharmonic Orchestra, conducted by Charles Gerhardt, on RCA, 1974; Bernard Herrmann Film Scores: From Citizen Kane to Taxi Driver, by the Royal Philharmonic Orchestra, conducted by Elmer Bernstein, on Milan, 1993; Bernard Herrmann: The Film Scores, by the Los Angeles Philharmonic, conducted by Esa-Pekka Salonen, on Sony Classical, 1996; and Torn Curtain: The Classic Film Music of Bernard Herrmann, by the City of Prague Philharmonic Orchestra, conducted by Paul Bateman, on Silva Screen, 1996. By the turn of the 21st century, it was not unusual to see him described as the greatest film composer of his era, and his work proved profoundly influential on the scorers who followed him. ~ William Ruhlmann
ORIGIN

New York, NY

BORN

Jun 29, 1911