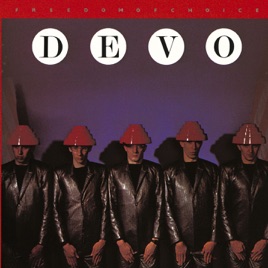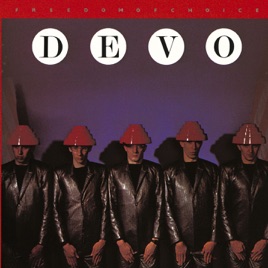 12 Songs, 32 Minutes
Released:

May 16, 1980

℗ 1980 Warner Bros. Records Inc. for the U.S. and WEA International Inc. for the world outside of the U.S.
Ratings and Reviews
Almost Right
I bought this album on vinyl through a record club back in '85 and loved every song on it. Of course, everyone was familiar with Whip It, but I never met anyone who knew any of the other tracks, me included. Anyway, it instantly clicked with me. This is pure early 80's New Wave; true synthesized techno "geek" music; certainly not for most people, especially these days. If you cannot tolerate absolute weirdness, then stay far, far, far away from this. If, on the other hand, you are a fan of Devo and other odd-sounding acts like Gary Numan (Tubeway Army), Kraftwerk, Tourists (early Eurythmics), M-Factor, etc, then this is definitely the album for you! One tiny glitch that knocked it down from a 5 star rating from me: iTunes has the wrong version of Snowball associated with this collection. The correct version (as released on vinyl in 1980) can be found on the deluxe remastered version, also available through iTunes. Not sure how this happened, but it's not any kind of a loss, as I simply bought the right version individually. All the other tracks are the originals. The slightly modified version of Snowball is just fine in its own right. I'm just picky about the authenticity of my memories. Don't monkey with perfection, no matter how flawed it may be.

I might be the second to post a review, but at least this one should be useful to someone. :-P
Whip It bias
I think it's sad that most people only know this album for Whip It, I mean it's a good song but after a while it gets old. Freedom of Choice and Girl u want are much better than whip it in my opinion.
A great album marred by an incorrect version of "Snowball" and sloppy mastering.
The third studio album from Devo under their tenure with Warner Bros. Records striking a notable balance between acoustic instruments and electronics and notable for Devo's first hit single "Whip It." However, many other notable songs in this album include songs like "Snowball," "Planet Earth," "Cold War," and "Gates of Steel."

Unfortunately, this is not an accurate reissue of the album as the version of "Snowball" in this album is not the one that originally was in the album when it debuted in 1980.

A bigger problem with this release, however, is the mastering of the tracks. Some tracks, notably "Whip It," are compressed to be louder than other tracks. Imagine the surprise you may get for listening to "It's Not Right" at a moderate to high volume when "Whip It" blares uncomfortably loud, making you rush for the volume control to turn it down, only to have to turn it back up when "Snowball" comes on.

This is a great album that would have earned a five star rating had it not been for the inclusion of the wrong recording of "Snowball" and the horrid mastering, with some tracks being compressed to sound loud and others left alone. This release needs to be fixed to correct the issues, including a proper mastering that makes very restrained use of compression to preserve the dynamics of the original recordings collected in this album.