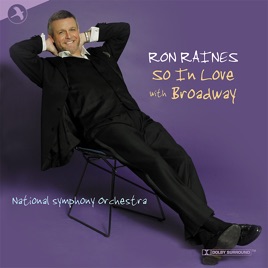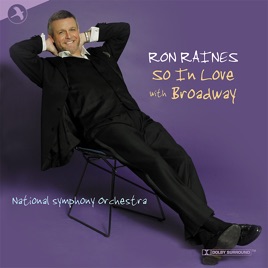 TITLE
TIME

So In Love (from Kiss Me, Kate!)

3:47

If I Can't Love Her (from Beauty and the Beast)

4:08

Begin the Beguine (from Jubilee)

3:35

Stars (from Les Miserables)

3:11
7:08

Some Enchanted Evening (from South Pacific)

3:10

They Call the Wind Maria (from Paint Your Wagon)

2:38

I Don't Remember You (from the Happy Time)

2:41

My Cup Runneth Over (from I Do! I Do!)

Ron Raines and Karen Ziemba

2:31

Bless Your Beautiful Hide (from Seven Brides for Seven Brothers)

2:03

There But for You Go I (from Brigadoon)

2:39

All I Care About (from Chicago)

Ron Raines and Kim Criswell

2:55

My Time of Day (I've Never Been In Love Before) From Guys and Dolls

Ron Raines and Emily Loesser

4:14
3:26
14 Songs, 48 Minutes

℗ 2004 JAY Productions Ltd
Ratings and Reviews
They Call the Wind Maria
Ron does a fine job here. Harve Presnell sang this song in the movie the Unsinkable Molly Brown. It's a great song. 5 stars. Can you get it?
Thrilling Broadway!
This is an outstanding album! Raines has that classic Broadway leading man voice! Orchestrations are as lush as his voice. A must have for any real Broadway fan! BRAVO!!
The 2nd Best Contemporary Broadway Album
The first being Raines's Broadway Passion. Ron Raines has a remarkable voice, amazing range, and incredible depth and clarity. Both of these albums are simply wonderful, and while there are scores of contemporary artists with Broadway albums, most can't hold a candle to Raines.