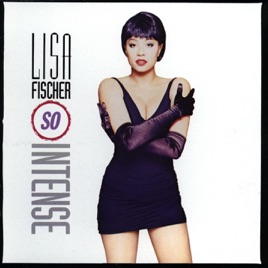 EDITORS' NOTES
Lisa Fischer mostly works as a backup singer and is best known for sharing the mic with Mick Jagger and The Rolling Stones; she often goes toe-to-toe with the famously lipped legend in concert. She's also one of the stars of 20 Feet from Stardom, the excellent 2013 documentary about the lives of backup singers. In 1991, however, after spending years working as a backup singer for Luther Vandross and the Stones, Fischer worked up her lone solo album, So Intense, and proved she had the chops to lead. "Save Me" became a modest No. 7 R&B hit, while "How Can I Ease the Pain?" went to No. 1 on the R&B charts and won the 1991 Grammy for Best Female R&B Vocal Performance. Fischer then returned to backup singing with Vandross, the Stones, and Tina Turner, among others, leaving this exquisite 1991 album (recorded with help from Vandross, Narada Michael Walden, Marcus Miller, and Attala Zane Giles) as her only solo shot. It includes her cover of Skylark's 1973 hit "Wildflower" and the excellent "Chain of Broken Hearts" and "Last Goodbye."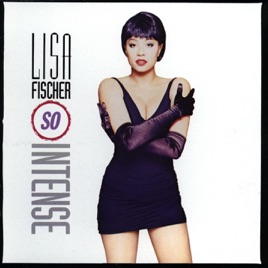 EDITORS' NOTES
Lisa Fischer mostly works as a backup singer and is best known for sharing the mic with Mick Jagger and The Rolling Stones; she often goes toe-to-toe with the famously lipped legend in concert. She's also one of the stars of 20 Feet from Stardom, the excellent 2013 documentary about the lives of backup singers. In 1991, however, after spending years working as a backup singer for Luther Vandross and the Stones, Fischer worked up her lone solo album, So Intense, and proved she had the chops to lead. "Save Me" became a modest No. 7 R&B hit, while "How Can I Ease the Pain?" went to No. 1 on the R&B charts and won the 1991 Grammy for Best Female R&B Vocal Performance. Fischer then returned to backup singing with Vandross, the Stones, and Tina Turner, among others, leaving this exquisite 1991 album (recorded with help from Vandross, Narada Michael Walden, Marcus Miller, and Attala Zane Giles) as her only solo shot. It includes her cover of Skylark's 1973 hit "Wildflower" and the excellent "Chain of Broken Hearts" and "Last Goodbye."
10 Songs, 51 Minutes
Released:

Apr 1, 1991

℗ 1991 Elektra Entertainment Group for the United States and WEA International Inc. for the world outside of the United States.
About Lisa Fischer
American vocalist Lisa Fischer was first heard as a background singer on early-'80s releases by Kleeer and D Train. The native of New York City's Brooklyn borough debuted as a lead vocalist under the name Xēna with 1983's "On the Upside," a classic freestyle single. Throughout the remainder of the decade, she was one of the busiest session singers in the industry; she appeared on dozens of contemporary R&B recordings including releases by Angela Bofill, Billy Ocean, Luther Vandross, Cheryl Lynn, and Will Downing. Prior to the decade's end, she established long-term touring associations with Vandross and the Rolling Stones. Her career took a major turn after she signed with the Elektra label. In 1991, she released So Intense, an album that peaked at number five on Billboard's R&B Albums chart and featured the number seven R&B hit "Save Me," as well as the number one "How Can I Ease the Pain" -- the latter of which won the 1991 Grammy for Best Female R&B Vocal Performance. She remained active as only with Vandross and the Stones, but with Tina Turner and Chris Botti as well, and she recorded with artists ranging from AC/DC to Bobby McFerrin. She was also featured as the vocalist on house 12"s by Dutch and Lovestorm. In 2013, Fischer was prominently featured on Eclipse, an album from Louie Vega's Elements of Life, and she also appeared in 20 Feet from Stardom, a film about unsung background vocalists. The documentary was well received, and it prompted Fischer to resume her solo career. She began touring with a backup trio called Grand Baton, performing at festivals such as Newport and Monterey Jazz. ~ Andy Kellman
HOMETOWN

Brooklyn, NY

GENRE

BORN

December 1, 1958
Millions of songs.
Zero ads.
New subscribers only. Plan automatically renews after trial.