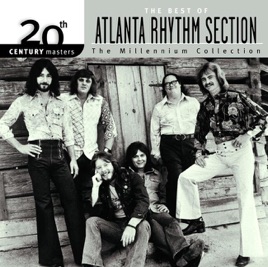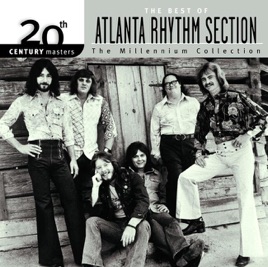 20th Century Masters - The Millennium Collection: The Best of Atlanta Rhythm Section
| | TITLE | | TIME |
| --- | --- | --- | --- |
| | | | |
| | | | |
| | | | |
| | | | |
| | | | |
| | Angel (What in the World's Come Over Us) | | |
| | | | |
| | | | |
| | | | |
| | | | |
| | I'm Not Gonna Let It Bother Me Tonight | | |
| | | | |
12 Songs, 51 Minutes
Released:

Jan 1, 2000

℗ 2000 Universal Motown Records, a division of UMG Recordings, Inc.
Ratings and Reviews
A Underrated Classic Rock band
It seems as if this band has become a triva question.

The real answer is that ARS is a great band.

In Atlanta many of these songs were on the 96 rock rotation in the late 70's early 80's.
My favorites are "Doraville", "Not gonna let it bother me tonight", "Champange Jam", "So into you", "Imaginary Lover" and "do it or Die".

Do yourself a favor and check out ARS.
Gotta have it!
This is an album to cherish. Paul Goddard's fluency on the bass! Ronnie Hammond's voice! Great Southern rock. Period.
I wore out the vinyl, then the cassette, now I am enjoying the tracks all over again.
One of My All-Time Favs
Growing up in Atlanta in the 80s was cool in itself, but enhanced with the background of ARS songs that fit right into endless, memorable summers. "Doraville", "Champagne Jam" and "So Into You" are most certainly my favorites. But "Imaginary Lover" and "Spooky" may beat those out for the top prize.
About Atlanta Rhythm Section
Often described as a more radio-friendly version of Lynyrd Skynyrd or the Allman Brothers, the Atlanta Rhythm Section was one of many Southern rock bands to hit the upper reaches of the charts during the late '70s. Hailing from the small town of Doraville, Georgia, the beginning of the Atlanta Rhythm Section can be traced back to 1970. It was then that a local recording studio was opened, Studio One, and the remnants of two groups (the Candymen and the Classics Four), became the studio's house band. One of the facility's head figures, Buddy Buie, soon began assembling the session band -- singer Rodney Justo, guitarist Barry Bailey, bassist Paul Goddard, keyboardist Dean Daughtry, and drummer Robert Nix. After playing on several artists' recordings, it was decided to take the band a step further and make the group of players a real band, leading to the formation of the Atlanta Rhythm Section.

Buie soon became an invisible fifth member of the fledgling band; he served as their manager and producer, in addition to providing a major hand in the songwriting department. Finding time between sessions to record their own original material (which was initially, entirely instrumental), an early demo wound up landing the band a record deal. The group's first few albums failed to generate much chart action (1972's Atlanta Rhythm Section, 1973's Back Up Against the Wall, 1974's Third Annual Pipe Dream, 1975's Dog Days, and 1976's Red Tape), but it was during this time that Justo was replaced with newcomer Ronnie Hammond, which would eventually pay dividends for the group. Although they had gained quite a bit of radio airplay down south, their record company began to put pressure on the quintet to deliver a single that would break them nationally. The demand worked -- the Atlanta Rhythm Section scored a Top Ten single, "So Into You," on their next release, 1976's A Rock and Roll Alternative, which was the group's first album to reach gold certification.

But this wouldn't be the group's commercial peak, as they scored the highest charting album of their career in 1978, the Top Ten Champagne Jam, which spawned two hit singles -- "I'm Not Gonna Let It Bother Me Tonight" and "Imaginary Lover." To keep up their high profile, the Atlanta Rhythm Section soon became one of the hardest touring bands of the entire Southern rock genre (including a performance at the White House for then-president Jimmy Carter). But the group's commercial success would be fleeting -- it appeared as soon as mainstream rock fans embraced the Atlanta Rhythm Section, they just as quickly forgot about them. Each subsequent album -- 1979's Underdog and live set Are You Ready, 1980s The Boys from Doraville, and 1981's Quinella -- sold less than the previous one, resulting in the band's split shortly thereafter.

In the wake of their split, the Atlanta Rhythm Section has reunited sporadically for tours (although only a few original members would be present), and issued their first all-new studio album in more than a decade in 1999, Eufaula. Additionally, some of country-rock's biggest names have gone on to record Atlanta Rhythm Section covers -- Travis Tritt, Wynonna Judd, and Charlie Daniels, among others. ~ Greg Prato
ORIGIN

Doraville, GA

GENRE

FORMED

1970