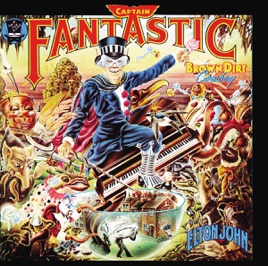 EDITORS' NOTES
This sharply honed and impeccably catchy concept album casts Elton John as Captain Fantastic and lyricist Bernie Taupin as the Brown Dirt Cowboy in a semi-autobiographical version of the pair's struggling early days. The 1975 LP shows off Elton's stylistic leaps too—beautiful, languid ballads like "Someone Saved My Life Tonight" and "Curtains" mix with baroque, ivory-tickled poppers "Bitter Fingers" and "Better Off Dead." Then Elton and the band rock hard on "(Gotta Get A) Meal Ticket," and offer up a randy slice of Philly-styled soul on "Tell Me When the Whistle Blows."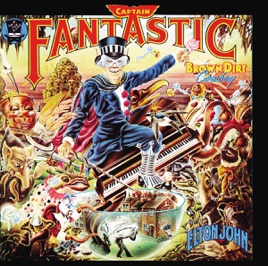 Captain Fantastic and the Brown Dirt Cowboy
Elton John
EDITORS' NOTES
This sharply honed and impeccably catchy concept album casts Elton John as Captain Fantastic and lyricist Bernie Taupin as the Brown Dirt Cowboy in a semi-autobiographical version of the pair's struggling early days. The 1975 LP shows off Elton's stylistic leaps too—beautiful, languid ballads like "Someone Saved My Life Tonight" and "Curtains" mix with baroque, ivory-tickled poppers "Bitter Fingers" and "Better Off Dead." Then Elton and the band rock hard on "(Gotta Get A) Meal Ticket," and offer up a randy slice of Philly-styled soul on "Tell Me When the Whistle Blows."
| | TITLE | | TIME |
| --- | --- | --- | --- |
| | Captain Fantastic and the Brown Dirt Cowboy | | |
| | | | |
| | | | |
| | Tell Me When the Whistle Blows | | |
| | Someone Saved My Life Tonight | | |
| | (Gotta Get A) Meal Ticket | | |
| | | | |
| | | | |
| | We All Fall In Love Sometimes | | |
| | | | |
| | Lucy In the Sky With Diamonds | | |
| | | | |
| | | | |
13 Songs, 1 Hour 2 Minutes
Released:

May 19, 1975

℗ 2011 This Record Company Ltd.
Ratings and Reviews
Arguably His Best
This was the first album by anyone to ENTER the Billboard top !00 at #1. Semi-autobographical story By Bernie Taupin and Elton's early struggles in the music industry, so each song is placed in chronological order... a kind of timeline (songs 1-10 originally). Elton's voice is at it's peak here. ALL the songs on here are great, and all are very different. This album shows Bernie's lyrical genius and Elton's uncanny knack for putting his words to the right music.
Sit back, close your eyes, and enjoy the journey...
A masterpiece
Reminiscing of days gone by with this Elton John classic, remastered for ITunes. I remember so clearly getting this LP as an awkward teen and playing it loudly in the room I shared with my brother. Before the highly manufactured sounds of Carly Rae Jepson and Selena Gomez, this classic sounds as fresh and creative today as that day the needle first sat down on the LP more than 38 years ago....
A Winner In Every Way
This autobiographical tale of Elton and Bernie's early days as songwriters is quite an event when listening to it. Song after song, each crucial moment that could perhaps change history is unveiled in top notch, uncommercial terms.

The title track tells the story of their humble beginnings, Bitter Fingers explores the aspect of writing songs that you really don't believe in, and Someone Saved My Life Tonight (the lone single and hit) traces the risk of how one bad relationship could alter lives and change history. But the big moment comes in the form of the last two songs (We All Fall In Love Sometimes/Curtains) that neatly sum up not only Elton and Bernie's brotherly love relationship, but the dreams of all of us. Curtains, the last track, is a song that anyone can relate to, as most of us have a "once upon a time" story in our lives, that we wished would have come true.

And that's the sheer brilliance of this album. As much as it's Elton and Bernie's story, Bernie's lyrics enable all of us to relate in our own way. And for a concept album, you can't ask for much more than that.

Perfectly executed by producer Gus Dudgeon, this album is a winner in every way.