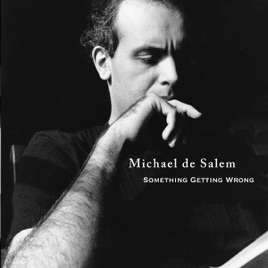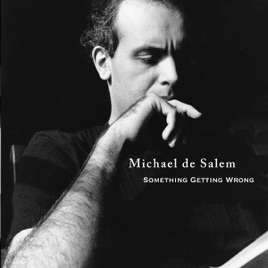 9 Songs, 45 Minutes
Released:

Jun 20, 2010

℗ 2010 Michael de Salem
Ratings and Reviews
Dreaming of a better World
Michael de Salem's music is a unique blend of electronic, progressive and transcendent new age music. My favorite tracks are Remind and Higher. His album is dedicated to victims of human rights violations. His message is clear: we need to change and support each other in building a new more peaceful world. This world is here now, but we haven't realized it yet and as a humanity we're just dreaming of a better world instead of manifesting it. Transformational and evocative music! Highly recommended.
From MainlyPiano
One of the drawbacks of reviewing so many CDs is that it's often difficult to find something truly unique about an artist's music. Then an album like Michael de Salem's "Something Getting Wrong" comes along and stands in a category of its own without being so "out there" that it's impossible to relate to. Swiss composer and multi-instrumentalist Michael de Salem is also a human and environmental rights activist who has extensively studied physics to gain a better understanding of the behavior of the natural world. Those studies led to the shocking discovery that Earth would eventually become unable to sustain any form of life as a result of the actions and choices of an un-evolved human consciousness. A self-taught musician, de Salem's approach to composing the music on this album was to combine musical expressions of life experience with his extensive knowledge of natural sciences. He says: "Every sound in my compositions is chosen to dance with the other, identical to the way elements inherently come together to compose matter." The results are extraordinary in their depth and intensity. More melodic and rhythmic than most ambient music, subtler than most rock, darker than most new age, de Salem deftly blends piano, keyboards, guitar, and drum programming along with Ann Nina's cello to create a soundtrack to life in peril. De Salem further explains: "I wish to plant a song as a seed in the mind, heart and soul of the listener in hopes that the seeds will blossom into flowers and trees that live infinitely embedded deep into the consciousness of the being."

"Something Getting Wrong" begins with "Metropolitan," a darkly intense piece that opens with a strong rhythm and the sound of sirens. The heavy beat continues as the musical themes range from sinister to pleasantly upbeat. It's a startling piece that sets the stage for what's to come. "Sentimental Stops" is much quieter and more flowing. Piano, voices, strings, guitar, and atmospheric sounds are layered to create a shimmering piece that floats peacefully. "Emergency Talking" utilizes deep bass tones and a strong slow beat to create a sense of urgency that intensifies as the piece evolves. Ann Nina's cello is especially effective here. "Remind" is more ambient with a simple but magical piano part over sounds that convey the feeling of floating in deep space. The title track is as intense as its name. The beat will bring you in, but the wordless message will hold you there as you experience its poignance and urgency. "Higher" offers hope and solace with bells, piano, voices, a gentle beat, and lots of open space. "Not An End" concludes our journey thoughtfully and reflectively as we ponder the messages of the music. Kind of jazzy, ambient, and ethereal, there is no easy way to categorize this or any of the other eight tracks. Bravo to Michael de Salem for staying true to his vision and creating a masterpiece of contemporary music! Very highly recommended!