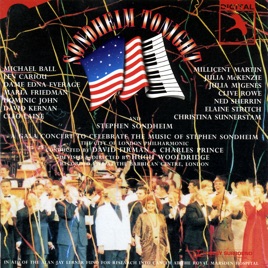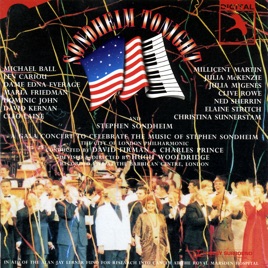 Sondheim Tonight: Live From The Barbican Centre, London (Live)
Various Artists
TITLE
TIME

Overture for Stephen Sondheim

David Freeman

4:08

Comedy Tonight (from a Funny Thing Happened On the Way to the Forum)

The Soloists

1:44

Ned Sherrin

4:16

March to the Treaty House (from Pacific Overtures)

Charles Prince

1:22

Next (from Pacific Overtures)

Charles Prince

2:33

The Ballad of Sweeney Todd (from Sweeney Todd)

Len Cariou & The Soloists

3:55

Len Cariou

3:21

Night Waltz (from a Little Night Music)

The Soloists

2:40

Losing My Mind (from Follies)

Maria Friedman

3:54

Not While I'm Around (from Sweeney Todd)

Clive Rowe

2:49

Send In the Clowns (from a Little Night Music)

Cleo Laine, Clive Rowe & Maria Friedman

3:57

Julia McKenzie

2:23

Charles Prince

7:50

I Remember (from Evening Primrose)

Julia Migenes

3:31

Green Finch and Linnet Bird (from Sweeney Todd)

Julia Migenes

3:51

Ned Sherrin

2:26

A Very Short Violin Sonata

Christina Sunnerstam

6:13

Dame Edna Everage

1:43

The Ladies Who Lunch (from Company)

Dame Edna Everage

7:50

Maria Friedman

5:59

A Salute to Stephen Sondheim

Charles Prince

4:30

The Soloists

1:20

Julia McKenzie

2:49

Ned Sherrin

3:52

Good Thing Going / Not a Day Goes By (from Merrily We Roll Along)

David Kernan

5:33

David Kernan

0:54

I Never Do Anything Twice (from 7% Solution)

Millicent Martin

5:36

Maria Friedman

2:03

Variations On a Theme (Katie Malone)

Dominic John

5:01

Elaine Stritch

1:24

Opening Scene from Follies

Len Cariou

1:07

Beautiful Girls (from Follies)

Michael Ball

3:50

Michael Ball

0:30

Loving You (from Passion)

Michael Ball

3:49

Michael Ball

2:45

Broadway Baby (from Follies)

Michael Ball

4:14

Being Alive (from Company) / Another Hundred People (from Company) / Sunday In the Park With George (from Sunday In the Park With George)

The Sololiest & West End Chorus

7:41

Ned Sherrin

0:40

Telephone Conversation With Stephen Sondheim

Ned Sherrin & Stephen Sondheim

1:23

Company

3:28
40 Songs, 2 Hours, 18 Minutes

℗ 1999 JAY Productions Ltd.
well then!
THE ONLY GOOD SONG IS COMEDY TONIGHT I WOULD GIVE IT A 5STARS JUST THE SONG BUT THE WHOLE ALBUM UGH
A must-have for Sondheim aficionados
This is a wonderful salute to Broadway's greatest composer/lyricist--with a UK twist. Most of Sondheim's best-known interpretors from London's West End give their own spin on some of his greatest songs. Maria Friedman, in particular, shows why she is a star with thrilling interpretations that differ from the OBC recordings. There are also several orchestral pieces that are rarely heard. As with all Sondheim, repeated hearings greatly reward the listener and reveal the many layers of Sondheim's genius.