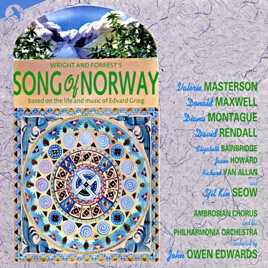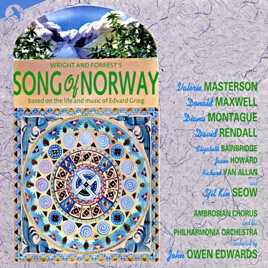 Song of Norway (Original Studio Cast) [Complete Recording with the Original Orchestrations]
Various Artists
TITLE
TIME
PRICE

Philharmonia Orchestra

1:48
$0.99

David Rendall

4:24
$0.99

David Rendall, Donald Maxwell & Valérie Masterson

3:41
$0.99

David Rendall, Donald Maxwell & Valérie Masterson

4:51
$0.99

Philharmonia Orchestra

1:22
$0.99

Philharmonia Orchestra

2:21
$0.99

Children, Daniel Ison & Yvette Bonner

3:18
$0.99

Company & Diana Montague

6:41
$0.99

Donald Maxwell & Valérie Masterson

4:51
$0.99

David Rendall, Valérie Masterson & Yit Kin Seow

2:39
$0.99

Valérie Masterson & Yit Kin Seow

0:49
$0.99

Company

4:59
$0.99

Company, David Rendall & Elizabeth Bainbridge

2:09
$0.99

Company, David Rendall, Diana Montague, Donald Maxwell & Valérie Masterson

4:30
$0.99

Philharmonia Orchestra

0:59
$0.99

Company, Donald Maxwell, Jason Howard & Richard Van Allan

4:35
$0.99

Diana Montague & Donald Maxwell

2:56
$0.99

Finaletto / Rikaard's Farewell

Company, David Rendall & Diana Montague

3:50
$0.99

Company, Diana Montague, Donald Maxwell & Valérie Masterson

2:50
$0.99

Philharmonia Orchestra

0:59
$0.99

Chorus

3:04
$0.99

Philharmonia Orchestra

4:48
$0.99

Hall of the Mountain King

Philharmonia Orchestra

1:21
$0.99

Philharmonia Orchestra

1:32
$0.99

Donald Maxwell, Girls & Valérie Masterson

3:20
$0.99

Company, Elizabeth Bainbridge, Richard Van Allan & Valérie Masterson

2:40
$0.99

David Rendall, Donald Maxwell & Valérie Masterson

3:20
$0.99

Yit Kin Seow

9:59
$0.99
28 Songs

℗ 1997 JAY Productions Ltd.
Customer Reviews
By Far the Best
From listening to all other recordings of this show, it leaves you wondering why a show that sounds like this ever lasted more than 800 performances on broadway. The tempos are all over the place, the voices are hard to understand, and the quality is severely lacking. Even the movie recording, which everyone always depends on realizing the music to its full potential, was severely lacking and even modified the works out of their setting for this play. The producers of that train wreck of a movie were gravely mistaken thinking that this could be compared to The Sound of Music.
Thank God for whomever decided to put together a well-financed, quality recording with top-notch musicians. I would not think twice about deciding to see a show that had this great music. Grieg's music is and always has been a collection of masterpieces, and this recording restored my faith in that fact. There are moments in this show of amazement and awe that leave you spellbound (Finaletto Pt. 2, Hall of the Mountain King, and of course the Piano Concerto), but also moments that have such beauty that it leaves you with chills (Rikaard's Farewell, Anitra's Dance, The Piano Concerto again, and mostly Christmas Postlude). However stretched of a life story this may actually be, it is certainly very interesting, full of conflict and tough, life-altering decisions, all of which this recording captures perfectly. Do not hesitate to buy this. I never expected it to be so satisfying to my dramatic and musical hunger.
One may ask why, if this show is so amazing, it is not produced so much more often. The answer is simple: there are very few instances where one can find a lead dramatic performer with these sorts of vocal chops who can also play "I love Thee", "Papillon", The A Minor Piano Concerto, and more in character onstage (yes, that is in the show, and it does NOT work when faked), let alone the other sorts of requirements needed for this show, including an actor who plays the fiddle and a ballet studio that can do this music justice. It really is the sort of show that provides multiple opportunities for truly incredible performances, the problem is that very few collections of people are THAT incredible. Please support this show to its fullest.