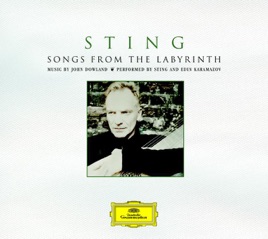 EDITORS' NOTES
Sting has always followed his own muse, swirling jazz, world and classical music into his songwriting, thus making his solo work unpredictable. But Into the Labyrinth is certainly the most unexpected turn he's taken in his long career. Here he's chosen to explore the songs of John Dowland (1563-1626), a British composer and lutenist who Sting describes as "perhaps the first example of an archetype with which we've become very familiar: that of the alienated singer-songwriter." Accompanied by Edin Karamazov on lute, whose playing is simply gorgeous, Sting embraces this technically difficult music, at times layering his voice to produce a choral effect. The melancholy melodies are dissonant and moving, and Sting's tenor generally fits the material without the effort coming off as a stodgy period piece. (Strict traditionalists will certainly scream blasphemy — assuming they listen to it at all — but the album will most likely bring the work of Dowland to a larger audience.) The vocal lines, which bend and swoop, must have been a challenge to sing , and at times Sting struggles to hit the notes. But not often, and though eve n some of Sting's most ardent fans will be mystified, or worse, by this indulgence, the album has its charms. Besides, it's best — and fairest — to take the music on its own terms and forget that it's being performed by the same guy who once wailed "Roxanne."
EDITORS' NOTES
Sting has always followed his own muse, swirling jazz, world and classical music into his songwriting, thus making his solo work unpredictable. But Into the Labyrinth is certainly the most unexpected turn he's taken in his long career. Here he's chosen to explore the songs of John Dowland (1563-1626), a British composer and lutenist who Sting describes as "perhaps the first example of an archetype with which we've become very familiar: that of the alienated singer-songwriter." Accompanied by Edin Karamazov on lute, whose playing is simply gorgeous, Sting embraces this technically difficult music, at times layering his voice to produce a choral effect. The melancholy melodies are dissonant and moving, and Sting's tenor generally fits the material without the effort coming off as a stodgy period piece. (Strict traditionalists will certainly scream blasphemy — assuming they listen to it at all — but the album will most likely bring the work of Dowland to a larger audience.) The vocal lines, which bend and swoop, must have been a challenge to sing , and at times Sting struggles to hit the notes. But not often, and though eve n some of Sting's most ardent fans will be mystified, or worse, by this indulgence, the album has its charms. Besides, it's best — and fairest — to take the music on its own terms and forget that it's being performed by the same guy who once wailed "Roxanne."
TITLE
TIME

Can She Excuse My Wrongs?

Sting & Edin Karamazov

"Ryght Honorable: As I Have Bin Most Bounde Unto Your Honor..."

Have You Seen the Bright Lily Grow

By Robert Johnson - Sting & Edin Karamazov

"...Then in Time Passing One Mr. Johnson Died..."

The Most High and Mighty Christianus the Forth, King of Denmark, His Galliard

Edin Karamazov

The Lowest Trees Have Tops

Sting & Edin Karamazov

"...And Accordinge As I Desired Ther Cam a Letter..."

"...From Thence I Went to the Landgrave of Hessen..."

By John Dowland & Traditional - Sting & Edin Karamazov

"...And from Thence I Had Great Desire to See Italy..."

Sting & Edin Karamazov

By John Dowland & Traditional - Sting & Edin Karamazov

Wilt Thou Unkind Thus Reave Me

Sting & Edin Karamazov

"...After My Departure I Caled to Mynde Our Conference..."

Weep You No More, Sad Fountains

Sting & Edin Karamazov

My Lord Willoughby's Welcome Home

By John Dowland & Traditional - Sting & Edin Karamazov

"...Men Say That the Kinge of Spain Is Making Gret Preparation..."

By John Dowland & Traditional - Sting & Edin Karamazov

Fields of Gold (New Version)

Message in a Bottle (Live from The Labyrinth)

Sting & Edin Karamazov

Have You Seen the Bright Lily Grow (Live)

By Robert Johnson - Sting & Edin Karamazov
26 Songs, 1 Hour
Released:

Oct 10, 2006

℗ 2008 Decca Label Group
Ratings and Reviews
New intelligence in music
This album is really incredible. Only someone like Sting can continue to produce cognitive intelligent music, and produce something different from the rest of his work. If you want to hear the same ole style, and are not able to interpret or "get " new stuff, then just play your old music. This CD is AWESOME.
Awesome
Sting's intelligence continues to baffle me. From one album to the next, you will always find something different. His reach into the classical realm proves that he is not afraid to attempt at the most difficult music to produce. Excellent album.
What are you talking about?
This is not one star! The songs are cool, especially the guitarist he features!
And the stories between the songs are just plain neat. My favorite is track 12, Fantasy.