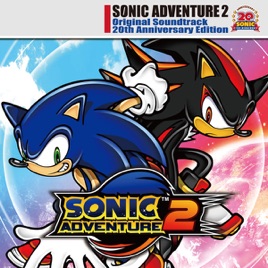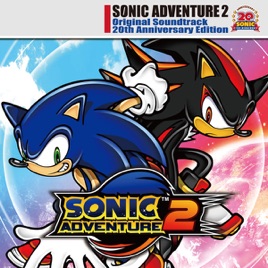 SONIC ADVENTURE 2 Original Soundtrack 20th Anniversary Edition
Various Artists
TITLE
TIME

Escape From The City ...For City Escape

Ted Poley & Tony Harnell

The Mad Convoy Race ...For City Escape

Jun Senoue & SEGA

Remember Me? -M.F.M. ...For Iron Gate

Jun Senoue & SEGA

Throw It All Away ...Theme Of "Shadow The Hedgehog"

SEGA

Vengeance Is Mine ...For Radical Highway

Jun Senoue & SEGA

Lovely Gate 3 ...For Egg Quarters

SEGA

I'm A Spy ...For Security Hall

SEGA

This Way Out ...For Prison Lane

Jun Senoue & SEGA

That's The Way I Like It ...For Metal Harbor

Jun Senoue & SEGA

Won't Stop, Just Go! ...For Green Forest

Jun Senoue & SEGA

Rhythm And Balance ...For White Jungle

SEGA

A Ghost's Pumpkin Soup ...For Pumpkin Hill

SEGA

Dive Into The Mellow ...For Aquatic Mine

SEGA

Mr.Unsmiley ...For Sky Rail

Jun Senoue & SEGA

It Doesn't Matter ...Theme Of "Sonic The Hedgehog"

Tony Harnell

Keys The Ruin ...For Pyramid Cave

Jun Senoue & SEGA

Unstable World ...For Crazy Gadget

Jun Senoue & SEGA

Soarin' Over The Space ...For Cosmic Wall

Jun Senoue & SEGA

Highway In The Sky ...For Final Rush

Jun Senoue & SEGA

The Supernatural ...For Final Chase

SEGA

For True Story ...For Sonic Vs. Shadow

SEGA

Cannnon"S Core (Scramble For The Core... Deep Inside Of...)

Jun Senoue & SEGA

Event: Black Noises (Conquest... Chaos Control... Reflection)

SEGA

Supporting Me ...For Biolizard

SEGA

Live & Learn ...Main Theme Or "Sonic Adventure 2"

Crush 40

Chao Race Extended Mix (Chao's Doki-Doki Banana Chips Run Mix)

SEGA
30 Songs, 1 Hour 14 Minutes
Released:

Jun 22, 2011

℗ SEGA
Ratings and Reviews
finally Apple!!!!!!!
Sonic games have always had awesome music,bout time itunes put it up,good treat for the diehard sonic fan
One labeling problem. Otherwise very good
Lovely Gate 3 is mislabeled. Should say For Egg Quarters
Great Music from a Great Game
One of the best Sonic games ever released and the soundtrack is a work to behold. With the amazing guitar playing of Jun Senoue, this album really stands out on its own. However, this 20th Anniversary edition seems to leave out many great tracks from the game making it seem incomplete.