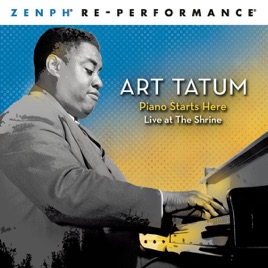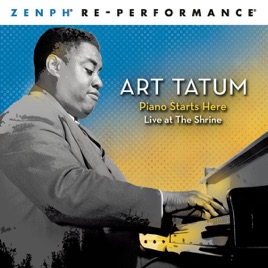 | | TITLE | | TIME |
| --- | --- | --- | --- |
| | Tea for Two (Redbook Stereo) | | |
| | St. Louis Blues (Redbook Stereo) | | |
| | Tiger Rag (Redbook Stereo) | | |
| | Sophisticated Lady (Redbook Stereo) | | |
| | Humoresque (Redbook Stereo) | | |
| | Tatum Pole Boogie (Redbook Stereo) | | |
| | Someone to Watch Over Me (Redbook Stereo) | | |
| | How High the Moon (Redbook Stereo) | | |
| | Yesterdays (Redbook Stereo) | | |
| | Willow Weep for Me (Redbook Stereo) | | |
| | The Kerry Dance (Redbook Stereo) | | |
| | Gershwin Medley (Redbook Stereo) | | |
| | I Know That You Know (Redbook Stereo) | | |
| | Tea for Two (Binaural Stereo) | | |
| | St. Louis Blues (Binaural Stereo) | | |
| | Tiger Rag (Binaural Stereo) | | |
| | Sophisticated Lady (Binaural Stereo) | | |
| | Humoresque (Binaural Stereo) | | |
| | Tatum Pole Boogie (Binaural Stereo) | | |
| | Someone to Watch Over Me (Binaural Stereo) | | |
| | How High the Moon (Binaural Stereo) | | |
| | Yesterdays (Binaural Stereo) | | |
| | Willow Weep for Me (Binaural Stereo) | | |
| | The Kerry Dance (Binaural Stereo) | | |
| | Gershwin Medley (Binaural Stereo) | | |
| | I Know That You Know (Binaural Stereo) | | |
| | | | |
27 Songs, 1 Hour 19 Minutes
Released:

Jun 3, 2008

℗ 2008 SONY BMG MUSIC ENTERTAINMENT
Ratings and Reviews
Musical Genius Revealed. Bravo!
As a long-time fan of Art Tatum, the pieces on this album are old friends, which I can always count on to amaze me and put me in a good mood. I've listened to some of them hundreds of times, and thought I knew almost every detail, but playing this updated version, I feel like I'm restoring a painting. I keep dragging the slider back and listening to excerpts over again to see what delightful details will be revealed.

I'm somewhat desensitized to the hiss/crackle/pops in historic recordings, but playing an older noisy copy side-by-side with this pristine version, the difference in listening experience is astonishing. The "Redbook Stereo" tracks sound amazing on speakers, and the "Binaural Stereo" versions give us the chance to put on headphones and hear the tracks as if we were Tatum sitting at the keyboard at the time of the recording – high notes come from the right side of the piano, low notes from the left.

Any doubts I had that music as intricate as this could be perfectly "re-performed" vanished within a few seconds of my launching "Tiger Rag". All of Tatum's genius is in this new recording, with a level of clarity no one has heard since his last live performance. Bravo!

GREAT
I was at this concert at the Shrine and I find the technology incredible. It was amazing to see this machine re-emote Art Tatum's musicianship and creativity.
The Magic of his Music
The songs in this album are made of solid gold. There is nothing better! This album desrves more than just five stars. It is truely astonishing how Art Tatum can play; before listening to him, I never had imagined someone could play with such intricate detail. Each of his songs brings a feeling of excitment, of happyness, of peace, or fear. Art Tatum's music is like langugage, conveying various attidues and feelings to us. His music puts pictures in our minds from our past and from our imagination. His music is more than music; its a source - a source where we can receive different attitudes. To me, Art Tatum's music can be magical.
About Art Tatum & Zenph Studios
Art Tatum was among the most extraordinary of all jazz musicians, a pianist with wondrous technique who could not only play ridiculously rapid lines with both hands (his 1933 solo version of "Tiger Rag" sounds as if there were three pianists jamming together) but was harmonically 30 years ahead of his time; all pianists have to deal to a certain extent with Tatum's innovations in order to be taken seriously. Able to play stride, swing, and boogie-woogie with speed and complexity that could only previously be imagined, Tatum's quick reflexes and boundless imagination kept his improvisations filled with fresh (and sometimes futuristic) ideas that put him way ahead of his contemporaries.

Born nearly blind, Tatum gained some formal piano training at the Toledo School of Music but was largely self-taught. Although influenced a bit by Fats Waller and the semi-classical pianists of the 1920s, there is really no explanation for where Tatum gained his inspiration and ideas from. He first played professionally in Toledo in the mid-'20s and had a radio show during 1929-1930. In 1932 Tatum traveled with singer Adelaide Hall to New York and made his recording debut accompanying Hall (as one of two pianists). But for those who had never heard him in person, it was his solos of 1933 (including "Tiger Rag") that announced the arrival of a truly major talent. In the 1930s, Tatum spent periods working in Cleveland, Chicago, New York, Los Angeles, and (in 1938) England. Although he led a popular trio with guitarist Tiny Grimes (later Everett Barksdale) and bassist Slam Stewart in the mid-'40s, Tatum spent most of his life as a solo pianist who could always scare the competition. Some observers criticized him for having too much technique (is such a thing possible?), working out and then keeping the same arrangements for particular songs, and for using too many notes, but those minor reservations pale when compared to Tatum's reworkings of such tunes as "Yesterdays," "Begin the Beguine," and even "Humoresque." Although he was not a composer, Tatum's rearrangements of standards made even warhorses sound like new compositions.

Art Tatum, who recorded for Decca throughout the 1930s and Capitol in the late '40s, starred at the Esquire Metropolitan Opera House concert of 1944 and appeared briefly in his only film in 1947, The Fabulous Dorseys (leading a jam session on a heated blues). He recorded extensively for Norman Granz near the end of his life in the 1950s, both solo and with all-star groups; all of the music has been reissued by Pablo on a six-CD box set. His premature death from uremia has not resulted in any loss of fame, for Art Tatum's recordings still have the ability to scare modern pianists. ~ Scott Yanow
HOMETOWN

Toledo, OH

GENRE

BORN

October 13, 1909