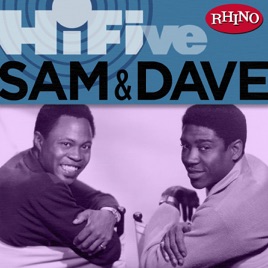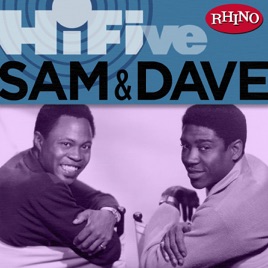 5 Songs, 13 Minutes
Released:

Jun 21, 2005

℗ 2005 Warner Strategic Marketing
Ratings and Reviews
NOT VERY MANY CUTS BUT AT LEAST THEY ARE THE ORIGINAL SONGS!
I WENT THROUGH 7 S&D ALBUMS ON ITUNES BEFORE I FOUND THE ORIGINALS OF HOLDON I'M COMING AND SOUL MAN ON THIS CD!!!!.

BEWARE---ITUNES LIKES TO LOAD US ALL UP WITH FAR TOO MANY STINKING CHOICES THAT ARE NOT THE ORIGINAL STUFF. JEFF
Sam & Dave: The Originals
Mr. O.B.G.(Oldies But Goodies)
Your right Jeff, these are the originals. Just about everything Rhino puts out is original. Shame on you itunes for the phoneys. There are a lot of inocent victims out there.
such glorious music
These 2 with the MG's were nothing short of amazing. Sam's delivery on "I Can't Stand Up" is enough to give goosebumps; the last 3 swing like not much before or since. A best-of that's hard to beat any way you look at it.
About Sam & Dave
Perhaps no act epitomized soul music as the secularization of gospel more than Sam & Dave. The original pairing of Sam Moore and Dave Prater met in Florida in 1961, and they recorded unsuccessfully for several years before being signed to Atlantic Records in 1965. Atlantic persuaded their Memphis affiliate Stax Records to produce them, and in December that year the writing and production team of Isaac Hayes and David Porter delivered the crisply soulful "You Don't Know Like I Know." Hayes and Porter became the éminence grises behind Sam & Dave, much as Holland-Dozier-Holland pulled the strings behind the Supremes. They wrote, they produced -- and the result was a string of hits, including "Soul Man," "Hold On! I'm Comin'," and "I Thank You," songs that survive as the very epitome of Southern soul. Certainly, Sam & Dave's hits are among the most soulful ever to crack the Hot 100. Their albums often bore the hallmarks of hasty execution, though. The dissolution of the partnership between Stax and Atlantic virtually sealed the fate of Sam & Dave; there were a few more hits (and, later, a revival of interest thanks to the Blues Brothers), but the glory days were over.

Samuel Moore and David Prater were both raised in the South, where they sang in church as children. During the '50s, they performed in soul and R&B clubs before meeting each other in at the King of Hearts club in Miami in 1961. Moore was hosting an amateur-night contest where Prater was singing. Once Dave forgot the lyrics to Jackie Wilson's "Doggin' Around," Sam coached him through the song. Following that night, the singers became a duo and soon became a popular local Miami act and signed with Roulette Records, releasing a handful of singles. In 1965, they signed with Atlantic Records, but producer Jerry Wexler moved the band to the label's Stax subsidiary.

Working with Stax's house band and songwriters/producers Isaac Hayes and David Porter, Sam & Dave created a body of sweaty, gritty soul that ranks among the finest and most popular produced in the late '60s. The duo's 1966 debut, "You Don't' Know Like I Know," kicked off a series of Top Ten R&B hits that included "Hold On! I'm Comin'" (1966), "You Got Me Hummin'" (1966), "When Something Is Wrong With My Baby" (1967), "Soul Man" (1967), and "I Thank You" (1968). However, the duo's career began to unravel in 1968, when Stax's distribution deal with Atlantic ended. Since Sam & Dave were signed with Atlantic, not Stax, they no longer had access to the production team of Hayes and Porter or the house band of Booker T. & the MG's, and their recorded work took a slight dip in quality. Though the switch of labels was unfortunate, what really caused the duo's demise was their volatile relationship. While the duo had enormous creative energy, they frequently fought off-stage. Nicknamed "Double Dynamite," Sam & Dave became famous for their energetic, infectious live performances during the late '60s, which complemented the overall high quality of their studio work. They may have communicated on-stage, but behind the scenes, it was reported that the duo could hardly stand each other's presence. The tension caused Sam & Dave to part ways in 1970, just a few years after their heyday.

During the '70s, Sam & Dave reunited several times to little attention. At the end of the decade, John Belushi and Dan Aykroyd's Blues Brothers routine -- which borrowed heavily from Sam & Dave -- sparked a resurgence of interest in the duo, and the pair performed a number of concerts during 1980. However, their personal animosity had not faded, and they separated after a performance on New Year's Eve 1981. For the next few years, Prater toured as Sam & Dave with vocalist Sam Daniels. During the mid-'80s, Moore revealed the sources of the duo's tensions in a series of interviews. He disclosed that he had been addicted to drugs during the '70s. Prater was arrested in 1987 for selling crack to an undercover policeman. A year later, he died in a car accident. Moore continued to perform sporadically, most notably on Bruce Springsteen's 1992 album Human Touch album. Sam & Dave were inducted into the Rock & Roll Hall of Fame that same year. ~ Colin Escott & Stephen Thomas Erlewine
ORIGIN

Miami, FL

GENRE

FORMED

1961