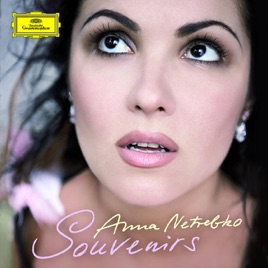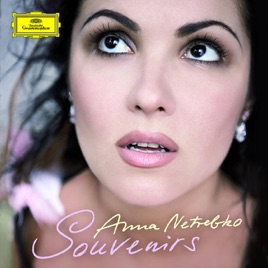 TITLE
TIME

The Gypsy Princess (Die Csárdásfürstin), Act 1: Lied: "Heia, Heia: In Den Bergen Ist Mein Heimatland"

By Emmerich Kálmán, Leo Stein & Bela Jenbach - Anna Netrebko, Prague Philharmonia, Emmanuel Villaume, Prague Philharmonic Choir & Lukas Vasilek

3:25

Der Opernball: Im Chambre Séparée

By Richard Heuberger - Anna Netrebko, Piotr Beczala, Prague Philharmonia & Emmanuel Villaume

4:03

Giuditta, Act 4: Meine Lippen, Die Küssen So Heiss

By Franz Lehár, Paul Knepler & Fritz Löhner-Beda

5:38

Louise, Act 3: "Depuis Le Jour"

By Gustave Charpentier

5:17

Les Contes D'Hoffmann, Act 2: Barcarolle

By Jacques Offenbach, Jules Barbier & Michel Carré - Anna Netrebko, Elīna Garanča, Prague Philharmonia, Emmanuel Villaume, Prague Philharmonic Choir & Lukas Vasilek

3:43

Vier Lieder, Op. 27: II. Cäcilie

By Richard Strauss

1:56

Peer Gynt, Op. 23: Solveig's Song

By Edvard Grieg & Hendrik Ibsen

4:59

Fortunio: L'orsque J'étais Enfant

By André Messager, Gaston Caillavet & Robert De Flers

2:05

Ciganské Melodie (Gypsy Melodies), Op. 55 (Instr. By Jiri Teml): IV. Kdyz Mne Stara Matka

By Antonín Dvořák

3:05

Fünf Lieder, Op. 41: I. Wiegenlied

By Richard Strauss

4:12

't Was Not the Wind, Op. 43, No. 2 (Orchestrated By Andreas N. Tarkmann)

By Nikolai Rimsky-Korsakov & Aleksei Konstantinovich Tolstoy

2:09

Captivated By the Rose (The Nightingale), Op. 2, No. 2 [Plenivshis Rozoï Soloveï] (Orchestrated By Andreas N. Tarkmann)

By Nikolai Rimsky-Korsakov

3:13

Schlof Sche, Mein Vögele (Orchestrated By Friedrich Meyer)

By Anonymous - Anna Netrebko, Prague Philharmonia, Emmanuel Villaume, Prague Philharmonic Choir & Lukas Vasilek

3:32

Anna Netrebko, Andrew Swait, Prague Philharmonia, Emmanuel Villaume, Prague Philharmonic Choir & Lukas Vasilek

3:41

L'enamourée (Orchestrated By Andreas N. Tarkmann)

By Reynaldo Hahn & Theodore de Banville

3:21

By Carlos Antonio Guastavino

2:24

La Tempranica: No. 2 - Tiempo de Zapateado "La Tarántula e un Bicho"

By Jeronimo Gimenez & Julián Romea Castro

1:32

By Luigi Arditi & Gottardo Aldighieri

3:47

Ciganské Melodie (Gypsy Melodies), Op. 55 (Sung In German) [Instr. By Jiri Teml]: IV. Als Die Alte Mutter

By Antonín Dvořák

3:04
19 Songs, 1 Hour, 5 Minutes
Released:

Jan 1, 2008

℗ 2008 Deutsche Grammophon GmbH, Berlin
Ratings and Reviews
Bravo!
Anna"s voice is rich and sensual, I could listen to her all day. Favorite here is the Requiem, just beautiful!
Peace and Love
Guy Mozart
Captivating and lovely!!
As I listen to her sing, I feel as though I am being transported to another relm. Her voice is captivating and lovely!! In addition, the album is full of variety.
Gorgeous and Captivating
Anna Netrebko has done it again. Her rich and velvety voice is so gorgeous on this album. This is definitely worth purchasing!
About Anna Netrebko
Anna Netrebko earned international acclaim in both the opera world and the German pop charts for her highly controlled, crystal-clear soprano voice and her charismatic stage presence. Netrebko was born in Krasnodar, Russia, on September 18, 1971. She attended the Conservatory of St. Petersburg, where she worked as a floor cleaner in her spare time. It was by virtue of her custodial work, not to mention her vocal talent, that she attracted the attention of conductor Valery Gergiev. He became her mentor, and helped Netrebko land her debut role as Suzanna in Le Nozze di Figaro. After holding down several more leading roles with the Kirov Opera, Netrebko made her American debut in 1995, playing Lyudmila in a San Francisco Opera performance of Ruslan and Lyudmila. She went on to tour the globe, holding down lead roles in War and Peace, La Bohème, and I Capuleti e i Montecchi.

Netrebko made her debut at the Met in 2002 in the role of Natasha in War and Peace, and the following year released her first full-length album, Opera Arias. Another album, Sempre Libera, hit stores in 2004. Netrebko continued to tour heavily over the next few years, garnering praise from critics throughout the world for her performances in Roméo et Juliette, La Traviata, and I Puritani. She often played roles opposite the Mexican tenor Rolando Villazon during this time. In 2006, Netrebko's third release, Russian Album, hit stores throughout Europe -- the same year she became an Austrian citizen, citing the difficulty of traveling as a Russian citizen. Russian Album peaked in the Top Ten on the German pop charts, paving the way for the release of another album, Duets (featuring Villazon), which came out early in the following year. Netrebko made her Carnegie Hall debut a couple months after the album was released. As Netrebko's popularity grew, she began regularly releasing albums designed to appeal to a crossover audience -- collections of familiar arias (2007's Opera), folk and salon songs (2008's Souvenirs), beloved Russian numbers (2010's In the Still of Night) -- as well as performances of complete operas to please classical purists.

In 2013, Netrebko revealed that she had relocated to New York City, sharing an apartment with her son and her sister. She released two albums that year: a collection celebrating the 200th anniversary of the birth of Giuseppe Verdi and a new recording of Benjamin Britten's War Requiem. The following winter, Netrebko returned to Russia to perform at the Olympic Ceremonies in Sochi. A concert recording of her singing Tchaikovsky's Iolanta appeared in 2015, followed a year later by an album of Italian pieces called Verismo. Following her marriage to Azerbaijani tenor Yusif Eyvazov, the two singers collaborated on 2017's Romanza album. ~ Margaret Reges
HOMETOWN

Krasnodar, Russia

GENRE

BORN

September 18, 1971