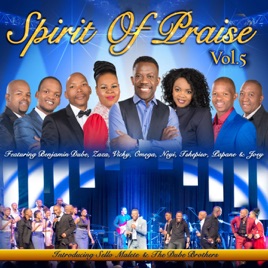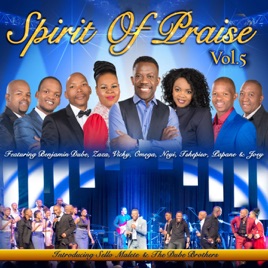 Spirit of Praise, Vol. 5
Various Artists
TITLE
TIME
7:54
5:32
7:42
4:43
3:40
4:05

Kea Otshaba Moya

Joey Mofoleng

5:31
5:50

Jesus My Lord

Vicky Vilakazi

3:06

Mmuso Wa Modimo

Sello Malete

4:52
4:34

Modimo Rea Ho Boka

Papane

5:49
7:01
5:32
7:36

Xa Ndiyekelelwa Nguwe

Tshepiso & Thando

6:47

Jeso Rato La Hao

Neyi & Vuyiseka

5:39

Ngasabela

Vicky & George Gershwin

5:53

Halempotsa

Papane & Phindile

5:50

Halephirimile

Sello & Kagiso

6:28

Thank You

Dube Brothers & Kate

10:21

Elshadai Adonai

Benjamin Dube & Precious

7:00

Goodbye (Till We Meet Again)

Benjamin Dube

4:03
23 Songs, 2 Hours, 15 Minutes

℗ 2014 Spirit Music
Ratings and Reviews
Straight to the throne room!!
Love this album, especially "Mananjalo" and "Busa".
Overseer K S Green
The anointing and power of the Holy Spirit all over this project I encourage you to purchase this.f you are here in the US or abroad the words are universal in your spirit the language of a God filled praise.