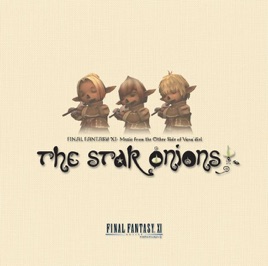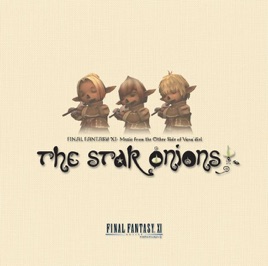 The Star Onions - FINAL FANTASY XI (Music from the Other Side of Vana'diel)
THE STAR ONIONS
| | TITLE | | TIME |
| --- | --- | --- | --- |
| | | | |
| | | | |
| | | | |
| | | | |
| | The Forgotten City - Tavnazian Safehold | | |
| | | | |
| | | | |
| | | | |
| | | | |
| | Bleesed In Her Glourious Light - The Grand Duchy of Jeuno | | |
10 Songs, 53 Minutes
Released:

Sep 27, 2005

℗ 2005 SQUARE ENIX
Ratings and Reviews
Not astonishing, but very, very good.
This album takes a lot of the better tracks from the different Final Fantasy XI albums and redoes the songs. The album has a lot of variety and different moods, and is very enjoyable to just sit back and listen to. This album doesn't break any musical barriers or introduce anything new, but the music is quality and is very enjoyable. A must-have for any Final Fantasy XI fan.
Mixed Bag of Remixes
If you're buying this, you're probably a Final Fantasy XI fan and familiar with the original game music. Eight of the tracks here are remixes of the game music, and two of them (Vana'diel March and The Forgotten City - Tavnazian Safehold-) are piano arrangements of the game music. Neither of the two piano arrangements are astonishingly good.

Of the eight remixes, Rolanberry Fields, Kazham, and Awakening fair the best. The Rolanberry Fields has a contemporary jazz sound like something you might hear in a coffee shop or hotel lobby.
Kazham has a nice beat to it and great guitar. Awakening sounds fairly similar to the original song, but picks up a rave beat after a few seconds which it keeps for the rest of the song, and sounds like something you might hear at an industrial night club.. maybe.

The Selbina, Metalworks, and Mog House remixes are good, but not great. The Sanctuary of Zi'Tah remix (in my opinion) is worse than the original song and loses a lot of the charm that the original had.
Blessed in Her Glorious Light is a vocal (gospel-esque) rendition of the Jeuno song. It is truly awful, but you might download it for pure humor value of the awful lyrics and strained vocals.

Since the album cost is just the track cost x10, there's no reason to download the full album. Just preview everything and download the ones that sound good to you.

Nice texture!
Quite smooth, nice remixes.
It certainly shows "Other side of Vana'diel."