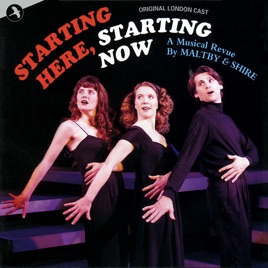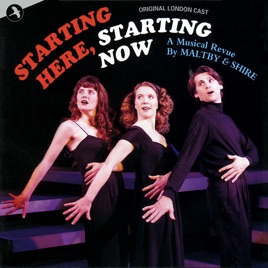 Starting Here Starting Now (Original London Cast)
TITLE
TIME

Prologue / the Word Is Love

Clare Burt, Michael Cantwell & Samantha Shaw

1:15

Starting Here Starting Now

Clare Burt, Michael Cantwell & Samantha Shaw

1:29

Samantha Shaw

1:39

I Think I May Want to Remember Today

Clare Burt & Samantha Shaw

1:56

Clare Burt & Michael Cantwell

2:14

We Can Talk to Each Other

Clare Burt & Michael Cantwell

2:28

Clare Burt, Michael Cantwell & Samantha Shaw

2:46

Clare Burt

4:46

Samantha Shaw

3:07

I Don't Remember Christmas

Michael Cantwell

2:31

Clare Burt, Michael Cantwell & Samantha Shaw

5:32

Michael Cantwell & Samantha Shaw

2:21

Clare Burt, Michael Cantwell & Samantha Shaw

3:03

I'm Going to Make You Beautiful

Clare Burt, Michael Cantwell & Samantha Shaw

4:23

Clare Burt, Michael Cantwell & Samantha Shaw

4:14

Hey There Fans (Opening Act Two)

Clare Burt, Michael Cantwell & Samantha Shaw

1:06

Clare Burt, Michael Cantwell & Samantha Shaw

3:54

Michael Cantwell

0:58

Clare Burt

3:35

Watching the Big Parade Go By

Samantha Shaw

3:45

Michael Cantwell

4:25

Clare Burt

3:20

Clare Burt, Michael Cantwell & Samantha Shaw

4:59

Clare Burt

2:13

Today Is the First Day of the Rest of My Life

Clare Burt, Michael Cantwell & Samantha Shaw

1:47

Clare Burt, Michael Cantwell & Samantha Shaw

2:15

Clare Burt, Michael Cantwell & Samantha Shaw

1:08

Pleased With Myself (Encore)

Company

1:39
28 Songs, 1 Hour, 18 Minutes

℗ 1997 JAY Producitons Ltd.
I love you Richard and David!
I don't know if you read these reviews but I was part of the 2004 production of this at Stagedoor Manor! I think about it all the time and wish I could do it again! Thank you both for coming and workshopping with our cast, it was so much fun and I have not had an experience like that since! xoxx Linnea
first review!!!!
im kinda unsure why i'm the first because most theatre goers probably havn't heard of this show but it's really good. i would reccomend Starting here Starting Now Crossword Puzzle Autumn i Don't remember christmas i hear bells pleased with myself please buy this wonderful album. THANK YOU ITUNES!! Okay linsage this is really funny because i go to stagedoor manor too and they just did this show in 07' so we're like 2 reviews that went to the same camp lol
Love This Album
I love this music!! I was the girl of the minute in the Stagedoor '07 production. I was so happy when I found out that these lyrics were on itunes. I highly suggest this to all ages, it speaks different messages.
About Richard Maltby, Jr.
Richard Maltby Jr. was the son of bandleader, songwriter, and arranger Richard Maltby; he also turned to music, but as a lyricist and director for stage musicals. While attending Yale in the mid-'50s, he met composer David Shire, a fellow student who also was the son of a bandleader, and they formed a partnership to write songs for musicals. Their musical version of Cyrano de Bergerac was produced by the Yale Dramatic Association in 1958, then mounted by the prestigious Williamstown Summer Theatre. One song from the score, "Autumn," was recorded by Barbra Streisand on her number one album People in 1964. On subsequent albums, Streisand recorded the Maltby/Shire compositions "No More Songs for Me," "Starting Here, Starting Now," and "The Morning After." Maltby and Shire worked throughout the 1960s on musicals and revues that played off-Broadway or in regional theater, or went unproduced. Their first Broadway credit came on May 2, 1968, when their song "The Girl of the Minute" was used in the revue New Faces of 1968. Meanwhile, Shire also composed film scores, and Maltby developed a career as a stage director. In 1977, at the behest of the Manhattan Theatre Club, he directed a revue of songs he and Shire had written for a variety of projects. It opened off-Broadway on March 7 as Starting Here, Starting Now and ran 120 performances, resulting in a cast album that earned a Grammy nomination. Maltby and Shire finally reached Broadway with their own musical with Baby, directed by Maltby, which opened on December 4, 1983, and ran 241 performances. They returned to off-Broadway with the musical revues Urban Blight (which had a limited run at the Manhattan Theatre Club beginning June 19, 1988) and Closer Than Ever (which began a 288-performance run on November 6, 1989, and also produced a cast album). Their second Broadway musical was Big, an adaptation of the successful film, which opened in April 28, 1996, and ran 193 performances. Apart from his work with Shire, Maltby conceived and directed the revue Ain't Misbehavin', which used the songs of Fats Waller, and he wrote new lyrics to some of Waller's tunes for the production. It opened off-Broadway on May 9, 1978, and eventually transferred to Broadway, running a total of 1,632 performances. Maltby won the Tony Award for best director for the show. He helped Andrew Lloyd Webber and British lyricist Don Black Americanize the lyrics for the musical Song and Dance, and also directed the Broadway production. It opened August 30, 1985, and ran 474 performances. He adapted the French lyrics of Alain Boublil into English for the musical Miss Saigon, which opened on Broadway on April 11, 1991, and ran 4,125 performances. He wrote the lyrics to Charles Strouse's music for the Broadway musical Nick and Nora, based on The Thin Man, which ran only a week after opening on December 8, 1991. And he conceived the dance revue Fosse, which opened on Broadway January 14, 1999, and ran 1,100 performances. All of these efforts produced cast albums. ~ William Ruhlmann