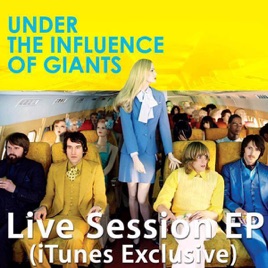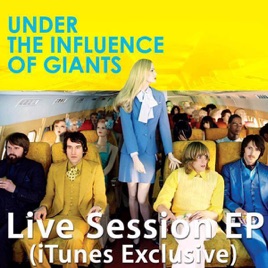 Live Session (iTunes Exclusive) - EP
| | TITLE | TIME |
| --- | --- | --- |
| | | 3:46 |
| | | 3:45 |
| | | 3:44 |
| | | 3:58 |
4 Songs, 15 Minutes

℗ 2006 The Island Def Jam Music Group
Yes Yes & Yes
UTIOG is an amazing band. Their melodies are so catchy and keep you wanting more. This live session just proves how talented they are. You can enjoy the live sessions just as much as the album versions. I can't wait to see what they do next!
UTIOG is amazing!
I have seen Under the Influence of Giants live twice already and they are great, especially live. It is so great that they now have a live session because everyone else will be able to see that all of their music is real. They are currently my favorite band! Thanks iTunes!
Eh....
okay... but not great ......
About Under the Influence of Giants
Taking inspiration from big-name acts like the Beatles, the Who, Led Zeppelin, Stevie Wonder, the Bee Gees, and Prince (to spout just a few), the aptly named Under the Influence of Giants emerged from southern California in the early 2000s. The group was praised early on -- especially after the release of its debut single, "Mama's Room," in mid-2006 -- for its smooth combination of rock and pop with a funk-edged groove. Vocalist Aaron Bruno and guitarist Drew Stewart had been writing songs together since high school, but the two first came into public view as members of the Maverick Records rock outfit Home Town Hero. Something ultimately clicked further, however, when the friends hooked up with drummer/keyboardist Jamin Wilcox (son of Hall & Oates/Utopia's John "Willie" Wilcox), who had previously belonged to another California rock act, Audiovent (Atlantic Records). With Wilcox's talents on board, the hook-laden pop-soul of Under the Influence of Giants was born. Bassist David Amezcua later completed the group, and the guys recorded the Heaven Is Full EP. Distributing their music online and at shows, the bandmembers took full advantage of the social networking godsend MySpace to spread their name. Most of the EP would eventually find its way onto their debut full-length, both releases being produced by Blind Melon's Brad Smith and Christopher Thorn. Under the Influence of Giants played a brief seven-city tour in spring 2006 with Mute Math; their self-titled Island debut appeared that August. ~ Corey Apar
ORIGIN

Los Angeles, CA

GENRE