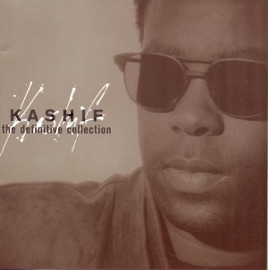 TITLE
TIME

I Just Gotta Have You (Remastered 1998)

Help Yourself to My Love (Remastered 1998)

Are You the Woman (Remastered 1998)

Stone Love (Remastered 1998)

Dancing In the Dark (Heart to Heart) [Remastered 1998]

6

Love the One I'm (With a Lot of Love) [Remastered 1998]

Kashif & Melba Moore

Baby Don't Break Your Baby's Heart (Remastered 1998)

Condition of the Heart (Remastered 1998)

Reservations for Two (Remastered 1998)

Kashif & Dionne Warwick

Love Me All Over (Remastered 1998)

Loving You Only (Remastered 1998)

Ain't No Woman (Remastered 1998)

Love Changes (Remastered 1998)

Personality (Remastered 1998)
14 Songs, 1 Hour 9 Minutes
Released:

Jan 1, 1990

℗ 1983, 1984, 1985, 1987, 1989, 1998 Arista Records, Inc.
About Kashif
Songwriter, producer, multi-instrumentalist, and vocalist Kashif was part of the post-disco vanguard that revolutionized R&B with synthesizers and drum machines. In terms of commercial yet progressive pop-oriented R&B, he is the link from Patrick Adams, Leroy Burgess, and Leon Sylvers III to Jimmy Jam and Terry Lewis, and therefore part of a lineage that extends to the likes of "super producers" such as Teddy Riley and Timbaland. Active from the mid-'70s until his 2016 death, he was a major creative force for the majority of the '80s, a decade in which he advanced his genre with a rhythmically advanced and melodically sophisticated sound that elevated the careers of Evelyn "Champagne" King, Melba Moore, and Whitney Houston, among others. Although his contemporaneous solo work didn't bring any gold or platinum certifications, it made a major impact with serious R&B listeners and was acknowledged with several Grammy nominations.

Born Michael Jones in New York City's Harlem neighborhood in 1956, Kashif was orphaned at an early age, grew up in foster homes, and survived physical and mental abuse throughout childhood. Music provided an escape. Prior to completing junior high, he became proficient with keyboards, brass, and woodwind instruments. As a teenager, he joined B.T. Express as a keyboardist and played synthesizer bass using the Minimoog, his first experience with synthesized instrumentation. After three albums with the band -- Energy to Burn, Function at the Junction, and Shout! (Shout It Out), the first two of which featured his earliest songwriting credits -- Kashif left to perform with Stephanie Mills.

Inspired by Kenneth Gamble, Leon Huff, and Thom Bell's Mighty Three Music, Kashif subsequently formed Mighty M Productions with fellow songwriters and producers Paul Lawrence and Morrie Brown. They infused early-'80s R&B with a vibrant synth-based sound that revitalized established artists and propelled newcomers. As a team, Kashif, Lawrence, and Brown broke out with Evelyn King's "I'm in Love." Written, arranged, and co-produced by Kashif, who was also credited with playing an array of keyboards, the song debuted on Billboard's R&B chart in June 1981 and eventually went to number one. Through 1982, Kashif drove five additional Top 20 R&B hits for Melba Moore, Howard Johnson, and King, whose "Love Come Down" also topped the chart. Emerging technology enabled Kashif to pioneer uses for sampling, such as replacing drum sounds, lead and background vocal placements, and duplicating vocal passages.

While he was in-demand as a producer and songwriter, Kashif was signed to Arista and released five albums for the label through the '80s. The singles "I Just Gotta Have You (Lover Turn Me On)" (1983), "Baby Don't Break Your Baby's Heart" (1984), and a duet with Meli'sa Morgan on a cover of Mother's Finest's "Love Changes" (1987), added to his stack of Top 20 R&B hits. Album cuts "The Mood," "Call Me Tonight," and "Movie Song" each received Grammy nominations in the category of Best Instrumental R&B Performance, and the Al Jarreau collaboration "Edgartown Groove" was nominated for Best R&B Performance by a Duo or Group with Vocals. All the while, Kashif was behind the scenes with work for prominent artists such as George Benson, Kenny G, and Dionne Warwick. Most significantly, he produced Whitney Houston's debut solo single, "You Give Good Love," a number two R&B hit. He also co-wrote and produced another song from the singer's diamond platinum self-titled album, "Thinking About You."

Not as busy in studios after the '80s, Kashif remained active on a number of other music-related fronts. In 1994, he received an invitation from the UCLA Extension program and created a course called Contemporary Record Production with Kashif. A year later, Kashif authored the crucial music industry tome Everything You'd Better Know About the Record Industry, as CEO of his Los Angeles-based Brooklyn Boy Books, Entertainment, and Information. Who Loves You?, issued on the U.K.-based Expansion label in 1998, and Music from My Mind, self-released in 2003, were his final solo releases. Kashif died in Los Angeles in September 2016 at the age of 59. At the time, he was active as a performer and working on a ten-part documentary, The History of R&B Music. ~ Andy Kellman & Ed Hogan
HOMETOWN

New York, NY [Harlem]

GENRE

BORN

December 26, 1956
50 million songs.
Zero ads.
New subscribers only. Plan automatically renews after trial.