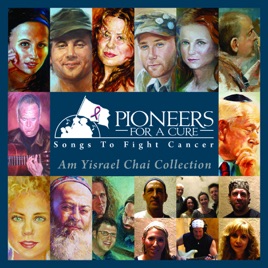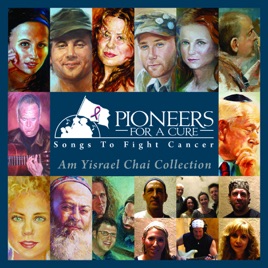 Pioneers for a Cure: The Am Yisrael Chai Collection
Various Artists
TITLE
TIME
PRICE

Pioneers For A Cure Artists

7:09
$0.99

Pharoah's Daughter

4:17
$0.99

Noah Solomon

2:23
$0.99

Neshama Carlebach

4:30
$0.99

Dov Rosenblatt

3:39
$0.99

Tovah Feldshuh

3:08
$0.99

Lu Hayiti Tzipor Kanaf_ Sh'chav B'ni

Lorin Sklamberg

5:23
$0.99

David Broza

4:59
$0.99

Seth Glass

4:04
$0.99

Abbi Rose

4:13
$0.99

Sam Halpern

3:22
$0.99

Rebbe Soul

3:44
$0.99

Karen Rosen

3:53
$0.99

Yossi Piamenta

6:41
$0.99

Frank London Featuring Joshua Nelson

4:35
$0.99

New York Voices

1:58
$0.99

Emily Bindiger

3:22
$0.99

Rashanim

6:13
$0.99
18 Songs

℗ 2009 Joodayoh, Inc.
Customer Reviews
Songs to Fight Cancer
Wow! These old songs have been revived here to raise money for cancer charities. Many seniors I've played this for are familiar with the songs from decades ago. Shir Shomer & Omrim Yeshne Eretz have great keyboard parts by David Morgan; killer! The Pharoah's Daughter track is mixed by Bob Clearmountain. So is the title track, Am Yisrael Chai, which features all these artists and more together on the most popular Hebrew song. Enjoy!