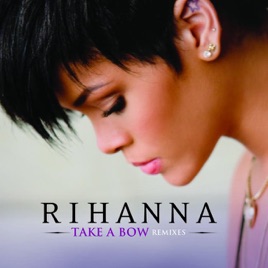 | | TITLE | | TIME |
| --- | --- | --- | --- |
| | Take a Bow (Seamus Haji & Paul Emanuel Club) | | |
| | Take a Bow (Tony Moran & Warren Riggs Encore Club) | | |
| | Take a Bow (Groove Junkies MoHo Club) | | |
| | Take a Bow (Subkulcha Club) | | |
| | Take a Bow (Groove Junkies MoHo Dub) | | |
5 Songs, 38 Minutes
Released:

May 19, 2008

℗ 2008 The Island Def Jam Music Group
Ratings and Reviews
Hmmmmm....
Well, I like Rihanna... The Haji Mix is great, but to slow.... The Moran mix is totally, um.... Full of stuff. I think this one should be skipped...
Great remixes!
Rihanna can take a bow after all the GREAT songs she has! Most remixes are crummy but these are a masterpiece! It does not suprise me because Ri is my fave singer ever!!!!!
MORAN/RIGG MIX IS AWESOME!!!!!!!
I LIKE THE TONY MORAN/WARREN RIGG MIX THE BEST!! THEY REALLY TURNED IT OUT!!!

GREAT ANTHEM MIX!!!! WATCH OUT ALL YOU CHEATERS! LOL
About Rihanna
Rihanna established her dance-pop credentials in summer 2005 with her debut smash hit, "Pon de Replay," and continued to demonstrate hit potential in subsequent years ("S.O.S." in 2006; "Umbrella" in 2007; "Disturbia" in 2008). However, it was the singer's third album, Good Girl Gone Bad, that made her a full-fledged international pop star with a regular presence atop the charts. Born Robyn Rihanna Fenty on February 20, 1988, in Saint Michael, Barbados, she exhibited a certain star quality as a young child, often winning beauty and talent contests. Because she lived on the fairly remote island of Barbados in the West Indies, however, she never foresaw the sort of stardom she would later attain.

That stardom came courtesy of a fateful meeting with Evan Rogers. The New Yorker was vacationing in Barbados with his wife, a native of the island, when he was introduced to Rihanna. Rogers had spent years producing pop hits for such superstars as *NSYNC, Christina Aguilera, Jessica Simpson, and Rod Stewart, and he offered the talented Rihanna a chance to record. Along with Rogers' production partner, Carl Sturken (the other half of Syndicated Rhythm Productions), Rihanna recorded several demos that sparked the interest of the Carter Administration -- that is, the newly appointed Def Jam president Shawn "Jay-Z" Carter. This led to an audition, and Rihanna both received and accepted an on-the-spot offer to sign with Def Jam.

Come summer 2005, Def Jam rolled out "Pon de Replay," the lively leadoff single from Music of the Sun. Produced almost entirely by Rogers and Sturken, the song synthesized Caribbean rhythms with urban-pop songwriting. "Pon de Replay" caught fire almost immediately, climbing all the way to number two on the Billboard Hot 100 and contesting that summer's reign of Mariah Carey's "We Belong Together" atop the chart. The debut album spawned one other hit, "If It's Lovin' That You Want," which also broke the Top 40. Rihanna's follow-up effort, A Girl Like Me, saw even greater success and spawned three sizable singles: a chart-topper ("S.O.S.") and two Top Ten hits ("Unfaithful," "Break It Off").

Rihanna's third album, 2007's Good Girl Gone Bad, continued her success while signaling a change of direction. Good Girl Gone Bad was a first-rate dance-pop album, stacked with several chart-topping singles and boasting collaborations with Jay-Z, Ne-Yo, Timbaland, and StarGate. The lead single, "Umbrella," shot to number one, as did "Take a Bow" and "Disturbia." Its success turned Rihanna into one of the planet's biggest pop stars.

Rated R was released in 2009 during the wake of a physical altercation with romantic interest Chris Brown, who pleaded guilty to felony assault. The album's lead single, "Russian Roulette" -- written with Ne-Yo -- was one of the year's most controversial singles, and it set the tone for the singer's new, dark direction. Rated R peaked within the Top Five of the Billboard 200, while another one of its singles, "Rude Boy," topped the Hot 100. Rated R: Remixed was released in the spring of 2010 and featured ten tracks from the album revamped for the dancefloor by Chew Fu.

Loud, Rihanna's fifth studio album, followed in November and was led by the StarGate-produced "Only Girl (In the World)." That song, as well as the follow-up singles "What's My Name?" and "S&M," all topped the Billboard Hot 100. In November 2011, shortly after Loud's "Cheers (Drink to That)" entered the Top Ten, the singer released Talk That Talk. The single "We Found Love" with Calvin Harris earned the top spot in the Hot 100, and the album peaked at number three.

Unapologetic, Rihanna's seventh studio album, featured some of her brashest material and was led by "Diamonds" -- her 18th Top Ten single. Unapologetic became her first number one album, and eventually produced further Top Ten hits in "Stay" and "Jump." By the fall of 2013, another record had fallen: her feature on Eminem's "The Monster" helped it hit number one on the pop charts, tying her with Michael Jackson for the most chart-toppers in Billboard chart history. The song won a Grammy Award in the category of Best Rap/Sung Collaboration. In early 2015, Rihanna released "FourFiveSeconds," a stripped-down single featuring the unlikely duo of Kanye West and Paul McCartney. It topped the Hot 100 and was followed by the cruder "Bitch Better Have My Money," which led the way to Anti the following January. ~ Jason Birchmeier
HOMETOWN

Saint Michael, Barbados

GENRE

BORN

February 20, 1988