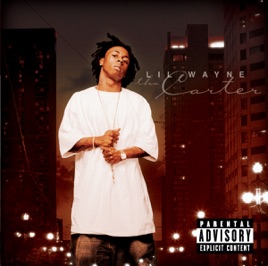 EDITORS' NOTES
Wayne had merged Jay-Z's wordplay with his own impish, unpredictable Southern flow, suddenly vaulting the 22-year-old former Hot Boy into the realm of the credible MC. Tha Carter was also notable as the last collaboration between Wayne and legendary Cash Money producer Mannie Fresh. With Wayne coming into his own as a rapper, Fresh provided some of the finest beats of his career: "Go DJ," "On My Own," "Snitch," and "Ain't It A Bitch."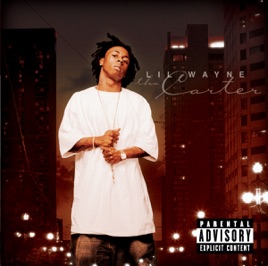 EDITORS' NOTES
Wayne had merged Jay-Z's wordplay with his own impish, unpredictable Southern flow, suddenly vaulting the 22-year-old former Hot Boy into the realm of the credible MC. Tha Carter was also notable as the last collaboration between Wayne and legendary Cash Money producer Mannie Fresh. With Wayne coming into his own as a rapper, Fresh provided some of the finest beats of his career: "Go DJ," "On My Own," "Snitch," and "Ain't It A Bitch."
21 Songs, 1 Hour 19 Minutes
Released:

Jun 29, 2004

℗ 2004 Cash Money Records Inc. Manufactured and Marketed by Universal Records, a Division of UMG Recordings, Inc.
Ratings and Reviews
Tha Carter is tha truth
Hands down, Weezy's best album to date.
Great Album!
Weezy F. Baby does it yet again
The whole album is awesome!
Carter Report
Fast money. Cash money. This cd is worth yo money.
About Lil Wayne
A game-changing artist and celebrity, Lil Wayne began his career as a near-novelty -- a preteen delivering hardcore hip-hop -- but through years of maturation and reinventing the mixtape game, he developed into a million-selling rapper with a massive body of work, one so inventive and cunning that it makes his famous claim of being the "best rapper alive" worth considering. Born Dwayne Michael Carter, Jr. and raised in the infamous New Orleans neighborhood of Hollygrove, he was a straight-A student but never felt his true intelligence was expressed through any kind of report card. He found music was the best way to express himself, and after taking the name Gangsta D he began writing rhymes. Combining a strong work ethic with aggressive self-promotion, the 11-year-old convinced the Cash Money label to take him on, even if it was just for odd jobs around the office. A year later, in-house producer Mannie Fresh partnered him with the 14-year-old B.G. and dubbed the duo the B.G.'z. Although only B.G.'s name appeared on the cover, the 1995 album True Story has since been accepted as the B.G.'z debut album both by fans and the Cash Money label. The 1997 album Chopper City was supposed to be the follow-up, but when Wayne accidentally shot himself in the chest with a 9mm, it became a solo B.G. release.

That same year, he officially took the moniker Lil Wayne, dropping the "D" from his first name in order to separate himself from an absent father. He joined B.G., Juvenile, and Young Turk for another Fresh project, the teen hardcore rap group the Hot Boys, who released their debut album, Get It How U Live!, in 1997. Two years later, Cash Money would sign a distribution deal with the major label Universal. Mainstream distribution would help that year's Hot Boys album Guerrilla Warfare to reach the number one spot on Billboard's Top R&B/Hip-Hop Albums chart. In 1998, Lil Wayne would appear on Juvenile's hit single "Back That Thing Up," or "Back That Azz Up" as it appeared on Juvie's album 400 Degreez. Wayne would launch his solo career a year later with the album Tha Block Is Hot, featuring the hit single title track. It went double platinum but the rapper was still unknown to Middle America, since his hardcore rhymes and the rough Cash Money sound had not yet crossed over. His second album, Lights Out (2000), failed to match the success of its predecessor but it did go gold, and with an appearance on the Big Tymers' hit single "#1 Stunna," his audience was certainly growing. While Fresh was primarily responsible for launching his career, Wayne was now much closer to Fresh's fellow Big Tymer and Cash Money CEO Birdman. When Juvenile left the label, Wayne -- or "Birdman Jr." as he was calling himself -- showed his allegiance to his CEO by releasing an album with a title much hotter than Juvie's breakthrough effort. 500 Degreez landed in 2002 and while it went gold, rumors began flying about Cash Money's financial troubles and possible demise. The rest of the Hot Boys had defected and Wayne's planned 2003 album was scrapped, coming out instead as an underground mixtape called Da Drought.

Wayne became enamored with the mixtape world after Da Drought drew so much attention from the hip-hop press. He used these underground releases to drum up anticipation for his next official album, the breakthrough effort Tha Carter. Released in 2004, the album seemed familiar on one hand with Mannie Fresh's production, but the Wayne on the cover was a dreadlocked surprise, and the rhymes he laid on the tracks showed significant growth. His marketing skills had become sharper, too, and it was no mistake that the album's hit single, "Go DJ," mentioned hip-hop's greatest tastemakers right in the title. It reached number five on the singles chart, and with a guest shot on Destiny's Child's number three single, "Soldier," Wayne had officially crossed over. On the flip side, his street cred was supported by a slew of mixtapes released in 2005, including the popular titles Dedication with DJ Drama and Tha Suffix with DJ Khaled. Cash Money's future was no longer in doubt and traditional music business rules no longer seemed to apply, as tracks would be leaked onto the Internet and various DJs' mixtapes. "Get Something" was another bold move, as a Universal-funded video was made without the track ever seeing official release.

With his alternative marketing scheme working in overdrive, the 2005 landing of Tha Carter II was a major event, selling over a quarter-million copies the week of its release. "Fireman" and "Shooter" with Robin Thicke were released as singles, while the album -- which for the first time featured no Mannie Fresh productions -- went platinum. It also introduced his Young Money posse, with appearances from Currensy and Nicki Minaj, and initially came with a bonus disc featuring Wayne's greatest hits screwed and chopped by Swishahouse DJ Michael "5000" Watts. A year later he collaborated with Birdman for the Like Father, Like Son album, featuring the hit single "Stuntin' Like My Daddy." His mixtapes were still flooding the underground, including the stunning Dedication 2, which came with an iconic image of the rapper on the cover plus the much talked-about track "Georgia...Bush," a venomous response to President George W. Bush's handling of the Katrina disaster. With no official follow-up to Tha Carter II in sight, numerous collaborative tracks kept the rapper in the mainstream with "Gimme That" by Chris Brown, "Make It Rain" by Fat Joe, and "Duffle Bag Boy" by Playaz Circle becoming three of the biggest hits.

Tha Carter III was promised for 2007 but didn't arrive until a year later, setting off Wayne's infamous reputation of delayed releases. Part of the problem became unauthorized leaks of the album's tracks, something combatted by the official, downloadable EP The Leak released that same year. Preceded by the number one hit "Lollipop," Tha Carter III arrived in May of 2008, selling more than a million copies in its first week of release. An appearance on Saturday Night Live and four Grammy Awards -- including Best Rap Album -- spoke to Wayne's mainstream acceptance. He also performed at that year's Country Music Awards with Kid Rock, but rather than rap, he played guitar. The guitar playing was part of Wayne's new involvement with rock music, including his help in signing Kevin Rudolf to Cash Money plus an appearance on Rudolf's massive hit "Let It Rock." His planned rock album was previewed with the 2009 single "Prom Queen," but when the album failed to meet its promised April release, the music press began to portray the rapper as the king of missed street dates. Unconcerned, Wayne forged ahead with his Young Money crew, releasing the underground mixtape Young Money Is the Army, Better Yet the Navy, the aboveground single "Every Girl," plus the official album We Are Young Money that same year. His rock album, Rebirth, would finally appear in early 2010, which coincided with Wayne being sentenced to a nine-month prison term for criminal possession of a weapon. The rapper may have been behind bars on Riker's Island, but that didn't stop his ten-song EP, I Am Not a Human Being, from seeing the light of day in September 2010. Tha Carter IV was finally released in 2011 along with its lead-off single "6 Foot 7 Foot." The album reached the top spot on the Billboard 200.

In 2013, unfazed by criticism that a controversial verse he contributed to Future's "Karate Chop" -- he made a reference to Emmett Till, a black teenager gruesomely murdered in 1955 by white men -- was in poor taste, Wayne released a second volume of I Am Not a Human Being. The album debuted at number two and featured the singles "No Worries" and "Love Me." A sequence of singles intended for the repeatedly delayed Tha Carter V ensued, with "Believe Me," featuring Drake, an addition to Wayne's stockpile of certified platinum hits. Another track -- "Nothing But Trouble" featuring Charlie Puth -- was released in 2015 as a contribution to the soundtrack for 808: The Movie. That same year -- to make up for fan disappointment over Tha Carter V's delays -- Wayne self-released Sorry 4 the Wait 2.

By 2016, Wayne had become embroiled in a legal battle with Birdman and Cash Money Records, further complicating the fate of Tha Carter V. These continued delays prompted the release of Free Weezy Album, yet another mixtape to tide over his fans. By the end of the year, he published a memoir about his time spent at Riker's Island (Gone 'Til November) and scored another hit with "Sucker for Pain," a collaboration for the chart-topping Suicide Squad soundtrack. Featuring Wiz Khalifa, Imagine Dragons, Logic, Ty Dolla $ign, and X Ambassadors, the all-star track topped the Billboard rap chart and rose to number three on the R&B/hip-hop chart. ~ David Jeffries
HOMETOWN

New Orleans, LA

GENRE

BORN

September 27, 1982