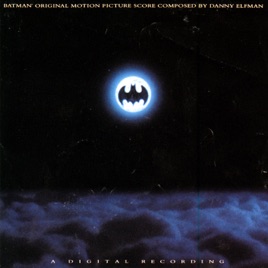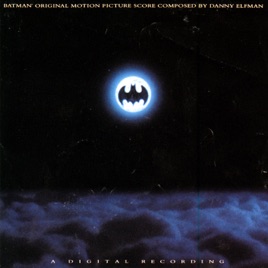 Batman (Original Motion Picture Score)
| | TITLE | | TIME |
| --- | --- | --- | --- |
| | | | 2:38 |
| | | | 1:21 |
| | | | 4:45 |
| | Kitchen, Surgery, Face Off | | 3:09 |
| | | | 1:51 |
| | | | 1:45 |
| | | | 3:57 |
| | | | 1:01 |
| | | | 2:30 |
| | | | 1:32 |
| | | | 2:34 |
| | | | 0:58 |
| | | | 2:42 |
| | | | 1:29 |
| | | | 1:43 |
| | | | 4:46 |
| | | | 5:06 |
| | | | 3:56 |
| | | | 3:49 |
| | | | 1:46 |
| | | | 1:27 |
21 Songs, 54 Minutes
Released:

Aug 8, 1989

℗ 1989 Warner Bros. Records Inc. for the U.S. and WEA International Inc. for the world outside of the U.S.
Ratings and Reviews
Elfman Meets Batman
Undoubtably my favorite Elfman score. It's dark, mysterious, gothic and operatic yet playful and touching too. This isn't your typical action adventure film score. Unusual sounds are heard through out which lends the album a sense of experimentation. "Childhood Remembered" starts off quiet and mysterious and carries you along until you reach the unerving ending. I get chills most every time I listen to it. Very creepy stuff. Then you get big operatic tracks like "First Confrontation" and action-packed tracks like "Attack of the Batwing." Somehow Elfman manages to keep all of this sounding fresh and give it his own personal falir. Never do you have a sense of been there, done that with this score. His sound in these days was very distinct something that he's strayed from in some recent films.

For fans of Elfman, Batman, gothic music and/or film scores this is something that should not be passed up. A distinctive one-of-a-kind find.
Batman: The Way It Was Meant To Sound
Danny Elfman never ceases to amaze me. I grew up watching Tim Burton's Batman and it will always have a place in my heart. The one thing, though, that sticks out in my mind is the score. It is amazing.

The opening theme is just incredible, I get excited whenever I hear the beat start to pick up. It pumps me up. The score appeals to all sides of emotions too. At some parts it can be adventureous ("First Confrontation" which was a key scene in the film where Jack Napier fell into the vat of Chemicals, turning him into The Joker), and other parts can be very sad, such as "Childhood Remembered" (And if you know about Bruce Wayne's childhood you can understand). Best of all is it's dark and mysterious sound. That was the way the the story of Batman was supposed to be told, I mean, he is the Dark Knight.

Hands down, it is a great purchase, i've listened to it over and over, and everytime I love it even more.
A Great Film Score
As far as movie scores go for me...
1.Empire Strikes Back
2. BATMAN.

Gothic, moody, adventerous, dramatic, sexy and orchestration at its best. Elfman in the late 80's and early 90's was in the Zone. From Batman to Scissorhands to Dick Tracy to The Simpson's theme song. The man was on fire and made alot of people jealous in the music biz. Sadly he seems to have lost much of that fire now as he opts for more progressive and experimental scores over the classic style he used in the past. A must buy for film music lovers and fans of great music everywhere.
About Danny Elfman
Best known for his work in collaboration with director Tim Burton, composer Danny Elfman created one of the most distinctive bodies of work in contemporary film music, bringing his talents to a dark fantasy world populated by superheroes, monsters, and freaks. The son of novelist Blossom Elfman, he was born May 29, 1953 in Amarillo, Texas. Raised in Los Angeles, he and brother Richard relocated to France in 1971, where he joined a theatrical group. Elfman subsequently moved on to Africa, returning to the U.S. only after battling a bout with malaria; he then reunited with Richard, who had directed the 1980 film The Forbidden Zone and asked Danny to compose the score. Assembling a band dubbed the Mystic Knights of Oingo Boingo, Elfman recorded the movie's soundtrack. Abbreviated to simply Oingo Boingo, the group remained a going concern following the project's completion, later earning a significant cult following during the new wave era.

In 1985 Elfman met fledgling filmmaker Burton; after collaborating on the score to the hit Pee-Wee's Big Adventure, they reunited frequently in the years to come, with Elfman composing the music to later Burton projects including Beetlejuice, Edward Scissorhands, Mars Attacks! and the Grammy-winning Batman. In 1993, he also scored the Burton-produced Nightmare Before Christmas, dubbing the vocals of the animated musical's lead character Jack Skellington. Outside of Tim Burton's sphere of influence, Elfman also scored a number of other features in the '80s and '90s, most of them strange fables such as Darkman, Dick Tracy, Army of Darkness, and The Frighteners. His 1997 scores for the drama Good Will Hunting and that summer's biggest box office hit, Men in Black, garnered his first Academy Award nominations. Among his television work was his Emmy-nominated theme for The Simpsons and Emmy-winning theme for Desperate Housewives.

In addition to his marriage to actress Bridget Fonda in 2003, the new century brought continued professional accolades, among them new Burton collaborations. Another Academy Award nomination resulted from his work on Burton's 2003 film Big Fish, and the two partnered for other projects including but not limited to 2005's The Corpse Bride and 2010's Alice in Wonderland. In the meantime, he released a symphony on Sony Classical in 2006 titled Serenada Schizophrana, and earned his fourth Academy Award nomination for Gus Van Sant's Milk in 2009.

His steady workload also included 2012's Silver Linings Playbook, 2013's American Hustle, and 2015's genre-diverse Fifty Shades of Grey, Avengers: Age of Ultron, and Goosebumps. The 2016 sequel Alice Through the Looking Glass marked Elfman's 17th Tim Burton feature. That year also saw Sony Classical release his original music for the ballet Rabbit & Rogue, which had premiered at the Metropolitan Opera House in 2008, as well as his score for the film thriller The Girl on the Train. The following year, he stayed busy delivering the scores for such high-profile films as Fifty Shades Darker and Justice League, the latter of which cracked the Billboard 200. ~ Jason Ankeny & Marcy Donelson
HOMETOWN

Amarillo, TX

GENRE

BORN

May 29, 1953