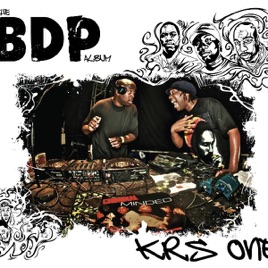 EDITORS' NOTES
Though hip-hop has changed and evolved since it blew up in the '80s, one thing remains constant: KRS-One is still here and still making records. The self-proclaimed Teacha is amongst the most revered and influential emcees ever. He continues to tour (his live show is still incredible) and release new material aimed squarely at wistful old-schoolers and the next generation of B-boys unimpressed by current trends. On The BDP Album, he reconnects with his brother Kenny Parker, who produces all but one of the 14 tracks. There are hard-knocking drums, well-chosen samples, and spacy keys to support the Blastmasta's bold wordplay. As with most KRS projects, the lyrics revolve around his legacy of 20-plus years, the sad state of the modern-day rap game, and bringing knowledge to the listeners. While it's not a classic on par with Criminal Minded, it's still a dope effort from an undeniable pioneer. Check out "Do It," "Forever" (with Channel Live), "I Do This for You," and the Armageddon-addressing "2012."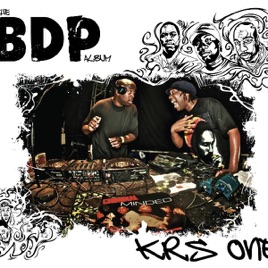 EDITORS' NOTES
Though hip-hop has changed and evolved since it blew up in the '80s, one thing remains constant: KRS-One is still here and still making records. The self-proclaimed Teacha is amongst the most revered and influential emcees ever. He continues to tour (his live show is still incredible) and release new material aimed squarely at wistful old-schoolers and the next generation of B-boys unimpressed by current trends. On The BDP Album, he reconnects with his brother Kenny Parker, who produces all but one of the 14 tracks. There are hard-knocking drums, well-chosen samples, and spacy keys to support the Blastmasta's bold wordplay. As with most KRS projects, the lyrics revolve around his legacy of 20-plus years, the sad state of the modern-day rap game, and bringing knowledge to the listeners. While it's not a classic on par with Criminal Minded, it's still a dope effort from an undeniable pioneer. Check out "Do It," "Forever" (with Channel Live), "I Do This for You," and the Armageddon-addressing "2012."
| | TITLE | | TIME |
| --- | --- | --- | --- |
| | | | 1:25 |
| | | | 3:23 |
| | Forever (feat. Channel Live) | | 2:25 |
| | | | 4:09 |
| | | | 3:31 |
| | | | 3:48 |
| | | | 3:08 |
| | | | 1:23 |
| | | | 2:51 |
| | | | 3:14 |
| | | | 3:13 |
| | Times Up (feat. Jesse West) | | 3:14 |
| | | | 3:34 |
| | What It Is / Outro (feat. Inyang Bassey) | | 4:00 |
14 Songs, 43 Minutes
Released:

Jan 10, 2012

℗ 2012 6.8.2 Records Inc.
Ratings and Reviews
BDP
FINALY !!! Open your 3rd eye people(pineal gland ) BDP is back!!
KRS-ONE
I do not have to preview the album when it is KRS-one, I know it will be worth it, Real HipHop.
About KRS-One
KRS-One (born Kris Parker) was the leader of Boogie Down Productions, one of the most influential hardcore hip-hop outfits of the '80s. At the height of his career, roughly 1987-1990, KRS-One was known for his furiously political and socially conscious raps, which is the source of his nickname, "the Teacher." Around the time of 1990's Edutainment, BDP's audience began to slip as many fans thought his raps were becoming preachy. As a reaction, KRS-One began to re-establish his street credibility with harder, sparer beats and raps. 1992's Sex and Violence was the first sign that he was taking a harder approach, one that wasn't nearly as concerned with teaching. KRS-One's first solo album, 1993's Return of the Boom Bap, was an extension of the more direct approach of Sex and Violence, yet it didn't halt his commercial decline. Still, he forged on with a high-quality self-titled 1995 effort and 1996's Battle for Rap Supremacy, a joint effort with his old rival MC Shan. After 1997's I Got Next, he put his solo career on hiatus for several years, finally returning in early 2001 with The Sneak Attack. The following year brought two full releases: the gospel effort Spiritual Minded and The Mix Tape, the latter including a single ("Ova Here") that stood as a response to Nelly, only the latest hip-hop figure to feud with the Blastmaster. In 2003 KRS-One released two albums, Kristyles and D.I.G.I.T.A.L., while the next year brought only one, Keep Right. In 2006 Life came out on the small, California-based Antagonist Records. The following year KRS-One reunited with Marley Marl to create Hip Hop Lives, an attempt to preserve the golden age of hip-hop. His 2012 effort, The BDP Album, was nostalgia from a different angle, reuniting the rapper with former BDP DJ Kenny Parker.

~ Stephen Thomas Erlewine
HOMETOWN

New York, NY [The Bronx]

GENRE

BORN

August 20, 1965