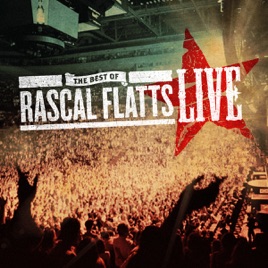 EDITORS' NOTES
If you've never witnessed arena country at its finest, The Best of Rascal Flatts Live is the perfect teaser to the real deal. The album is also a solid summary of the band's hit career (sequenced nonchronologically). It starts with "Bob That Head" from 2007's Still Feels Good before downshifting into the heartfelt ballad "Bless the Broken Road" from 2004's Feels Like Today, where you can really hear the uncanny chemistry and magic of their soaring three-part vocal harmonies. The catchy guitar riffs that introduce "Here's to You" get the crowd riled up, while the medley "I'm Movin' On"/"Skin (Sarabeth)"/"Feels Like Today" starts so quietly that you could hear a pin drop between phrasings. The crowd goes crazy when the band unleashes its fan-favored cover of Tom Cochrane's "Life Is a Highway."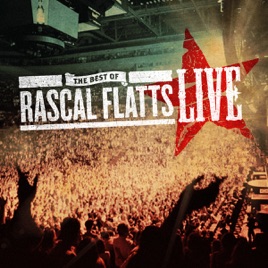 The Best of Rascal Flatts (Live)
EDITORS' NOTES
If you've never witnessed arena country at its finest, The Best of Rascal Flatts Live is the perfect teaser to the real deal. The album is also a solid summary of the band's hit career (sequenced nonchronologically). It starts with "Bob That Head" from 2007's Still Feels Good before downshifting into the heartfelt ballad "Bless the Broken Road" from 2004's Feels Like Today, where you can really hear the uncanny chemistry and magic of their soaring three-part vocal harmonies. The catchy guitar riffs that introduce "Here's to You" get the crowd riled up, while the medley "I'm Movin' On"/"Skin (Sarabeth)"/"Feels Like Today" starts so quietly that you could hear a pin drop between phrasings. The crowd goes crazy when the band unleashes its fan-favored cover of Tom Cochrane's "Life Is a Highway."
| | TITLE | TIME |
| --- | --- | --- |
| | | 3:38 |
| | Bless the Broken Road (Live) | 3:39 |
| | | 3:30 |
| | | 4:26 |
| | Medley: I'm Movin' On / Skin (Sarabeth) / Feels Like Today [Live] | 4:51 |
| | | 3:29 |
| | | 5:49 |
| | What Hurts the Most (Live) | 3:35 |
| | | 4:18 |
| | Encore: Foreplay / Long Time / Free Ride (Live) | 6:52 |
10 Songs, 44 Minutes

℗ 2011 Lyric Street Records, Inc.
Customer Reviews
Rascal Flatts Live
They are amazing in concert. I'm so glad they came out with this!
I LOVE IT!!!
If you a Rascal Flatts fan you need this album!!!! Gary's voice is just so amazing!!!!! =) <3
AMAZING
OMG RASCAL FLATTS IS THE BEST AND THIS IS A MUST FOR ANY FAN!!!!!!
About Rascal Flatts
A country trio known primarily for their pleasing harmonies and Grammy-winning songcraft, Rascal Flatts comprise Gary LeVox, Jay Demarcus, and Joe Don Rooney. Cousins Demarcus and LeVox grew up in Columbus, Ohio, a town Demarcus eventually left in 1992 to pursue a music career in Nashville. Meanwhile, LeVox pursued his own musical success with a Christian group; at the behest of his cousin, however, he also relocated to Nashville toward the decade's end. Although LeVox quickly found work as the keyboardist for country star Chely Wright, he still found time to play local shows with Demarcus. One night, the duo asked Oklahoma native Joe Don Rooney (who played guitar in Wright's band) to join them during a Printer's Alley gig in Nashville. A bond was quickly formed, and the musicians abandoned their other duties in favor of forming Rascal Flatts in the late '90s.

After landing a record deal with Lyric Street Records, Rascal Flatts recorded an eclectic mix of country and pop for the trio's self-titled debut. The album arrived in 2000, and "Prayin' for Daylight" became the group's first smash single. Rascal Flatts ultimately sent four singles to the Top Ten before the band's second album, Melt, appeared in October 2002. Co-produced by the bandmates themselves, Melt sold a million copies in eight weeks and yielded the band's first number one country hit "These Days." By this time, Rascal Flatts had established themselves as a highly successful country act, with a particularly strong following among younger listeners (an elusive demographic to most country stars). A live album served as an amiable segue between Melt and 2004's chart-topping Feels Like Today, while Me and My Gang arrived in April 2006. Rascal Flatts' 2007 release, Still Feels Good, enjoyed a similar reception, going platinum before the year's end and yielding another number one hit, "Take Me There." Unstoppable followed in 2009. After Lyric Street Records ceased operations, the trio signed with Big Machine and released their seventh studio album, Nothing Like This, in 2010. Nothing Like This was another hit, thanks in part to the Natasha Bedingfield duet "Easy," and the group released The Best of Rascal Flatts Live in time for the Christmas season of 2011.

Changed, Rascal Flatts' seventh studio album, and first with the Big Machine Label Group, appeared early in 2012. "Banjo," the first single from Changed, hit number one on the U.S. country charts and "Come Wake Me Up" peaked at number eight, but the album overall became the group's first record not to go platinum. Perhaps that's the reason the band decided to shake things up for its next album, hiring Howard Benson -- a producer known for his nü metal, alt-rock, and pop hits, including records by Kelly Clarkson, 3 Doors Down, DAUGHTRY, and My Chemical Romance -- to produce Rewind. Preceded by its title track as a single (which peaked at six on Billboard's country charts), Rewind appeared in May 2014. Two singles got stuck in the 20s on the country charts -- "Payback" followed by "Riot" -- before "I Like the Sound of That" went into the Top Ten in 2015. The next year, Rascal Flatts released their first holiday album, The Greatest Gift of All. The trio teamed with producer busbee -- best known for his production of Maren Morris' 2016 debut, Hero -- for their 2017 album, Back to Us. ~ Andrew Leahey & Rick Cohoon
ORIGIN

Columbus, OH

GENRE

FORMED

1999