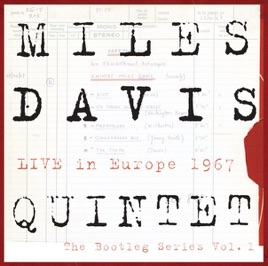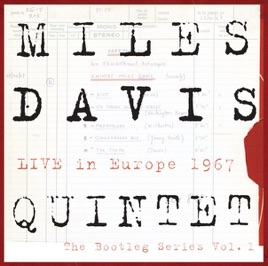 The Bootleg Series, Vol. 1: Live In Europe 1967
Miles Davis
| | TITLE | | TIME |
| --- | --- | --- | --- |
| | Agitation (Live October 28, 1967 Konigin Elizabethzaal, Antwerp, Belgium) | | |
| | Footprints (Live October 28, 1967 Konigin Elizabethzaal, Antwerp, Belgium) | | |
| | 'Round Midnight (Live October 28, 1967 Konigin Elizabethzaal, Antwerp, Belgium) | | |
| | No Blues (Live October 28, 1967 Konigin Elizabethzaal, Antwerp, Belgium) | | |
| | Riot (Live October 28, 1967 Konigin Elizabethzaal, Antwerp, Belgium) | | |
| | On Green Dolphin Street (Live October 28, 1967 Konigin Elizabethzaal, Antwerp, Belgium) | | |
| | Masqualero (Live October 28, 1967 Konigin Elizabethzaal, Antwerp, Belgium) | | |
| | Gingerbread Boy (Live October 28, 1967 Konigin Elizabethzaal, Antwerp, Belgium) | | |
| | The Theme (Live October 28, 1967 Konigin Elizabethzaal, Antwerp, Belgium) | | |
| | Agitation (Live November 2, 1967 Tivoli Konsertsal, Copenhagen, Denmark) | | |
| | Footprints (Live November 2, 1967 Tivoli Konsertsal, Copenhagen, Denmark) | | |
| | 'Round Midnight (Live November 2, 1967 Tivoli Konsertsal, Copenhagen, Denmark) | | |
| | No Blues (Live November 2, 1967 Tivoli Konsertsal, Copenhagen, Denmark) | | |
| | Masqualero (Live November 2, 1967 Tivoli Konsertsal, Copenhagen, Denmark) | | |
| | Agitation (Live November 6, 1967 Salle Pleyel, Paris, France) | | |
| | Footprints (Live November 6, 1967 Salle Pleyel, Paris, France) | | |
| | 'Round Midnight (Live November 6, 1967 Salle Pleyel, Paris, France) | | |
| | No Blues (Live November 6, 1967 Salle Pleyel, Paris, France) | | |
| | Masqualero (Live November 6, 1967 Salle Pleyel, Paris, France) | | |
| | I Fall In Love Too Easily (Live November 6, 1967 Salle Pleyel, Paris, France) | | |
| | Riot (Live November 6, 1967 Salle Pleyel, Paris, France) | | |
| | Walkin' (Live November 6, 1967 Salle Pleyel, Paris, France) | | |
| | On Green Dolphin Street (Live November 6, 1967 Salle Pleyel, Paris, France) | | |
| | The Theme (Live November 6, 1967 Salle Pleyel, Paris, France) | | |
24 Songs, 3 Hours 18 Minutes
Released:

Sep 21, 2011

℗ Originally recorded 1967, (P)2011 Sony Music Entertainment. All rights reserved.
Ratings and Reviews
Pinnacle
It was never quite this good before, and it hasn't gotten any better since.
Absolutely Brilliant!
I've never heard Miles Davis play this well before. It's absolutely brilliant!
First DIsc Amazing
I'm in the middle of listening to the first disc of this three disc set on npr, and I must say that this is amazing. It is possibly the best live Miles album ever. Any jazz fan should get this album. I cannot wait for the next release in what I hope will be a Dylan-length bootleg series.
About Miles Davis
Throughout a professional career lasting 50 years, Miles Davis played the trumpet in a lyrical, introspective, and melodic style, often employing a stemless Harmon mute to make his sound more personal and intimate. But if his approach to his instrument was constant, his approach to jazz was dazzlingly protean. To examine his career is to examine the history of jazz from the mid-'40s to the early '90s, since he was in the thick of almost every important innovation and stylistic development in the music during that period, and he often led the way in those changes, both with his own performances and recordings and by choosing sidemen and collaborators who forged new directions. It can even be argued that jazz stopped evolving when Davis wasn't there to push it forward.

Davis was the son of a dental surgeon, Dr. Miles Dewey Davis, Jr., and a music teacher, Cleota Mae (Henry) Davis, and grew up in the black middle class of East St. Louis after the family moved there shortly after his birth. He became interested in music during his childhood and by the age of 12 began taking trumpet lessons. While still in high school, he started to get jobs playing in local bars and at 16 was playing gigs out of town on weekends. At 17, he joined Eddie Randle's Blue Devils, a territory band based in St. Louis. He enjoyed a personal apotheosis in 1944, just after graduating from high school, when he saw and was allowed to sit in with Billy Eckstine's big band, which was playing in St. Louis. The band featured trumpeter Dizzy Gillespie and saxophonist Charlie Parker, the architects of the emerging bebop style of jazz, which was characterized by fast, inventive soloing and dynamic rhythm variations.

It is striking that Davis fell so completely under Gillespie and Parker's spell, since his own slower and less flashy style never really compared to theirs. But bebop was the new sound of the day, and the young trumpeter was bound to follow it. He did so by leaving the Midwest to attend the Institute of Musical Art in New York City (renamed Juilliard) in September 1944. Shortly after his arrival in Manhattan, he was playing in clubs with Parker, and by 1945 he had abandoned his academic studies for a full-time career as a jazz musician, initially joining Benny Carter's band and making his first recordings as a sideman. He played with Eckstine in 1946-1947 and was a member of Parker's group in 1947-1948, making his recording debut as a leader on a 1947 session that featured Parker, pianist John Lewis, bassist Nelson Boyd, and drummer Max Roach. This was an isolated date, however, and Davis spent most of his time playing and recording behind Parker. But in the summer of 1948, he organized a nine-piece band with an unusual horn section. In addition to himself, it featured an alto saxophone, a baritone saxophone, a trombone, a French horn, and a tuba. This nonet, employing arrangements by Gil Evans and others, played for two weeks at the Royal Roost in New York in September. Earning a contract with Capitol Records, the band went into the studio in January 1949 for the first of three sessions and produced 12 tracks that attracted little attention at first. The band's relaxed sound, however, affected the musicians who played it, among them Kai Winding, Lee Konitz, Gerry Mulligan, John Lewis, J.J. Johnson, and Kenny Clarke, and it had a profound influence on the development of the cool jazz style on the West Coast. (In February 1957, Capitol finally issued the tracks together on an LP called Birth of the Cool.) Davis, meanwhile, had moved on to co-leading a band with pianist Tadd Dameron in 1949, and the group took him out of the country for an appearance at the Paris Jazz Festival in May. But the trumpeter's progress was impeded by an addiction to heroin that plagued him in the early '50s. His performances and recordings became more haphazard, but in January 1951 he began a long series of recordings for the Prestige label that became his main recording outlet for the next several years. He managed to kick his habit by the middle of the decade, and he made a strong impression playing "'Round Midnight" at the Newport Jazz Festival in July 1955, a performance that led major-label Columbia to sign him. The prestigious contract allowed him to put together a permanent band, and he organized a quintet featuring saxophonist John Coltrane, pianist Red Garland, bassist Paul Chambers, and drummer Philly Joe Jones, who began recording his Columbia debut, 'Round About Midnight, in October.

As it happened, however, he had a remaining five albums on his Prestige contract, and over the next year he was forced to alternate his Columbia sessions with sessions for Prestige to fulfill this previous commitment. The latter resulted in the Prestige albums The New Miles Davis Quintet, Cookin', Workin', Relaxin', and Steamin', making Davis' first quintet one of his better-documented outfits. In May 1957, just three months after Capitol released the Birth of the Cool LP, Davis again teamed with arranger Gil Evans for his second Columbia LP, Miles Ahead. Playing flügelhorn, Davis fronted a big band on music that extended the Birth of the Cool concept and even had classical overtones. Released in 1958, the album was later inducted into the Grammy Hall of Fame, intended to honor recordings made before the Grammy Awards were instituted in 1959.

In December 1957, Davis returned to Paris, where he improvised the background music for the film L'Ascenseur pour l'Echafaud. Jazz Track, an album containing this music, earned him a 1960 Grammy nomination for Best Jazz Performance, Solo or Small Group. He added saxophonist Cannonball Adderley to his group, creating the Miles Davis Sextet, which recorded Milestones in April 1958. Shortly after this recording, Red Garland was replaced on piano by Bill Evans and Jimmy Cobb took over for Philly Joe Jones on drums. In July, Davis again collaborated with Gil Evans and an orchestra on an album of music from Porgy and Bess. Back in the sextet, Davis began to experiment with modal playing, basing his improvisations on scales rather than chord changes.

This led to his next band recording, Kind of Blue, in March and April 1959, an album that became a landmark in modern jazz and the most popular album of Davis' career, eventually selling over two million copies, a phenomenal success for a jazz record. In sessions held in November 1959 and March 1960, Davis again followed his pattern of alternating band releases and collaborations with Gil Evans, recording Sketches of Spain, containing traditional Spanish music and original compositions in that style. The album earned Davis and Evans Grammy nominations in 1960 for Best Jazz Performance, Large Group, and Best Jazz Composition, More Than 5 Minutes; they won in the latter category.

By the time Davis returned to the studio to make his next band album in March 1961, Adderley had departed, Wynton Kelly had replaced Bill Evans at the piano, and John Coltrane had left to begin his successful solo career, being replaced by saxophonist Hank Mobley (following the brief tenure of Sonny Stitt). Nevertheless, Coltrane guested on a couple of tracks of the album, called Someday My Prince Will Come. The record made the pop charts in March 1962, but it was preceded into the best-seller lists by the Davis quintet's next recording, the two-LP set Miles Davis in Person (Friday & Saturday Nights at the Blackhawk, San Francisco), recorded in April. The following month, Davis recorded another live show, as he and his band were joined by an orchestra led by Gil Evans at Carnegie Hall in May. The resulting Miles Davis at Carnegie Hall was his third LP to reach the pop charts, and it earned Davis and Evans a 1962 Grammy nomination for Best Jazz Performance by a Large Group, Instrumental. Davis and Evans teamed up again in 1962 for what became their final collaboration, Quiet Nights. The album was not issued until 1964, when it reached the charts and earned a Grammy nomination for Best Instrumental Jazz Performance by a Large Group or Soloist with Large Group.

In 1996, Columbia Records released a six-CD box set, Miles Davis & Gil Evans: The Complete Columbia Studio Recordings, that won the Grammy for Best Historical Album. Quiet Nights was preceded into the marketplace by Davis' next band effort, Seven Steps to Heaven, recorded in the spring of 1963 with an entirely new lineup consisting of saxophonist George Coleman, pianist Victor Feldman, bassist Ron Carter, and drummer Frank Butler. During the sessions, Feldman was replaced by Herbie Hancock and Butler by Tony Williams. The album found Davis making a transition to his next great group, of which Carter, Hancock, and Williams would be members. It was another pop chart entry that earned 1963 Grammy nominations for both Best Instrumental Jazz Performance by a Soloist or Small Group and Best Instrumental Jazz Performance by a Large Group. The quintet followed with two live albums, Miles Davis in Europe, recorded in July 1963, which made the pop charts and earned a 1964 Grammy nomination for Best Instrumental Jazz Performance by a Small Group or Soloist with Small Group, and My Funny Valentine, recorded in February 1964 and released in 1965, when it reached the pop charts.

By September 1964, the final member of the classic Miles Davis Quintet of the '60s was in place with the addition of saxophonist Wayne Shorter to the team of Davis, Carter, Hancock, and Williams. While continuing to play standards in concert, this unit embarked on a series of albums of original compositions contributed by the bandmembers themselves, starting in January 1965 with E.S.P., followed by Miles Smiles (1967 Grammy nomination for Best Instrumental Jazz Performance by a Small Group or Soloist with Small Group [7 or Fewer]), Sorcerer, Nefertiti, Miles in the Sky (1968 Grammy nomination for Best Instrumental Jazz Performance by a Small Group or Soloist with Small Group), and Filles de Kilimanjaro. By the time of Miles in the Sky, the group had begun to turn to electric instruments, presaging Davis' next stylistic turn. By the final sessions for Filles de Kilimanjaro in September 1968, Hancock had been replaced by Chick Corea and Carter by Dave Holland. But Hancock, along with pianist Joe Zawinul and guitarist John McLaughlin, participated on Davis' next album, In a Silent Way (1969), which returned the trumpeter to the pop charts for the first time in four years and earned him another small-group jazz performance Grammy nomination. With his next album, Bitches Brew, Davis turned more overtly to a jazz-rock style. Though certainly not conventional rock music, Davis' electrified sound attracted a young, non-jazz audience while putting off traditional jazz fans.

Bitches Brew, released in March 1970, reached the pop Top 40 and became Davis' first album to be certified gold. It also earned a Grammy nomination for Best Instrumental Arrangement and won the Grammy for large-group jazz performance. He followed it with such similar efforts as Miles Davis at Fillmore East (1971 Grammy nomination for Best Jazz Performance by a Group), A Tribute to Jack Johnson, Live-Evil, On the Corner, and In Concert, all of which reached the pop charts. Meanwhile, Davis' former sidemen became his disciples in a series of fusion groups: Corea formed Return to Forever, Shorter and Zawinul led Weather Report, and McLaughlin and former Davis drummer Billy Cobham organized the Mahavishnu Orchestra. Starting in October 1972, when he broke his ankles in a car accident, Davis became less active in the early '70s, and in 1975 he gave up recording entirely due to illness, undergoing surgery for hip replacement later in the year. Five years passed before he returned to action by recording The Man with the Horn in 1980 and going back to touring in 1981.

By now, he was an elder statesman of jazz, and his innovations had been incorporated into the music, at least by those who supported his eclectic approach. He was also a celebrity whose appeal extended far beyond the basic jazz audience. He performed on the worldwide jazz festival circuit and recorded a series of albums that made the pop charts, including We Want Miles (1982 Grammy Award for Best Jazz Instrumental Performance by a Soloist), Star People, Decoy, and You're Under Arrest. In 1986, after 30 years with Columbia, he switched to Warner Bros. and released Tutu, which won him his fourth Grammy for Best Jazz Instrumental Performance.

Aura, an album he had recorded in 1984, was released by Columbia in 1989 and brought him his fifth Grammy for Best Jazz Instrumental Performance by a Soloist (on a Jazz Recording). Davis surprised jazz fans when, on July 8, 1991, he joined an orchestra led by Quincy Jones at the Montreux Jazz Festival to perform some of the arrangements written for him in the late '50s by Gil Evans; he had never previously looked back at an aspect of his career. He died of pneumonia, respiratory failure, and a stroke within months. Doo-Bop, his last studio album, appeared in 1992. It was a collaboration with rapper Easy Mo Bee, and it won a Grammy for Best Rhythm & Blues Instrumental Performance, with the track "Fantasy" nominated for Best Jazz Instrumental Solo. Released in 1993, Miles & Quincy Live at Montreux won Davis his seventh Grammy for Best Large Jazz Ensemble Performance.

Miles Davis took an all-inclusive, constantly restless approach to jazz that had begun to fall out of favor by the time of his death, even as it earned him controversy during his lifetime. It was hard to recognize the bebop acolyte of Charlie Parker in the flamboyantly dressed leader with the hair extensions who seemed to keep one foot on a wah-wah pedal and one hand on an electric keyboard in his later years. But he did much to popularize jazz, reversing the trend away from commercial appeal that bebop started. And whatever the fripperies and explorations, he retained an ability to play moving solos that endeared him to audiences and demonstrated his affinity with tradition. He is a reminder of the music's essential quality of boundless invention, using all available means. Twenty-four years after Davis' death, he was the subject of Miles Ahead, a biopic co-written and directed by Don Cheadle, who also portrayed him. Its soundtrack functioned as a career overview with additional music provided by pianist Robert Glasper and associates. Additionally, Glasper enlisted many of his collaborators to help record Everything's Beautiful, a separate release that incorporated Davis' master recordings and outtakes into new compositions. ~ William Ruhlmann
HOMETOWN

Alton, IL

GENRE

BORN

May 26, 1926