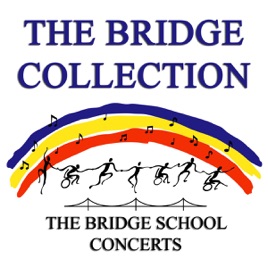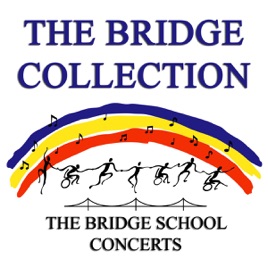 The Bridge School Collection, Vol. 2 (Live)
Various Artists
TITLE
TIME

Ann Wilson & Nancy Wilson

4:49

Ann & Nancy Wilson with Astrid Young

4:28

Blues Traveler

4:47

Blues Traveler

4:39

Brian Wilson

2:37

Born In the U.S.A. (Live)

Bruce Springsteen

3:41

Counting Crows

5:00

Counting Crows

5:17

Crosby, Stills, Nash & Young

3:25

Crosby, Stills, Nash & Young

3:43

Crosby, Stills, Nash & Young

3:15

Crosby, Stills, Nash & Young

7:50

Dashboard Confessional

3:21

Screaming Infidelities (Live)

Dashboard Confessional

4:16

Don Henley

4:29

Heart of the Matter (Live)

Don Henley

5:50

Edie Brickell

1:47

Edie Brickell

2:26

Elton John

5:05

Elvis Costello

3:18

Veronica / The Ways of Love (Live)

Elvis Costello

4:37

Good Charlotte

4:22

Good Charlotte

3:57

Indigo Girls

4:03

Jack Johnson

3:06

Jill Sobule

4:11

Father Was a Jockey (Live)

John Lee Hooker

3:21

John Lee Hooker

5:15

John Mellencamp

3:07

Lucinda Williams

3:22

Lucinda Williams

4:07

This Note's for You (Live)

Neil Young

3:32

Neil Young

7:25

Days That Used to Be (Live)

Neil Young & Crazy Horse

3:40

Neil Young, Bruce Springsteen & Nils Lofgren

4:06

Neil Young, Crazy Horse & Elvis Costello

8:30

Nils Lofgren

5:52

Nils Lofgren

3:25

People Have the Power (Live)

Patti Smith

5:41

Phish

3:31

Wading In the Velvet Sea (Live)

Phish

5:32

Sammy Hagar

3:40

Finish What You Started (Live)

Sammy Hagar

3:25

Amnesty Is Granted (Live)

Sammy Hagar

4:31

Sammy Hagar

4:17

Tegan and Sara

2:56

Pretenders

3:37

Needle and the Damage Done (Live)

Pretenders

3:22

6th Avenue Heartache (Live)

The Wallflowers

6:31

Don't Cry No Tears (Live)

The Wallflowers

4:06

Tom Petty

5:03

16 Shells from a Thirty-Ought Six (Live)

Tom Waits

7:12

Vanessa Carlton

4:05

Vanessa Carlton

3:57
54 Songs, 3 Hours, 55 Minutes

℗ 2006 The Bridge School
There's an artist missing.
What happened to the Bridge School performances done by Trent Reznor?
WHERE IS TRENT?????
Although you have a number a artists to choose from, you left out one of its most innovating creators of sounds.......Mr Trent Reznor. As they say, crack is whack, so get with the program and put up Trent's songs.
Nice Selection
Nice selection with some great artists. Anything from Crosby..., the Brian Wilson song, John Lee Hooker, Neil Young, and the Tom Waits song are all great tunes. Disappointment: WHERE did Thom Yorke, Nine Inch Nails, and a couple other artists go? They were here about a month ago when this was released!