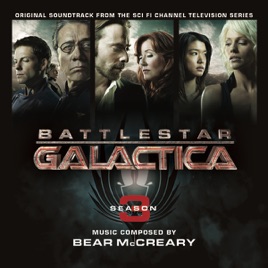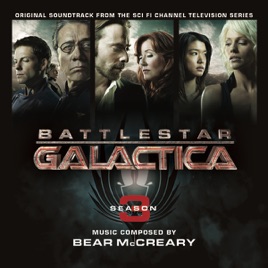 Battlestar Galactica: Season 3 (Original Soundtrack from the TV Series)
Bear McCreary
21 Songs, 1 Hour 19 Minutes
Released:

Oct 23, 2007

℗ 2007 USA Cable Entertainment LLC. All Rights Reserved.
Ratings and Reviews
bear mccreary is pure genius
I can't get enough of Bear's work. He has such a distinctive style and take. It's simply pure genius.
This album is frakkin' outstanding.
bears. beets. battlestar galactica.
Okay, so you've listened to the two previous season's soundtracks, and watched all the episodes up until now. You're ready for more BSG awesomeness! Now, many fans of the show have declared that this is there least favorite season. "It's not as exciting." "The story goes hardly anywhere." To a certain extent, these people are correct. With a few exceptions (Crossroads, anyone?), the story does not escalade that much. So what is this season all about? The characters. This season delves into the characters of the show like it never has before. It explores where they are coming from, why they are the way they are, and answers the question, "What drives this character's decisions?" Alright, now to the music. Personally, this is my favorite BSG soundtrack. It is just so... fitting. It fits flawlessly into the show, and illustrates the anxiety, emotion, and raw humanness that the third season is all about. It has some fantastic action cues (Precipice, Storming New Caprica, Mandala In the Clouds, etc.), as well as some beautifully written character themes that have a classic sound of the old soundtracks, plus a new twist to accompany the changes that the characters go through, like the heart-wrenching Adama theme (Admiral and Commander), a beautifully written theme for Baltar (Battlestar Sonatica), and the sorrowful rendition of Kara's theme (Deathbed and Maelstrom). There are also some wonderful new gems, such as Wayward Soldier, Fight Night, and Dirty Hands. And then of course, everyone's favorite, All Along the Watchtower! This epic soundtrack closes off, yet gets things rolling, with the haunting Heeding the Call, and then kaboom! All Along the Watchtower is in your face, all out, and rockin' hard! And once again, by the end of the third season, it fits the tone of the show perfectly. I can't begin to explain how phenomenal Bear McCreary's work on the BSG soundtracks have been. In the third season, he creates a refreshing atmosphere filled with the anger, sadness, excitement, and jaw-dropping moments of Battlestar Galactica. He explores the characters and sheds a light on them that we have never seen before. The show is driven by this powerful music. If you're an avid BSG fan like myself, this soundtrack is a no-brainer, along with all the rest of the albums. Buy and enjoy.


Best sound track ever A+++
Awesome...enough said!
About Bear McCreary
Score composer Bear McCreary was born in Fort Lauderdale, Florida, on February 17, 1979, the son of the writer Laura Kalpakian. He obtained degrees in composition and recording arts from the Thornton School of Music at the University of Southern California and became a protégé of film composer Elmer Bernstein, for whom he reconstructed and re-orchestrated the score for the 1963 film Kings of the Sun, resulting in a new recording of the music.

After scoring a number of short films in the late '90s and early 2000s, McCreary was hired to compose the music for a new version of the television series Battlestar Galactica, which premiered on the Sci Fi Channel in 2004. Soundtrack albums of his music were released in 2005, 2006, 2007, and 2009 by La-La Land Records, corresponding to the four seasons of the series. During that time, he also scored the straight-to-video film Rest Stop (released by PlanR) and its sequel, Rest Stop: Don't Look Back, as well as another straight-to-video feature, Wrong Turn 2: Dead End. The latter two scores were released by the La-La Land label, which also issued his music for the Fox TV series Eureka and Sci Fi Channel's Terminator: The Sarah Connor Chronicles, both in 2008. His score for the pilot episode of the Battlestar Galactica prequel Caprica was released in 2009, and he stayed on to write for the series' full one-season run.

That same year, he was tapped to score AMC's popular zombie drama series The Walking Dead, which premiered in October 2010. Over the next few years McCreary's talents becoming increasingly in demand as he took jobs scoring NBC's superhero drama The Cape (2011), the historical fantasy series Da Vinci's Demons (2013), and Marvel's Agents of S.H.I.E.L.D. (2013), just to name a few. In 2015, the first of his Billboard-charting soundtracks to the STARZ time-travel series Outlander was released by Relativity Records. The following year brought a string of film scores in the horror realm that included The Forest, The Boy, and 10 Cloverfield Lane. More genre-related scores followed in 2017, including soundtracks for the sci-fi black comedy Colossal and the slasher thriller Happy Death Day, as well as the J.D. Salinger biopic Rebel in the Rye. McCreary's score for Outlander: Series 3 appeared in 2018. ~ William Ruhlmann
HOMETOWN

Fort Lauderdale, FL

GENRE

BORN

February 17, 1979