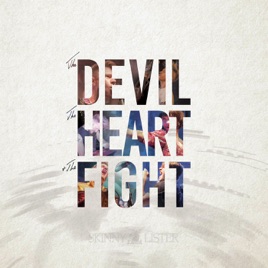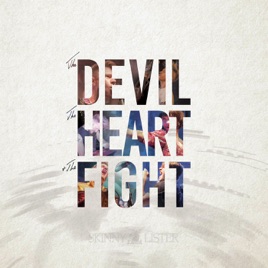 The Devil, the Heart & the Fight
| | TITLE | TIME | PRICE |
| --- | --- | --- | --- |
| | | 2:27 | $1.29 |
| | | 3:18 | $1.29 |
| | | 2:46 | $1.29 |
| | | 3:35 | $1.29 |
| | | 3:24 | $1.29 |
| | | 3:44 | $1.29 |
| | | 2:22 | $1.29 |
| | | 2:18 | $1.29 |
| | | 3:19 | $1.29 |
| | | 3:03 | $1.29 |
| | Fair Winds & Following Seas | 2:59 | $1.29 |
| | | 3:20 | $1.29 |
12 Songs

℗ 2016 Xtra Mile Recordings Ltd
Customer Reviews
Devil in me is cheap filler
I'm not a jerk. I will re-do my review once the full album drops. First two singles were good-to-great. Still much too polished and straying too far from the more raw first album, but worth paying for all the same. The new single, Devil In Me is total filler garbage and makes me regret pre-ordering.
Spend some time with these songs
At first I thought no way skinny lister could make a better collection of songs like their previous work but they did!! You have to spend time with these new songs and now I can't get them out of my head!! Great job Skinny!! Wanted, Hamburg Drunk, and Charlie are just a few of the stand outs from this very catchy collection!!
About Skinny Lister
Spirited English five-piece Skinny Lister occupies the middle ground between the punkish folk-rock of the Pogues and the evocative, hoedown-laden rural pop of Mumford & Sons. Built around co-lead vocalists Dan Heptinstall and Lorna Thomas, and featuring the talents of Sam Brace, Dan Gray, and Max Thomas (Lorna's older brother), the group formed in London's Greenwich area in early 2010. By the summer of 2011, the band's rowdy singalongs had become a fixture on the festival circuit, and it was time to release a proper album. Produced by David Wrench (Bat for Lashes, James Yorkston) and named after a favorite pub, the resulting Forge & Flagon was issued in 2013. Down on Deptford Broadway followed in 2015 and saw the band adopt a more punk-oriented sound. It was a well-received effort, drawing praise from outlets such as NME and The Guardian. Their third album, 2016's The Devil, The Heart & the Fight, was produced by Tristan Ivemy, who frequently worked with Xtra Mile labelmate Frank Turner. ~ James Christopher Monger
Top Albums by Skinny Lister
See All