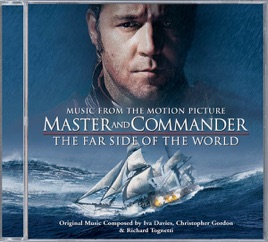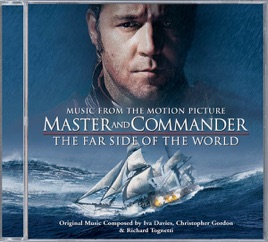 Master and Commander - The Far Side of the World (Music from the Motion Picture)
Various Artists
TITLE
TIME

The Far Side of the World

Christopher Gordon

Violin Concerto No. 3 in G, K. 216: III. Rondo - Allegro

Richard Tognetti & Emma-Jane Murphy

The Cuckold Comes Out of the Amery

Phillip Ayling

Fantasia On a Theme By Thomas Tallis (Excerpt)

The New Queen's Hall Orchestra & Barry Wordsworth

Concerto Grosso In G Minor, Op.6, No.8 "fatto Per la Notte Di Na Tale": Adagio

Christopher Gordon

Suite for Solo Cello No. 1 in G, BWV 1007: I. Prélude

Yo-Yo Ma

Richard Tognetti, Phillip Ayling & Eric Riegler

String Quintet in C Major, Op. 30, No. 6

Richard Tognetti, Bruce Dukov, Simon Oswell, Steve Erdody & Timothy Landauer
15 Songs, 59 Minutes
Released:

Oct 1, 2003

℗ 2003 Decca Music Group Limited
Ratings and Reviews
Only one Thing Missing
The capture of the moments that define the movie, whether it was a conversation, a lashing wind, or sailors lamenting their place on the opposite end of the Earth from their homes, the soundtrack could almost tell the tale of Capt. Aubrey and the Surprise all by itself. Rather than over-dramatic swashbuckling dance-alongs, the music here is well-thought out, able to convey a range of emotions with a single note, and then the exact opposite emotions within a second. There is one problem with the soundtrack, hence the loss of a star. The music I loved the most was that played by Russell Crowe and Paul Bettany, by themselves in the Captain's quarters. The score is included, but the truly amazing, and surpising music made between these two made the film for me, and I can only wish it had been included. For all the composing of a range of great musical talent, it was two actors who used their music to tell the tales of lonliness, terrible enemies, fear, and great storms.
The song at the end of Master and Commander
Quintetto Boccherini is the composer of the song at the end of Master and Commander that Russell Crowe and Paul Bettany play. The good part of the song is about 2 minutes long and I'm told it is in the middle of Song 14. Unfortunately iTunes (And Amazon) do not allow single track DLs from this album. This song is available (as a single track) on other albums however here on iTunes:

Song Name: Quintettino per archi, Op. 30, No. 6 "La Musica Notturna di Madrid": III. Los Manolos
Album: Boccherini: Quintetti per archi

or

Song Name: Quintetto In Do Maggiore La Musica Notturna Delle Strade Di Madrid Op. 30, No. 6 (G. 324): Passa Calle - Allegro Vivo (Boccherini)
Album: Luigi Boccherini: Fandango, Sinfonie & La Musica Notturna Di Madrid


Superb
Why are these songs all "Album Only?"