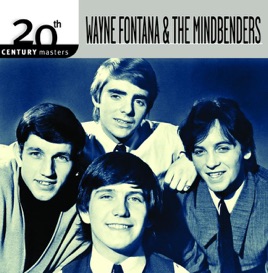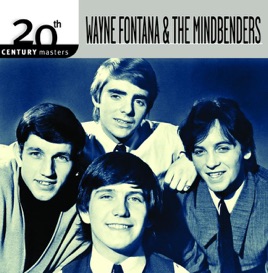 | | TITLE | | TIME |
| --- | --- | --- | --- |
| | | | |
| | Its Just a Little Bit Too Late | | |
| | | | |
| | | | |
| | | | |
| | | | |
| | | | |
| | | | |
| | Its Getting Harder All of the Time | | |
| | | | |
| | Uncle Joe the Ice Cream Man | | |
11 Songs, 24 Minutes
Released:

Dec 31, 1963

℗ 2004 Mercury Records Limited
Ratings and Reviews
Great music
A Groovy Kind of Love, The Game of Love, and Pamela, Pamela are the best. Any British Invasion or '60s fan should get at least those three songs.
REALLY GROOVY!!
oF COURSE, I SOULD SAY SO, (IF YOU KNOW ME) this is really FAB, and HIP, and OUTTA SIGHT!!!!! Classic songs that will never lose their flavor!! everyone should have A GROOVY KIND OF LOVE on their ipod!! I wonder if the beatles listened to wayne fontana and the mindbenders?

So Fun, So 60s!
Tracks 8 and 9 are featured in the classic teen coming of age 60s hit movie, "To Sir, With Love" -- fabolo!
About Wayne Fontana & The Mindbenders
Wayne Fontana and the Mindbenders first emerged out of apprentice telephone engineer Glyn Geoffrey Ellis' daydreams of becoming a successful pop performer. Rechristening himself Wayne Fontana after Elvis Presley's drummer, DJ Fontana, Fontana's first band was the Jets, a staple on the Manchester circuit through 1961-1962, but one which was doomed to failure.

According to legend, the original Jets broke up when Fontana and bassist Bob Lang alone turned up for the most important audition of their young career, at the famed Oasis club. Hurriedly, Fontana press-ganged a couple of other local musicians, bystanders in the bar, into service -- drummer Ric Rothwell and guitarist Eric Stewart. Stewart was already an old hand on the Manchester music scene, having played with local heroes Gerry Lee and the Stagger Lees and Johnny Peters and the Jets (unrelated to Fontana's combo). That was still his regular band that evening at the Oasis, a situation that changed immediately after this ad hoc combo left the stage and was offered a Fontana label contract.

Renaming the band after Dirk Bogard's then-recently released hit movie The Mindbenders (Fontana, of course, was allowed to keep his name!), the quartet's first release, in June 1963, was a cover of one of the aforementioned stage favorites, Fats Domino's "My Girl Josephine," retitled "Hello Josephine." It was not a major hit, peaking at number 46, and two further singles, "For You, For You" (October 1963) and a cover of the Diamonds' "Little Darling'" (February 1964), were even less successful.

But the label did not lose faith. After all, what sort of headlines would "Fontana drop Fontana" make? The band plugged on, and in May 1964, their version of Ben E. King's "Stop Look and Listen" made number 37. Again it was a tiny drop in the ocean, but this time the Mindbenders were able to capitalize upon it. By early fall, they were riding the Top Five with a spellbinding take on Major Lance's masterpiece of incoherence, "Um Um Um Um Um Um."

The Mindbenders' original recording of the song was produced by Rolling Stones manager Andrew Loog Oldham -- their label rejected it and insisted on a re-recording, cut with Fontana's own Jack Baverstock. The first recording remains unreleased; the remake soared to number five. An EP titled after the hit followed it to number seven, while the band's eponymous debut album reached number 18. As was standard at this time, the entire LP was recorded in one day, crammed in to a schedule which included their first major British tour, supporting Brenda Lee.

Meanwhile, back in the singles chart, the band was busy confirming their ascendancy with a skillful adaptation of Clint Ballard's "The Game of Love," featuring a moonlighting member of the Spinners folk group on backing vocals and a devastating Stewart guitar solo, played on a Les Paul borrowed from Jimmy Page. It reached number two in Britain and number one in America, despite being not only the Mindbenders' first Stateside release, but also one of the first releases on the American Fontana label.

The band set off for America almost immediately and ran straight into trouble. Visa difficulties had forced the band to cancel a couple of shows at the start of the tour -- immigration officials actually demanded statements from both Billboard and Cashbox to prove that the band's Stateside success actually justified their presence here. Then, the moment they stepped off the plane, the Mindbenders were served writs for one million each. They were being sued for not making two gigs in New Jersey.

Thankfully, the threat came to nothing and the remainder of the tour passed off happily. A new version of their debut album, featuring several cuts not on the U.K. album was released, making a respectable number 28; unfortunately, the moment the band's back was turned, their fortunes began to dip. Their next single, "Just a Little Bit Too Late," only reached number 45 in the U.S. (and number 20 in Britain) and when "She Needs Love" halted at number 32 in the U.K., at the same time as their second album, Eric, Rick, Wayne and Bob, stiffed, it appeared as though the Mindbenders' magic had dissipated already.

Certainly Wayne Fontana, the Fontana label, and the Kennedy Street Enterprises management label, thought so. The singer had always entertained visions of eventually graduating to a solo career and, in October 1965, everybody concerned realized the time had come; everybody, that is, aside from the band. They remained in the dark until, midway through a live show, Fontana simply walked off stage, turning to Stewart as he left and saying, "It's all yours."

It was not the first time the band had played on without their frontman; back in March, nervous exhaustion had confined Fontana to bed, midway through a 21-date, twice-nightly British tour with Herman's Hermits. So, with Stewart taking lead vocals, the band finished the set themselves; the audience seemed to enjoy themselves and the decision was made to carry on as a three-piece, which was precisely what their label and management had been planning all along. And, overnight, one fading chart act became two promising newcomers, singer Wayne Fontana and band the Mindbenders. ~ Dave Thompson
ORIGIN

Manchester, England

GENRE

FORMED

1963