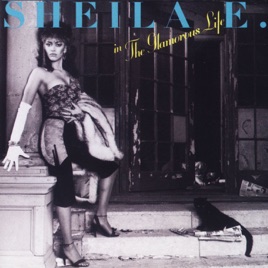 | | TITLE | TIME |
| --- | --- | --- |
| | | 5:06 |
| | | 4:46 |
| | | 3:55 |
| | Oliver's House (LP Version) | 6:20 |
| | Next Time Wipe the Lipstick Off Your Collar | 3:52 |
| | | 9:03 |
| | The Glamorous Life (Club Edit) | 6:34 |
7 Songs, 39 Minutes

℗ 2004 Warner Bros. Records. Manufactured & Marketed by Warner Strategic Marketing
Stuck in the 80's...
horrible..the beats are boring... the songs are boring..I feel like wearing leg warmers and patent leather shoes when i hear Glamorous Life...Please come out of the 80's
Glamorous Track
A awesome track by Sheila E. This track brings back so many wonderful memories. A must have and a timeless classic.
This Album Takes my Back.......
An album that has to be reviewed keeping in mind the timeframe of the 80's. This album used to be on repeat on my sterio, yes I said sterio!!!!!!
About Sheila E.
During the mid-'80s, Sheila E. was the biggest and brightest of Prince's protégées, unique in seeming that she could stand toe to toe with the Purple One. Certainly during his post-Revolution tours of the late '80s, Prince showcased Sheila E., the culmination of an association that began when Prince wrote and co-produced her 1984 breakthrough, "The Glamorous Life," and duetted on "A Love Bizarre," the 1985 follow-up that was her second-biggest hit. This close association often framed Sheila E.'s career entirely in terms of Prince, but she was a successful musician prior to entering his orbit, recording with George Duke and touring with Marvin Gaye, and she worked steadily afterward, touring with the likes of Ringo Starr and recording her own albums.

As the daughter of legendary jazz percussionist Pete Escovedo, Sheila E. -- born Sheila Cecelia Escovedo on December 12, 1957 -- was born into a musical family that also included her uncle Alejandro Escovedo. Sheila E. began her professional career just prior to her 20th birthday, playing percussion on 1976 albums by Alphonso Johnson (Yesterday's Dreams) and Merl Saunders (You Can Leave Your Hat On) and her father's 1977 session, Solo Two. She joined George Duke's band in 1977 and moonlighted on sessions by Con Funk Shun, the Rowans, and Herbie Hancock. During the early '80s, she continued to play studio sessions, then landed a spot in Marvin Gaye's touring band in 1983.

Sheila Escovedo began her professional association with Prince -- and adopted the stage name Sheila E. -- in 1984. The Prince-produced The Glamorous Life appeared in June 1985 and soon its title track -- which was the only cut on the six-track album to be written solely by Prince -- became a Billboard Top Ten hit; its second single, "The Belle of St. Mark," peaked at 34. During that year, Sheila E. was part of Prince's orbit, opening for the Revolution on the Purple Rain tour and singing on "Erotic City," the flip to the hit "Let's Go Crazy." Prince co-produced Sheila E.'s 1985 album, Romance 1600, and co-wrote its hit, "A Love Bizarre," with her. In 1986, Sheila E. appeared on the Krush Groove soundtrack playing "Holly Rock," and released an eponymous album that was her first not to be co-produced by Prince (instead, she produced the record with Revolution associate David Z.). "Hold Me" went to three on Billboard's R&B charts but her pop momentum slowed. Sheila E. played percussion on Prince's Sign 'O' the Times and Lovesexy tours, then parted ways with his organization.

Sheila E. collaborated with Peter Michael for her 1991 album, Sex Cymbal, her first record cut without any involvement with Prince; its title track went to 32 on the Billboard R&B charts. Not long after its release, Sheila E. suffered a variety of health problems that kept her from the spotlight for several years. During the next few years, she did a few studio sessions, then played in Namie Amuro's touring band in 1996. In 1998, she was the bandleader and sidekick on Magic Johnson's ill-fated syndicated talk show, The Magic Hour. Sheila E. returned to recording in 2000 with Writes of Passage, the first of two albums for Concord Records. Heaven followed the next year, and also in 2001 she did her first of three stints in Ringo Starr's All-Starr Band.

Throughout the 2000s, Sheila E. worked steadily on-stage and in the studio, notably playing on Cyndi Lauper's standards album, At Last. In 2006, she mended fences with Prince and appeared on his One Nite Alone...Live! album. That same year, she formed C.O.E.D. -- an acronym for Chronicles of Every Diva -- with Cassandra O'Neal, Kat Dyson, and Rhonda Smith. C.O.E.D. toured and put out a self-released album on the Web. In 2007, she returned to television as a judge on Fox's music competition The Next Great American Band and, two years later, she was a winning contestant on CMT's reality music show Gone Country. As the 2010s began, Sheila E. continued to perform live in various contexts, including rejoining Prince for two tours. In 2013, she released Icon, her first album in 12 years; initially it appeared only in the U.K., but it saw international release in 2014. It was quickly followed by the 2014 publication of her memoir, Beat of My Own Drum. Three years later, Sheila E. returned with Iconic: Message 4 America, a new album featuring cameos from Ringo Starr, George Clinton, and Candy Dulfer. ~ Stephen Thomas Erlewine
ORIGIN

Oakland, CA

GENRE

BORN

December 12, 1957