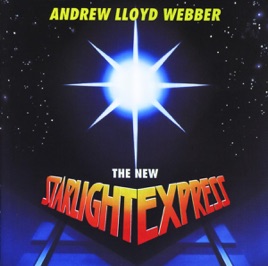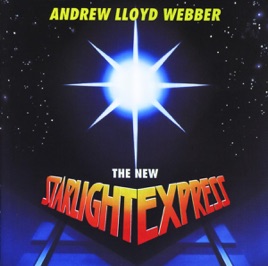 TITLE
TIME

Tara Wilkinson & Debbie Blackett

Reva Rice, Samantha Lane, Voyd & Caron Cardelle

Greg Ellis, K.F.T.D, Algernon Williams, Rory Williams, Graham Martin, Richard Mylan, Samantha Lane, Voyd, Caron Cardelle & Reva Rice

John Partridge, Michael Skyers, Samantha Biddulph, Rebecca Holland, C Jay Ranger & Marco Ferraro

Maynard Williams, Samantha Lane, Voyd, Caron Cardelle, Reva Rice, C Jay Ranger, Rebecca Holland & Samantha Biddulph

Greg Ellis, Reva Rice, Caron Cardelle, Samantha Lane & Voyd

Lon Satton, Greg Ellis, K.F.T.D, Algernon Williams, Rory Williams, Richard Mylan & Graham Martin

Caron Cardelle, Samantha Lane & Voyd

K.F.T.D, Algernon Williams & Rory Williams

Tara Wilkinson & Greg Ellis

Next Time You Fall In Love

Reva Rice & Greg Ellis

One Rock 'n' Roll Too Many

Maynard Williams & John Partridge

Light At the End of the Tunnel

The Company

Starlight Express (Megamix)

The Company
24 Songs, 1 Hour 9 Minutes
Released:

Jan 1, 1993

℗ 1993 The Really Useful Group Ltd.
About Andrew Lloyd Webber
Andrew Lloyd Webber is the most successful composer of musicals of his generation and also a breaker of molds for the form. His predecessors were, for the most part, American: New York-based songwriters steeped in Broadway tradition. Lloyd Webber saw his share of shows as a child, too, but he was born in London, the son of William Lloyd Webber, Director of the London College of Music, and was trained at the Royal Academy of Music, hardly the sort of place where you'd be likely to hear Oklahoma! Nevertheless, Lloyd Webber hooked up with lyricist Tim Rice, and the two began work on what would be a typical project for them, a musical based on the Biblical story of Joseph and his coat of many colors. Titled Joseph & the Amazing Technicolor Dreamcoat, it brought in a strong rock & roll influence. After writing a second unproduced musical, the two hit on the idea of writing a musical based on the life of Jesus Christ from the point of view of Judas (not a typical premise for Broadway at the time) and, again, imbued with rock. Unable to finance a stage version, Lloyd Webber and Rice did manage to record their show, and Jesus Christ Superstar went on to sales in the millions all over the world. The hit musical version followed.

Lloyd Webber and Rice then temporarily split, with the composer writing film scores and working on a musical with playwright Alan Ayckbourn (Jeeves), after which Rice returned with another audacious idea: a musical based on the life of Argentine First Lady Eva Perón. Evita (1976) repeated the pattern of Jesus Christ Superstar, with its hit record album followed by a successful theatrical run in the West End and then on Broadway.

Working without Rice, who went on to write Blondel and Chess with other composers, Lloyd Webber next wrote a musical revue based on T.S. Eliot's whimsical poems about Cats (1981). This time, the show came before the album, and went on to become one of the longest-running musicals in the history of Broadway (18 years) and the West End (21 years). By this time, Lloyd Webber had largely abandoned the rock elements of his work in favor of what critics found a pastiche style that borrowed from classical and opera sources. He had also become a brand name (and a corporation, the Really Useful Company) that assured at least a modest success for subsequent shows.

Lloyd Webber went on to a series of successful shows (Song & Dance, Starlight Express) before scoring another massive hit in 1987 (1988 in New York) with a musical adaptation of The Phantom of the Opera. It eventually became the longest-running musical in Broadway history, and by a wide margin. In the meantime, Aspects of Love opened in 1989 (a year later in New York), with a musical adaptation of the Billy Wilder film Sunset Boulevard following in the early '90s. Lloyd Webber was knighted by Queen Elizabeth II in 1992. In 1996, Alan Parker adapted Evita for the screen. Lloyd Webber and Tim Rice contributed a new song, "You Must Love Me," to the movie, which starred Madonna. "You Must Love Me" won the Best Original Song award at the 1997 Academy Awards.

The composer continued to premiere new musicals well into the next century. Based on the 1961 film of the same name, Whistle Down the Wind never made it to Broadway, nor did 2000's The Beautiful Game, which dealt with the political turmoil of 1969 Belfast. He produced the A.R. Rahman musical Bombay Dreams, which premiered on the West End in 2002 and Broadway in 2004. His own The Woman in White, based on the Wilkie Collins novel, opened on the West End in 2004 and Broadway in 2005, closing in both countries in 2006. It was followed by 2010's Love Never Dies, 2011's The Wizard of Oz (featuring the film's music and a book by Lloyd Webber and Jeremy Sams), and 2013's Stephen Ward, which premiered on the West End but didn't play on Broadway.

Based on the 2003 film and featuring lyrics by Glenn Slater, 2015's School of Rock marked his return to the Great White Way and became the first British musical to have its world premiere on Broadway. When a 2017 revival of Sunset Boulevard (with Glenn Close returning as Norma Desmond) opened on Broadway, Lloyd Webber became only the second songwriter in history to have four shows running there concurrently (joining School of Rock, The Phantom of the Opera, and a revival of Cats). The first was the team of Rodgers & Hammerstein in 1953. ~ William Ruhlmann
HOMETOWN

London, England

GENRE

BORN

March 22, 1948
Millions of songs.
Zero ads.
New subscribers only. Plan automatically renews after trial.