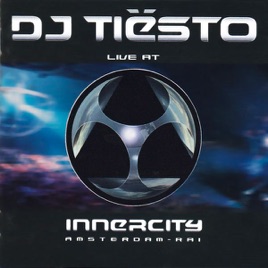 TITLE
TIME

Universal Nation (The Anthem)

Push

Systematic Parts & Marco Joosten

Theme from Norefjell (Dj Jan & Christophe Chantzis Mix)

Evolver (Wavestate Instrumental Mix)

Evolver

The Orange Theme (Moonman's Orange Juice Remix)

Cygnus X

Tiësto Live At Innercity (Continuous Mix)
17 Songs, 3 Hours 5 Minutes
Released:

Dec 1, 1999

℗ 1999 Be Yourself Compilations
Ratings and Reviews
Finally the most legendary Trance mix album is on iTunes!!!!
The most memorable trance dj set ever!! Bought this one on cd like 8 years ago, since this album i'm a Tiësto fan, this was the big eye opener for me.
As many early fans will agree this is the big breakthrough album of the man who would conquer the world with Trance music.
Once again if you wanna know how it all started get this album. It's like Michael Jackson's "Thriller" it has to be in your music collection.
Also you'll get the long extended versions of trance classics like: Push - Universal Nation, Gouryella-Gouryella and the best of them all The Orange Theme!!
A MUST HAVE!!!!
INCREDIBLE!!!
This is one of the best albums i have listened to in a VERY LONG TIME!!! It is heartbreaking to see how much Tiesto has deviated from his routes. Even if you only like Tiesto or trance or dance music in general, THIS IS A MUST BUY!!!! If only Tiesto would revert back to his origins...
Praise Tiësto
Tiësto has proved to be the king of trance over the years, he has made music that not inly inspires us but also, takes us to places where we can forget about everything, I have not been a Tiësto fan for very long but for the short time I have listened to his electrifying music, I can now easily consider him my FAVORITE DJ no questions asked. All praise the all mighty Tiësto.