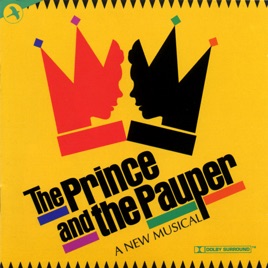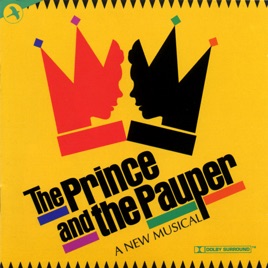 The Prince and the Pauper
TITLE
TIME

The Prince Is Coming / Touch My Hand

Company

6:31

Father Andrew's Lesson / Thrill of Adventure

Gerard Canonico & Guy LeMonnier

3:37

The King of Offal Court

Gerard Canonico, Michael McCormick & Robert Anthony Jones

2:10
0:57
3:27

If I Were You

Dennis Michael Hall & Gerard Canonico

3:28

The Prince Is Mad

Allison Fischer

2:19

The Lesson / Fortune

Gerard Canonica, Michael McCormick & Wayne Schroder

4:20

Is This Love?

Allison Fischer & Kathy Brier

3:54

Simple Boy

Robert Anthony Jones

4:57

London Bridge

Dennis Michael Hall

2:16

Let's Toast

Brian Minyard

3:29

My Father Is Right

Dennis Michael Hall & Robert Another Jones

2:53

The Trials of Tom

Gerard Canonico

4:36

I Was Blind

Rita Harvey & Wayne Schroder

3:43
2:42

Now I See

Dennis Michael Hall, Gerard Canonico & Rob Evan

2:52

The Coronation / Finale

Company

3:42
0:50

Lonely

Rita Harvey & Rob Evan

2:39
20 Songs, 1 Hour, 5 Minutes

℗ 2003 JAY Productions Ltd.
Customer Reviews
I Love IT!
This is such a good musical! "Is This Love?" has to be the best song. I played Lady Jane in my school's play it is such an interseting part. I loved it so much! i loved singing this song! Karlie, you are awesome. good times...<3!
Allison Fischer
Allison Fischer out shines the rest of this cd,
but the entire cd is worth the buy. It's great fun to listen to
Really good.... :)
Very, very good music. Some tracks like "London Bridge" are really sad, but other tracks like "If I Were You" are very fun, and you can imagine what the actual play would be like. Too bad we don't see it nowadays...