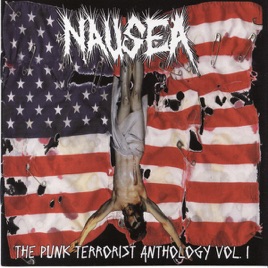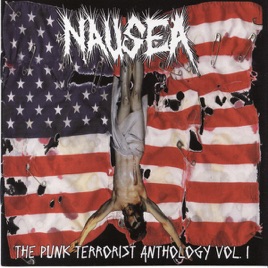 The Punk Terrorist Anthology Vol. 1
Nausea
| | TITLE | | TIME |
| --- | --- | --- | --- |
| | | | |
| | | | |
| | | | |
| | | | |
| | | | |
| | | | |
| | | | |
| | | | |
| | | | |
| | | | |
| | | | |
| | | | |
| | | | |
| | | | |
| | | | |
| | | | |
| | | | |
| | | | |
| | | | |
| | | | |
| | Productive Not Destructive | | |
| | Hear Nothing/ Ain't No Feeble Bastard (Discharge) | | |
22 Songs, 1 Hour 13 Minutes
Released:

Jan 25, 1992

℗ 1992 Blacknoise
Ratings and Reviews
ASTONISHED!!!!!!!!!
every track on this album leaves me wanting to bash my head against a wall!!!!
and on top of that i cant believe the album is out of print...
btw this isnt alternative!! its EPIC!!
Well I'm here so why not nausea
Great collection of punk songs from a very good band. Really, really good. I'm a bit surprised it's here. So if you dont have it and you don't have a local record store to order it for you, by all means do not pass this up.
About Nausea
Long before the endless stream of grindcore bands emerged in the '90s, N.Y.C.'s Nausea was delivering a relentless, ear-splitting, and politically charged fury that none of them ever equaled. Formed in the squats of the Lower East Side in 1987 by bassist John John Jesse, they would go on to influence countless numbers of anarcho-crust bands worldwide with their music and lyrics alike. Victor Venom, originally the bassist in Reagan Youth, was brought in on guitar while a nondescript English punk named Neil took on vocals. Amy Miret, the wife of Agnostic Front vocalist Roger Miret, was subsequently recruited as a second vocalist and after several different drummers, they finalized the lineup with Roy Mayorga. Their songs dealt with issues like vivisection, class struggle, the displacement and gentrification that was prevalent throughout New York's Lower East Side, and often played benefit concerts for these causes. Neil left the band in 1989 to form Jesus Crust and the Tribal War Records label, at which point Al Long from Minneapolis' Misery came in to take up the vacancy. Extinction would come out a year later, their only full-length release, which was well-received by anarchist punks worldwide despite the fact that it sounded more like Slayer than Crass. After traveling abroad and releasing various songs on a number of compilations, they recorded the Cybergod EP, at which time Miret left the band. They recorded one EP after her departure before breaking up altogether in 1992. ~ John Griffin
GENRE

FORMED

1987